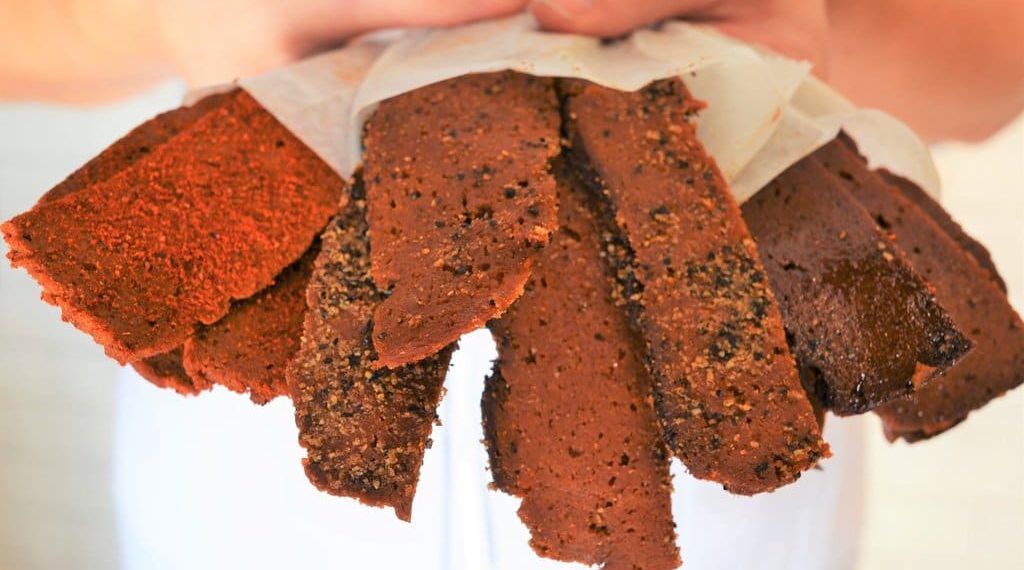 The Herbivorous Butcher Just Launched a New Vegan Jerky Club
Sarah Von Alt
Since it opened in 2016, The Herbivorous Butcher has developed a loyal fan base across the U.S. Located in Minneapolis, the shop offers a wide variety of vegan meats and cheeses—many of which can be shipped nationwide.
Now the owners (brother and sister duo Aubry and Kale Walch) have launched a brand-new subscription service: the Jerky of the Month Club. In an email, the company reveals:
We have officially launched a Jerky of the Month Club!! Each month starting in January, subscribers will receive two mystery jerky flavors to enjoy. Sign up for month-to-month payments, pay for three months at a time, or save 15% when you purchase a full year at once.
Made with seitan, the jerky from The Herbivorous Butcher is like all its plant-based meats—loaded with flavor. The jerky is carefully cooked to give it the perfect tough, chewy texture. And now you can get it delivered to your door EVERY MONTH—sign up for the club here.
View this post on Instagram
But The Herbivorous Butcher isn't the only company offering a vegan subscription service. Subscription boxes are more popular than ever, and with the increasing variety, you can find several that are vegan-friendly.
In fact, there's even another vegan jerky club! With the Louisville Vegan Jerky Company's Jerky of the Month Club, you get two of its acclaimed drool-worthy flavors and a "secret" flavor shipped to you each month.
—
As vegan food grows in popularity, so does the number of delicious plant-based offerings, including these fun vegan jerky clubs.
Not veg yet? There's never been a better time to leave animal products off your plate. For delicious vegan recipes, easy meal ideas, and tips on making the switch to a plant-based diet, order a FREE Vegetarian Starter Guide today!