35 Vegan Comfort Dishes for Valentine's Day That Won't Disappoint
Elizabeth Enochs
I don't know about you, but I love being cooked for—even if I'm just cooking for myself. To me, few actions say "I love you and want to make you happy" like taking the time to prepare a delicious meal for someone. It's part of the reason my main Valentine's Day tradition is simply to skip the crowded restaurants and eat plenty of delicious food from the comfort of my cozy abode. Whether I'm single, in a relationship, or Galentines-ing it up, my ideal Valentine's Day is a night spent at home with good food and great company. And since this is my first vegan Valentine's Day, I have all new recipes to try out. Of course, as is my preference, there's a heavy focus on vegan comfort dishes here. Valentine's Day is a winter holiday, after all. Plus, who doesn't love a good vegan pizza and green chili mac 'n' cheese?
More importantly though, whether you're new to vegan cooking or not, these plant-based recipes are too simple and delicious to ruin. And no matter what kind of palettes you're dealing with this Valentine's Day, these dishes are varied enough that they should please a variety of different tastes. So if you're looking for some special dishes to cook your favorite vegan this Valentine's Day, (even if you're your favorite vegan) then the internet and I have got you covered.
Enjoy, and happy Valentine's Day!
Thyme & White Bean Pot Pies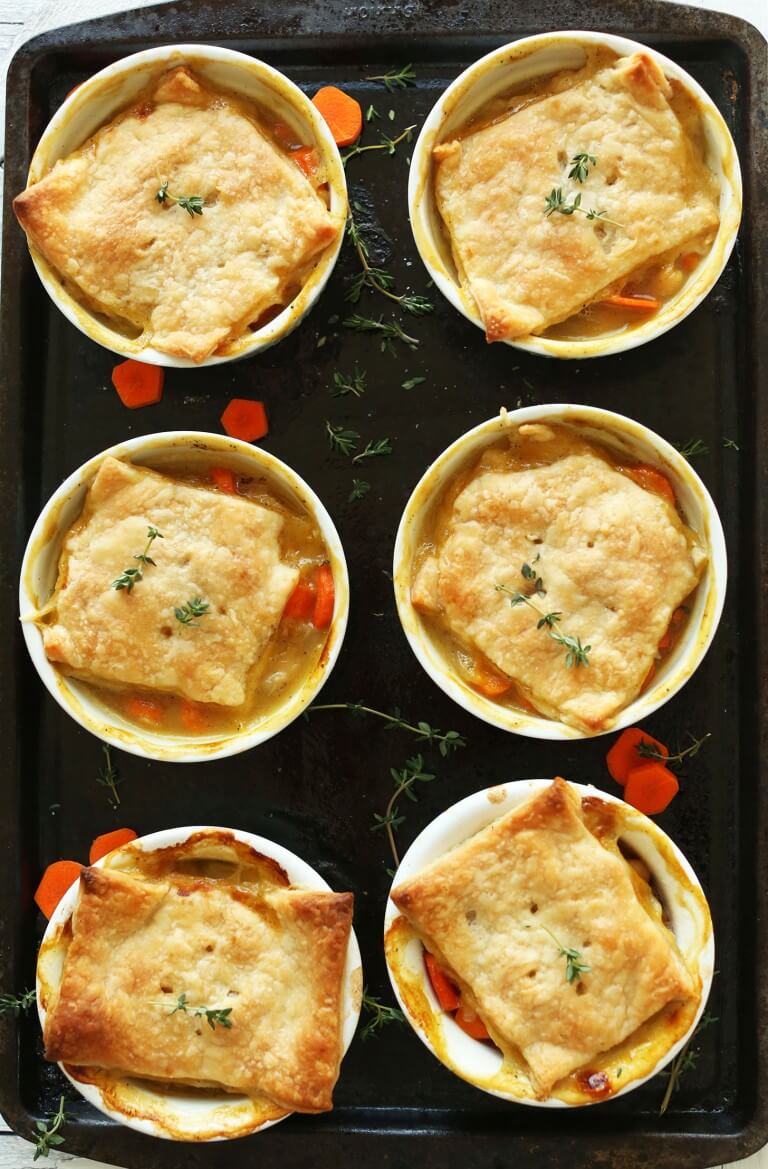 Comforting and delicious, this classic dish from Minimalist Baker is sure to please. Even better, you can whip it up in about an hour.
Veggie Lasagna for Two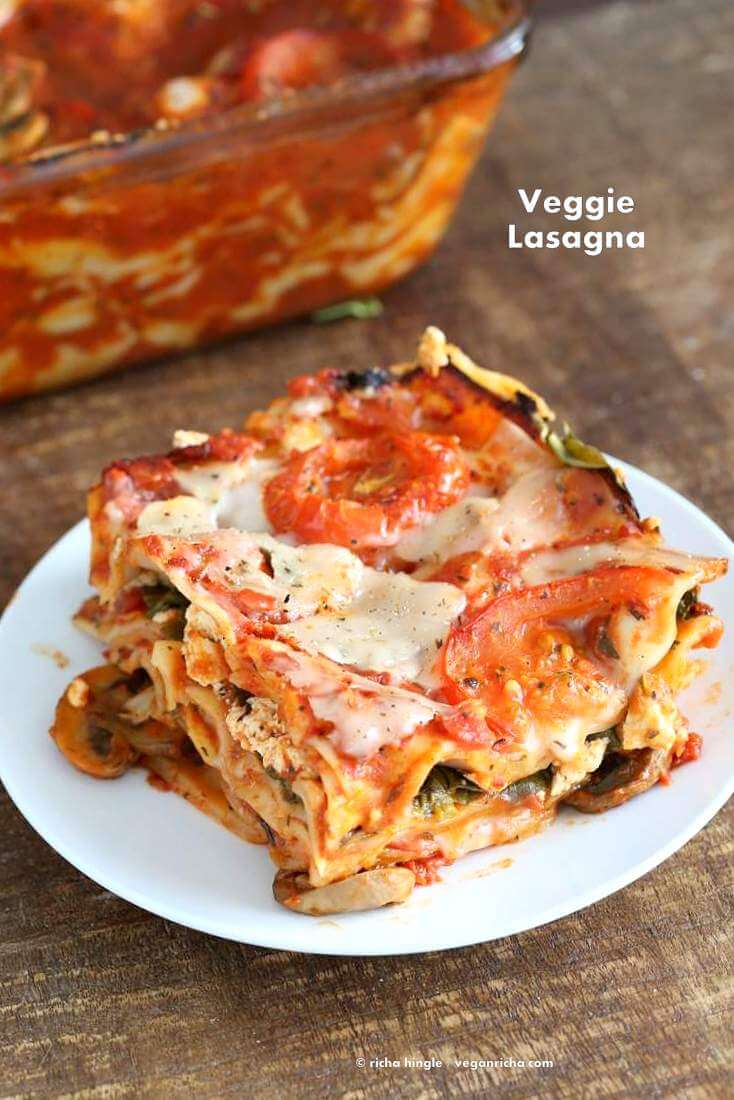 Want to see your partner swoon? Serve them up Vegan Richa's plant-based lasagna. Balance out the meal with some some fresh sourdough baguettes and a vegan caesar salad, and you've got yourself a full plant-based dinner. Don't forget the nooch and you should be golden.
Vegan Green Chili Mac 'n' Cheese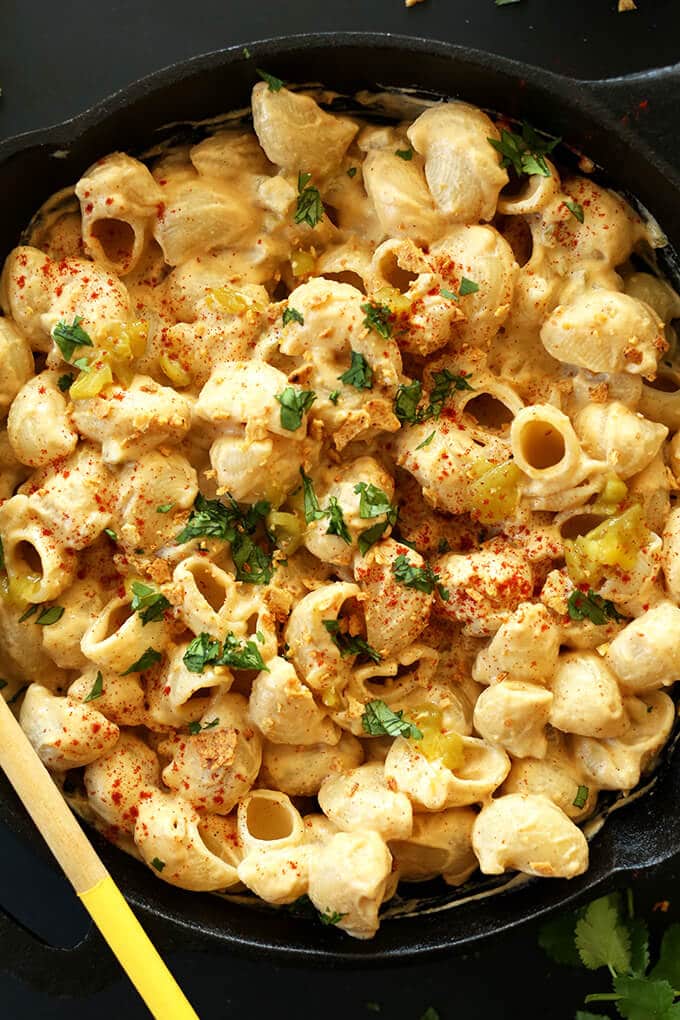 This Minimalist Baker's vegan green chili mac 'n' cheese recipe is just waiting to spice up your Valentine's Day. Whether you serve it as a side dish or your entree, this cruelty-free comfort dish won't disappoint.
Vegan Pizza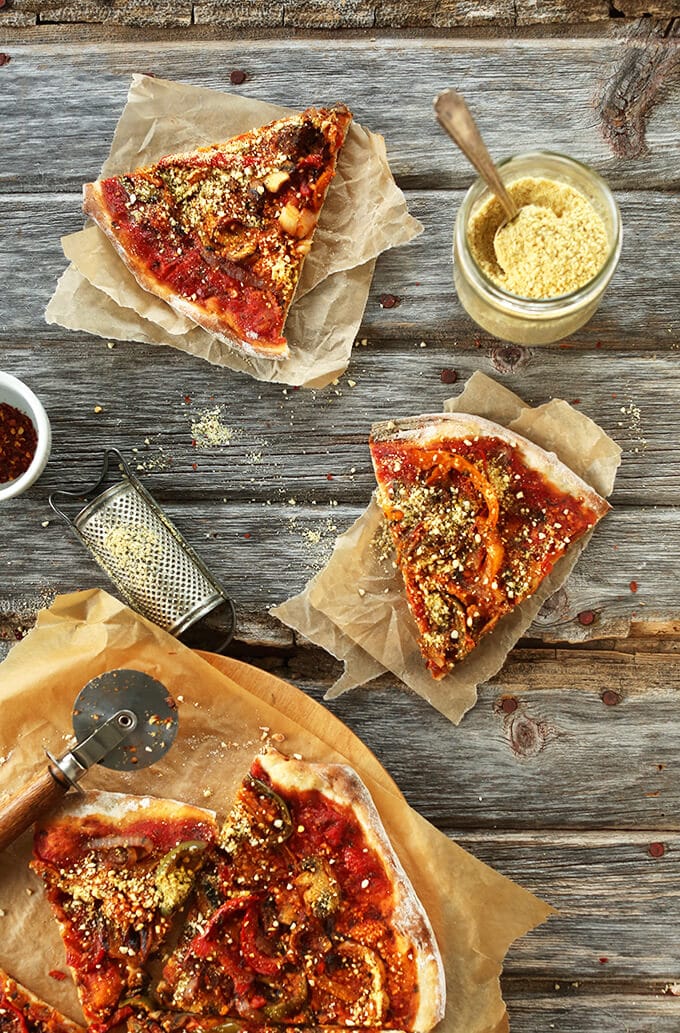 Because nothing says "I love you" like baking someone their very own vegan pizza, and this Minimalist Baker recipe is divine!
Vegan Fettuccine Alfredo With Mushrooms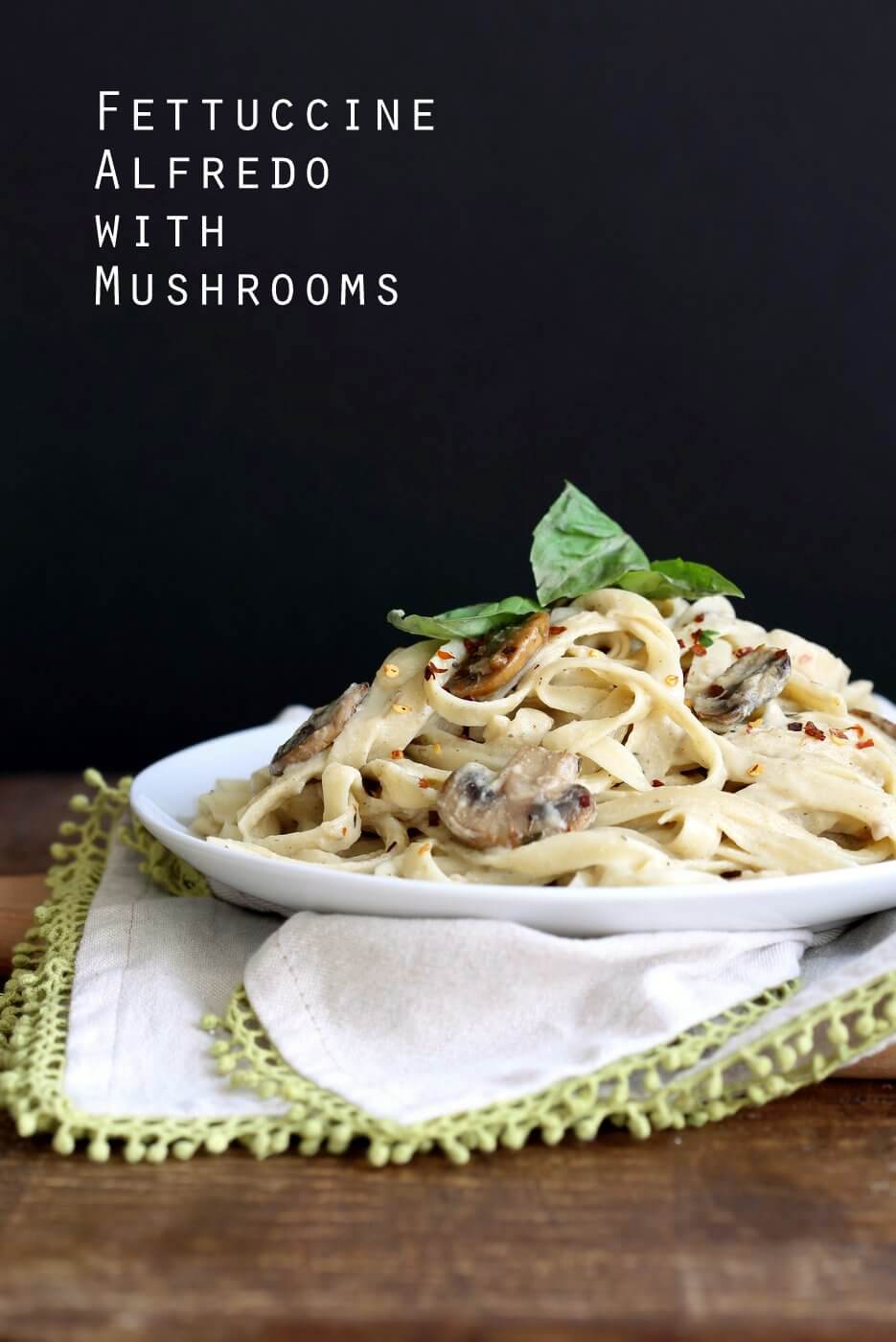 There's no need to brave Valentine's Day crowds when you can enjoy Vegan Richa's spectacular fettuccine Alfredo from the comfort of your cozy abode. Even better, this zesty dish is nut-free, soy-free, gluten-free, and should only take about 40 minutes to prepare.  
Mediterranean Baked Sweet Potatoes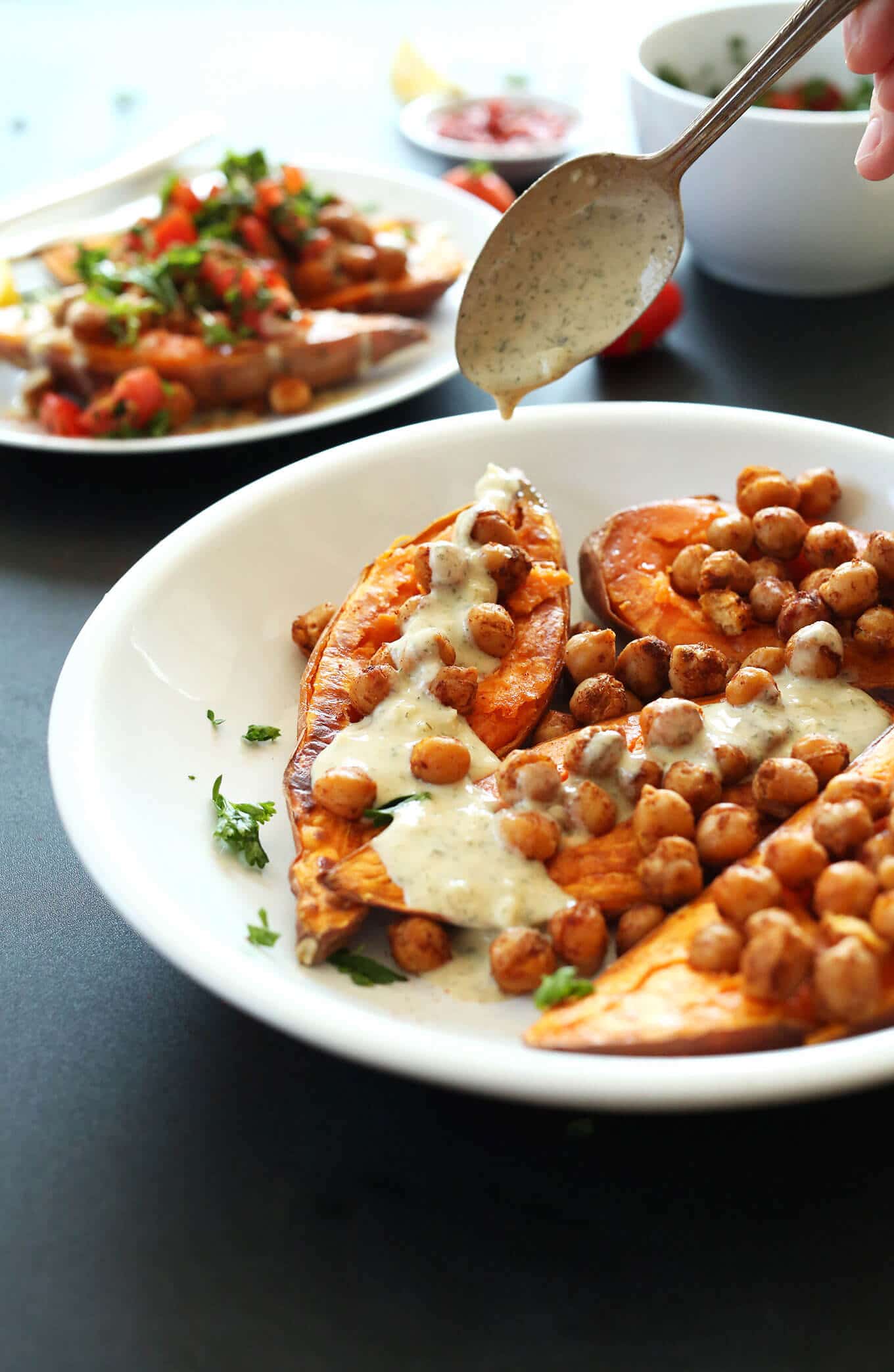 Quick, filling, tasty, and comforting, this Minimalist Baker dish works as both appetizer and main course. Plus, you can say you made sweet potatoes for your sweet potato.
Mini Tofu Pot Pies
What can I say? I love pot pies. And this yummy comfort dish from ChooseVeg is full of plant-based protein and topped with homemade vegan biscuits. Yes, please!
Roasted Red Pepper Pasta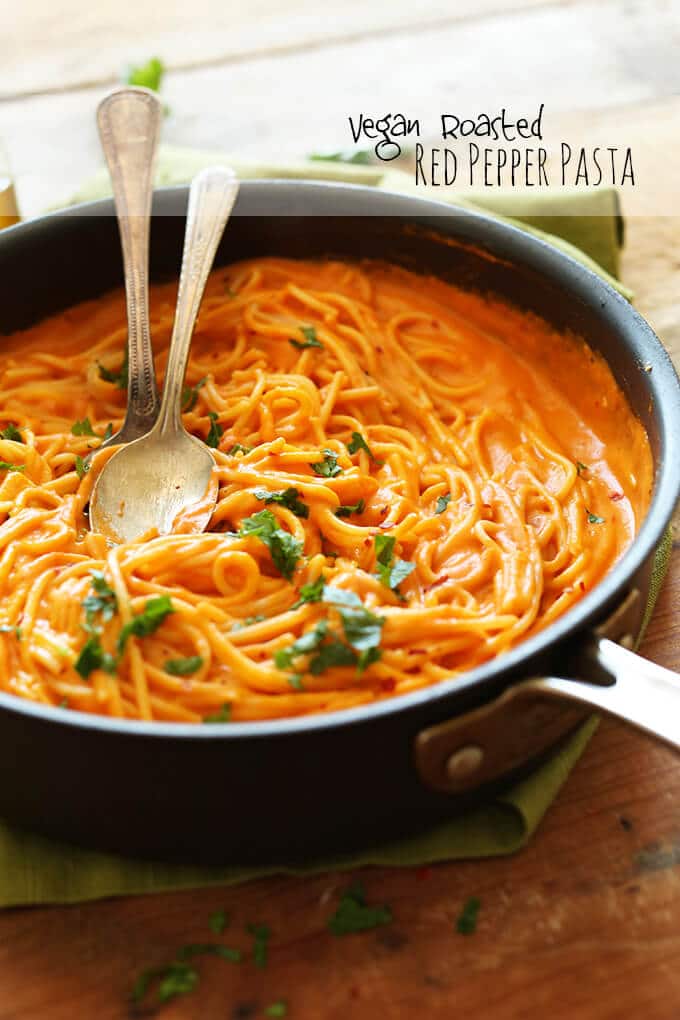 This 10-ingredient gluten-free pasta recipe from Minimalist Baker is delicious, spicy, and comforting. Budget an hour for prep time, and then be prepared to win your partner's heart all over again.
Fusilli Pesto With Broccoli & Radishes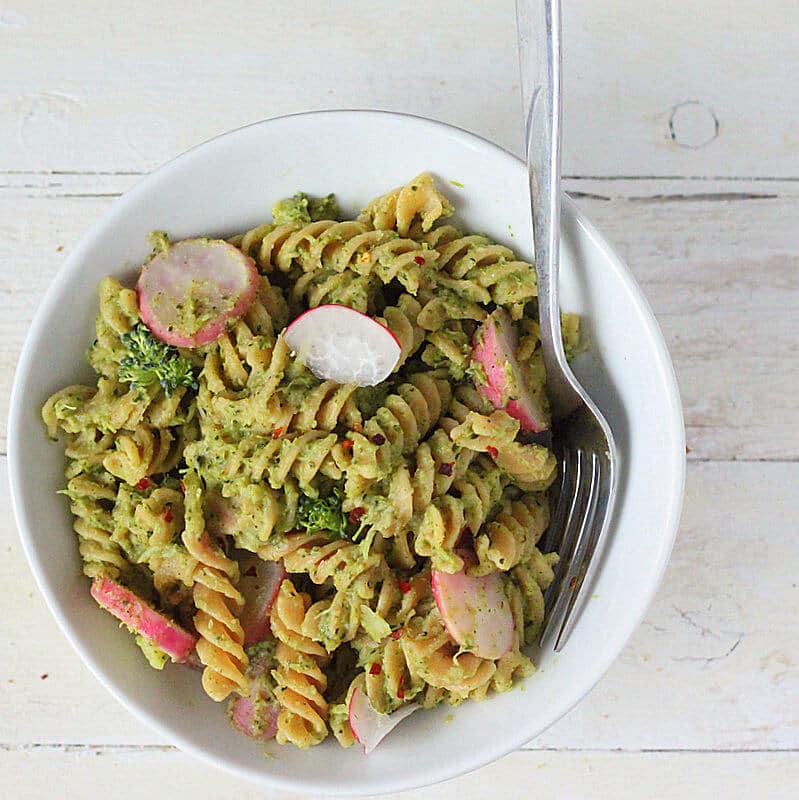 This colorful dish from Vegan Richa is sure to put a smile on your favorite vegan's face, and it's healthy AF!
Sun-Dried Tomato Pasta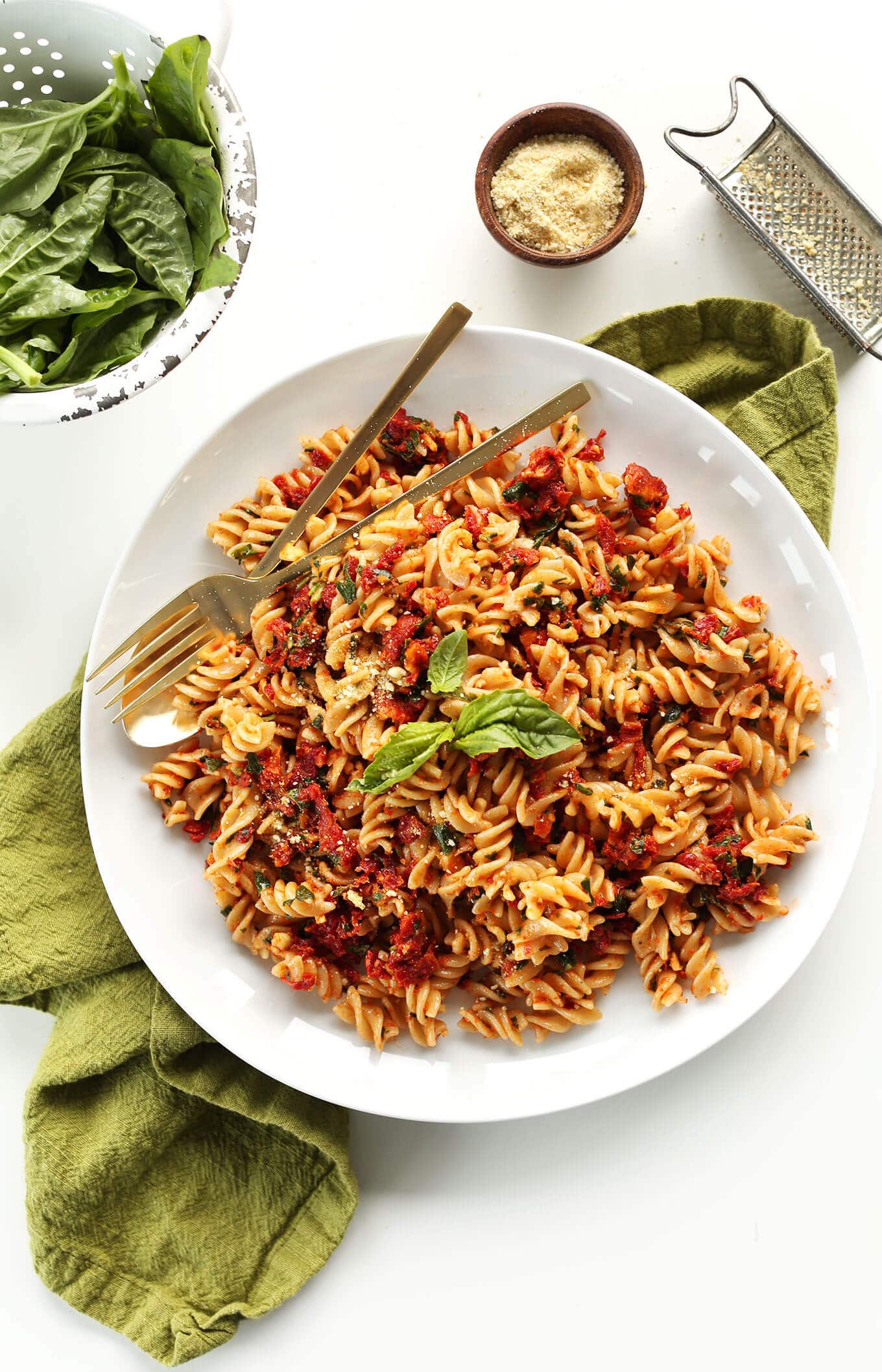 Delicious and easy to put together, this pasta recipe from Minimalist Baker is a win-win.
30-Minute Coconut curry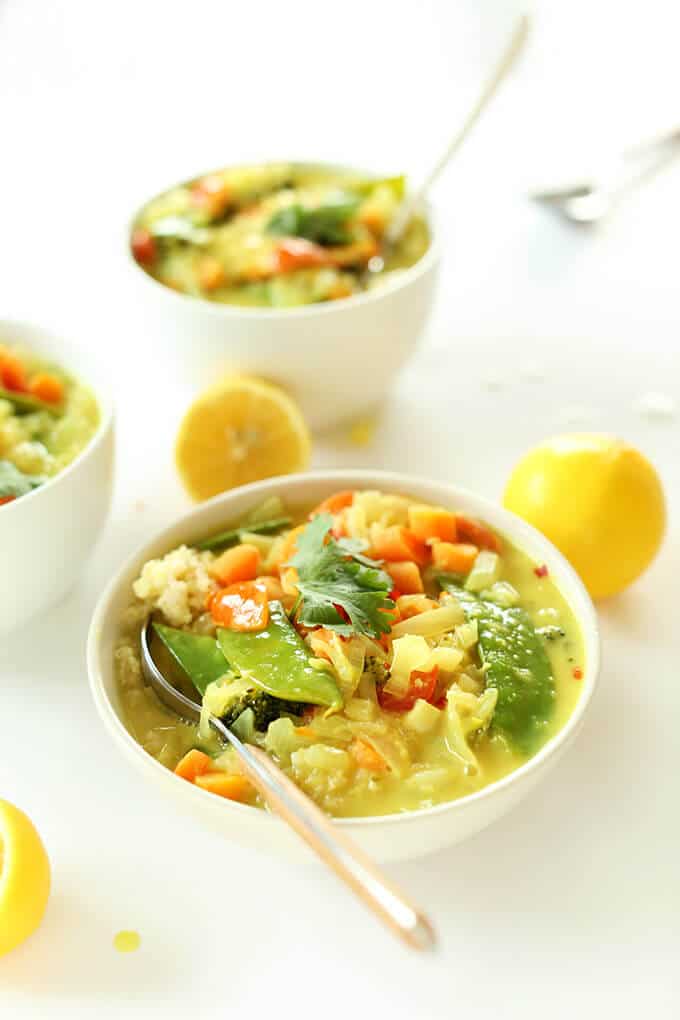 This savory, gluten-free comfort recipe from Minimalist Baker will help you set the mood for a cozy Valentine's night spent tucked away with your favorite vegan. Better yet, this dish takes only 30 minutes to complete.   
New England Vegan Chowder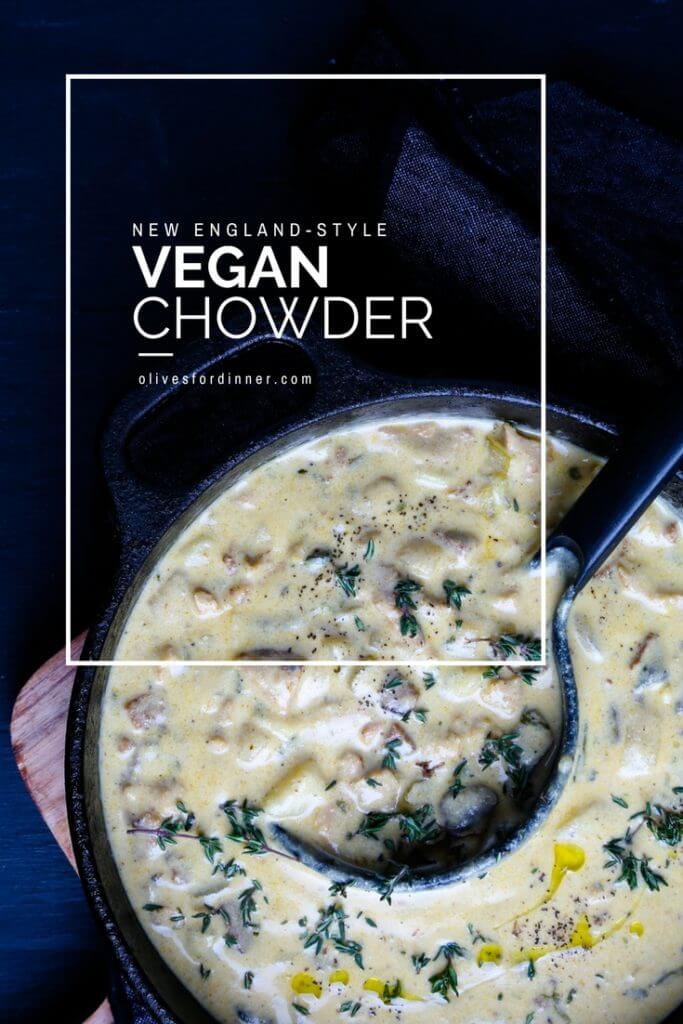 This cashew-creamy soup from Olives for Dinner is sure to give your valentine the warm fuzzies. Serve with oyster crackers or fresh vegan biscuits, and don't forget the thyme.
Vegan Bolognese
Simple and scrumptious, ChooseVeg's vegan Bolognese is a tasty choice for all skill levels.
Vegan Portobello Pizza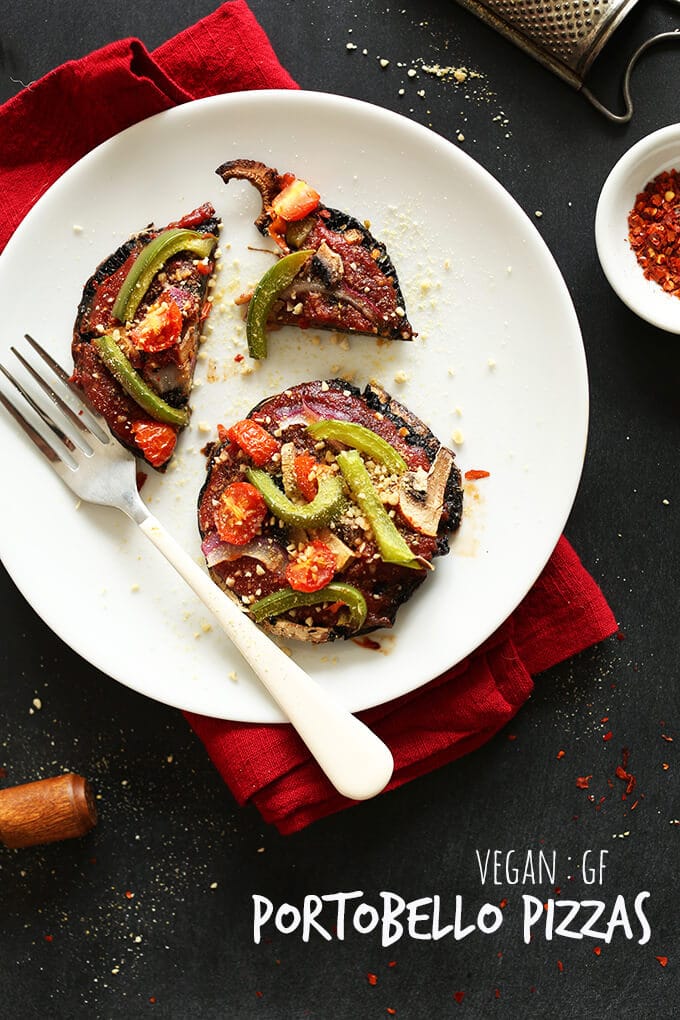 Who needs crusts when you can eat pizza toppings off a portobello mushroom cap? Serve Minimalist Baker's vegan portobello pizzas as an entree, appetizer, or side dish. Just don't forget the vegan Parmesan cheese.
Vegan Street Corn Nachos
You can serve ChooseVeg's tasty nachos before the main event or add plant-based proteins of your choice to make this dish its own meal. Either way, your favorite vegan will appreciate it.
Crispy Peanut Tofu & Cauliflower Rice Stew

If you've never tried cauliflower rice, you're missing out. Heads-up though, this Minimalist Baker recipe takes at least 90 minutes to prepare.
Vegan Stuffed Peppers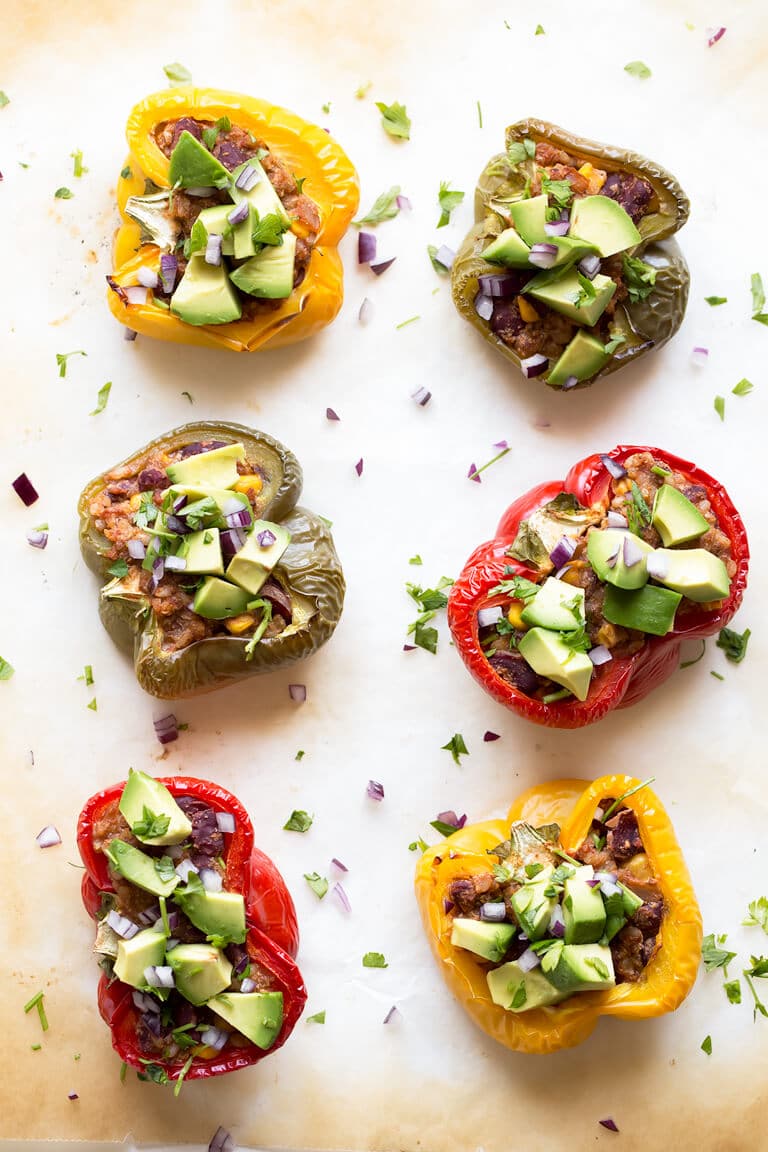 This gorgeous recipe from Simple Vegan Blog is a foolproof way to start your cozy Valentine's dinner. Vegan stuffed peppers take nearly an hour to put together though, so be sure to plan ahead.
Poblano & Portabello Fajitas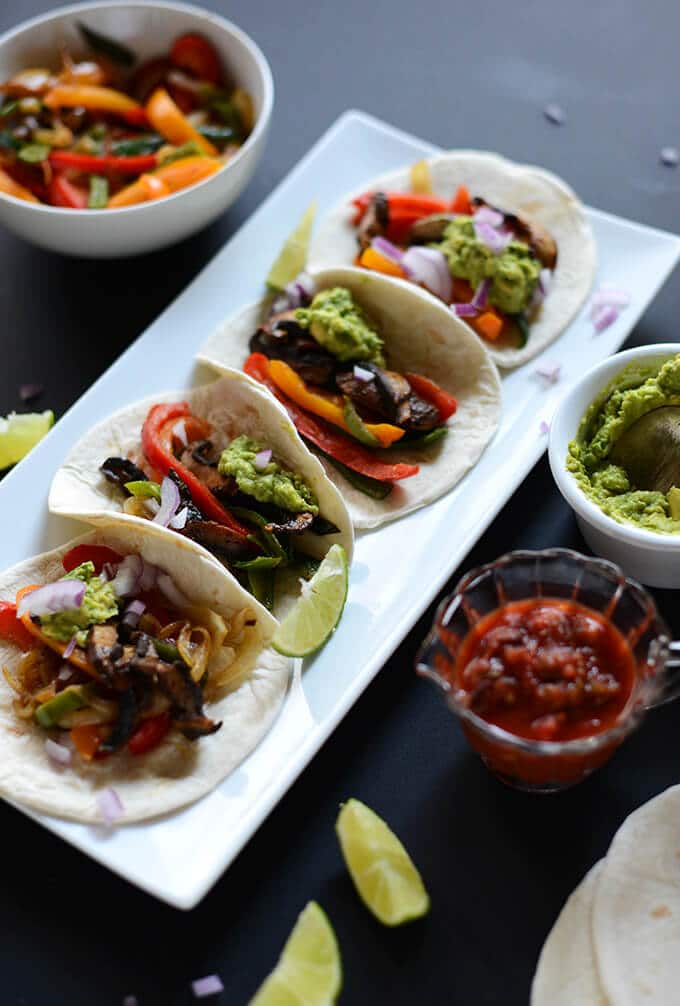 Because we all know fajitas are basically fancy tacos, and these poblano and portobello fajitas from Minimalist Baker will make your favorite vegan proud.
Vegan Falafel Burgers
I've never met a vegan who didn't appreciate a good plant-based burger, and ChooseVeg's falafel burger looks positively mouthwatering.
Vegan Tomato & Roasted Mediterranean Risotto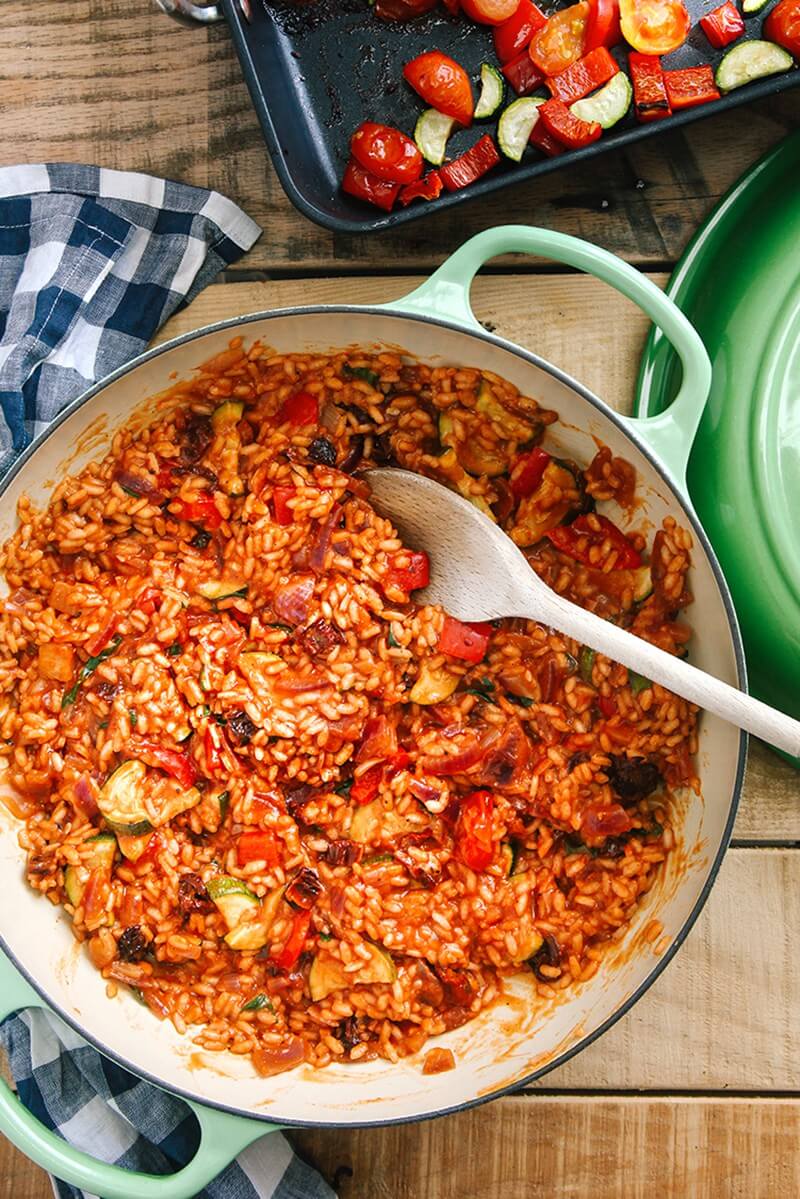 This creamy risotto from Wallflower Kitchen is bursting with plant-based flavor. Even better, it takes only 45 minutes to make.
Eggplant Lasagna Rollups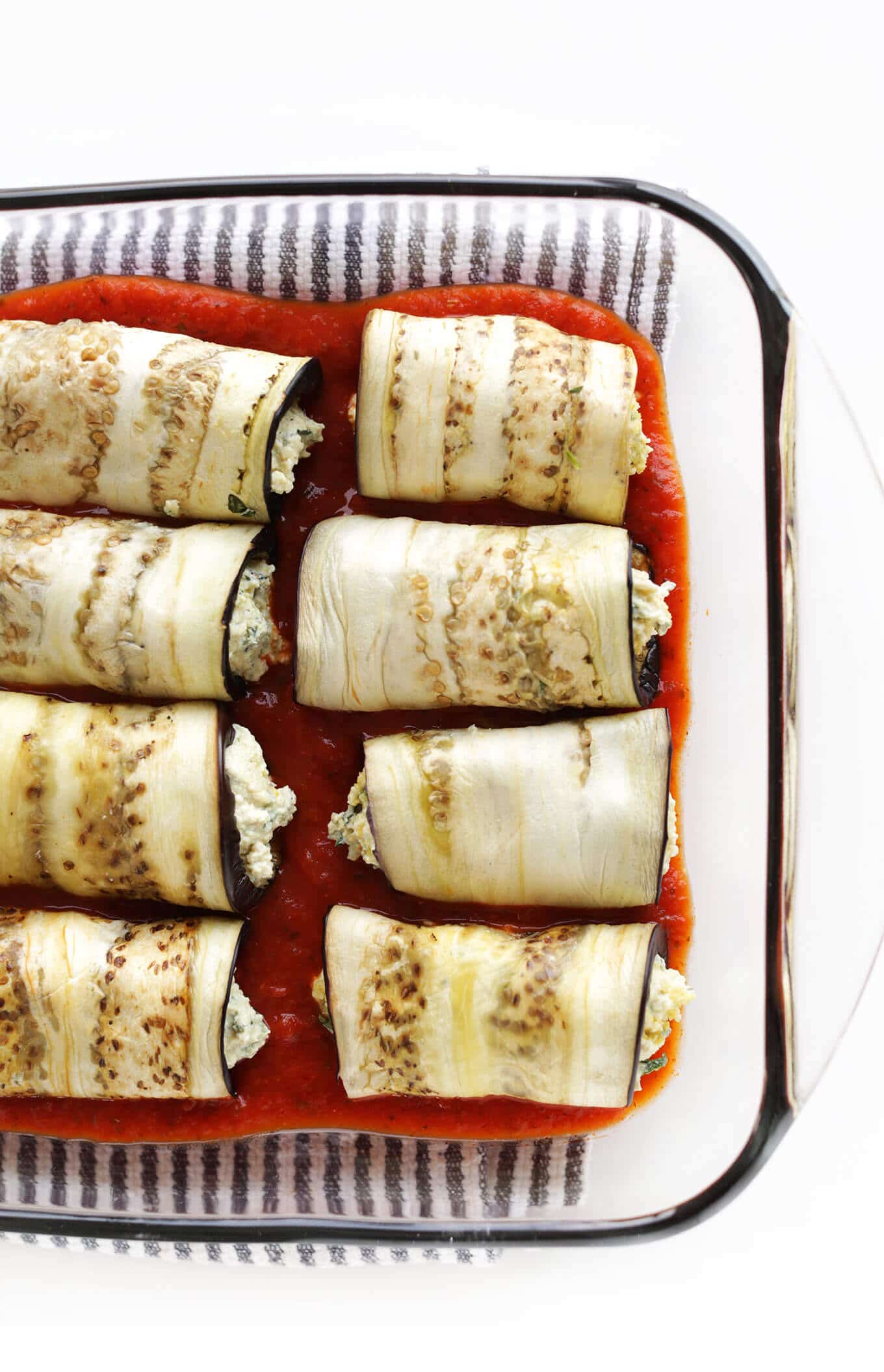 This decadent dish from Minimalist Baker requires only one hour to prepare, and it's so pretty!
Homemade Shiitaki & Tofu Wontons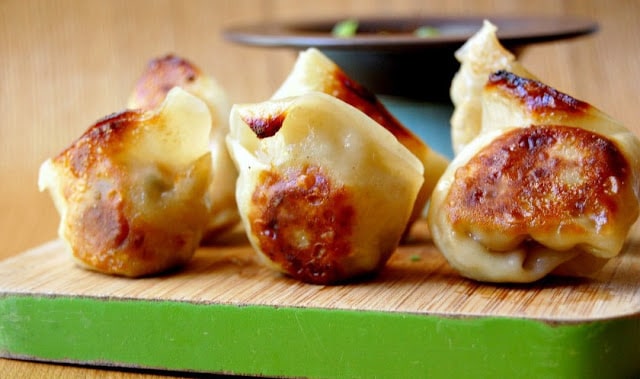 This recipe from House Vegan is as easy as it is delectable. And you'll get to say you made dumplings for your dumpling.
Brussel Sprout & Cashew Fried Rice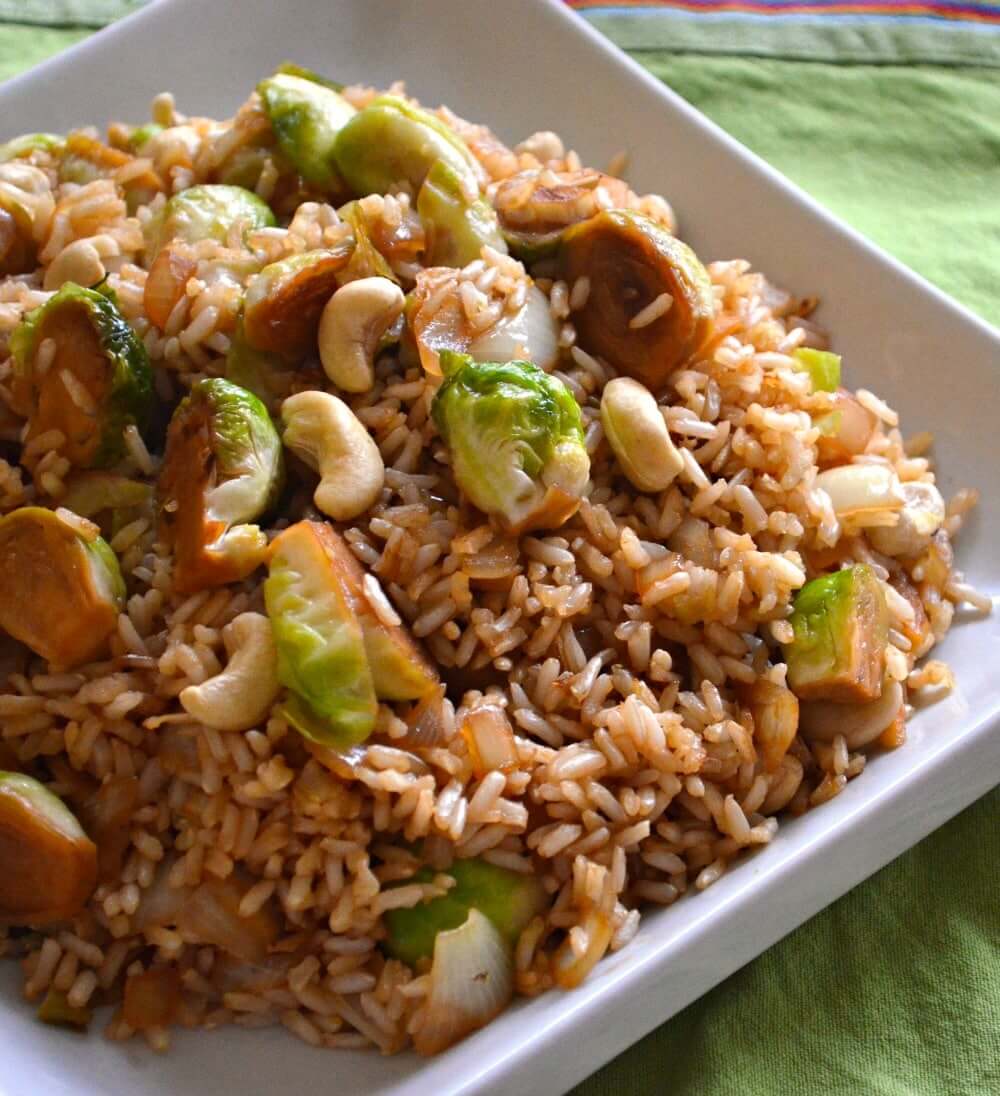 Serve this yummy entree from A Virtual Vegan with the homemade vegan wontons from above, and watch your partner's Valentine's Day dinner dreams come true.
Zucchini & Sweet Potato Noodle Minestrone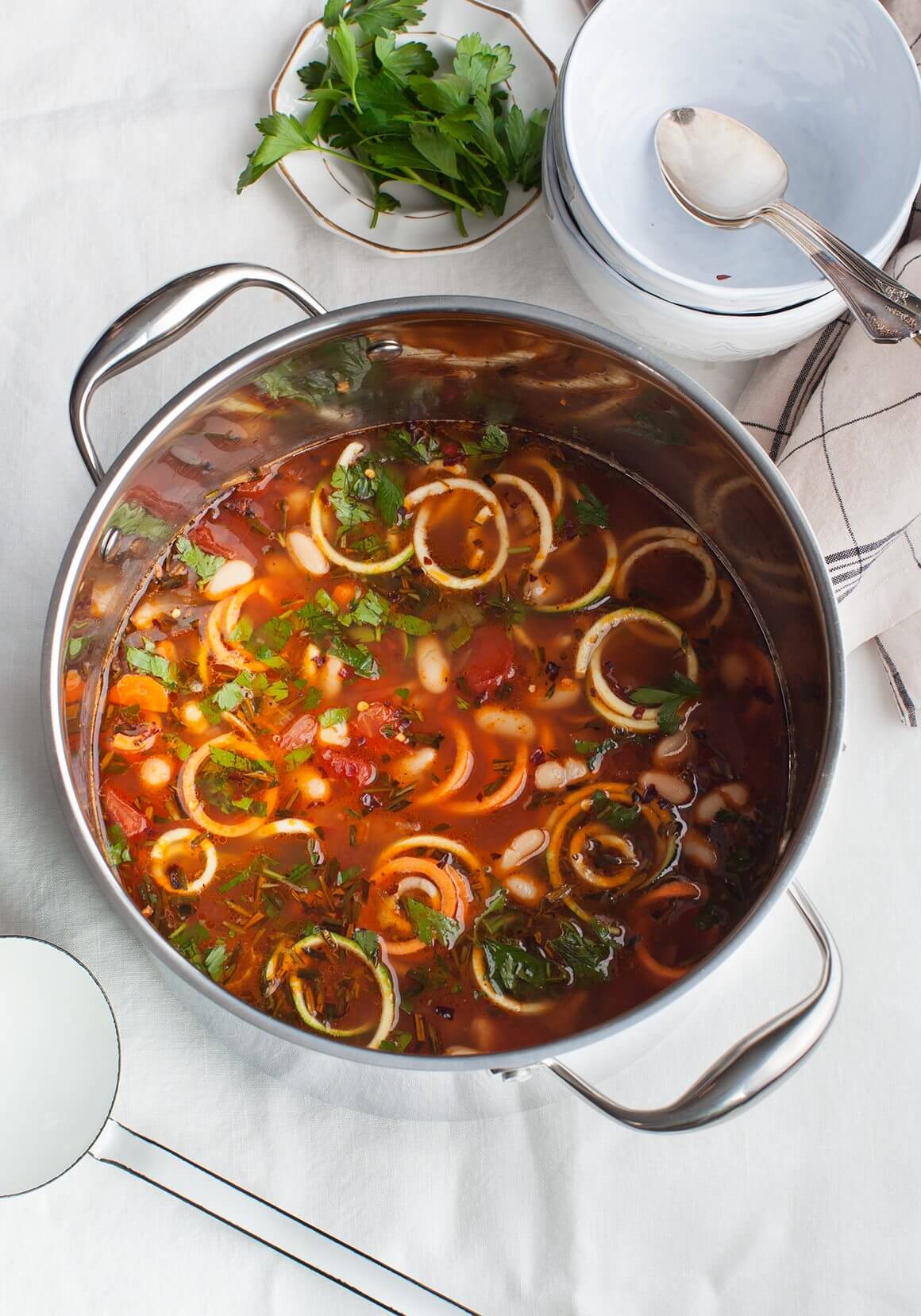 This veggie soup from Love & Lemons is delicious and—you guessed it—super comforting. Serve it on Valentine's Day to warm your lover's heart.
Roasted Edamame Hummus & Cucumber Relish Crostini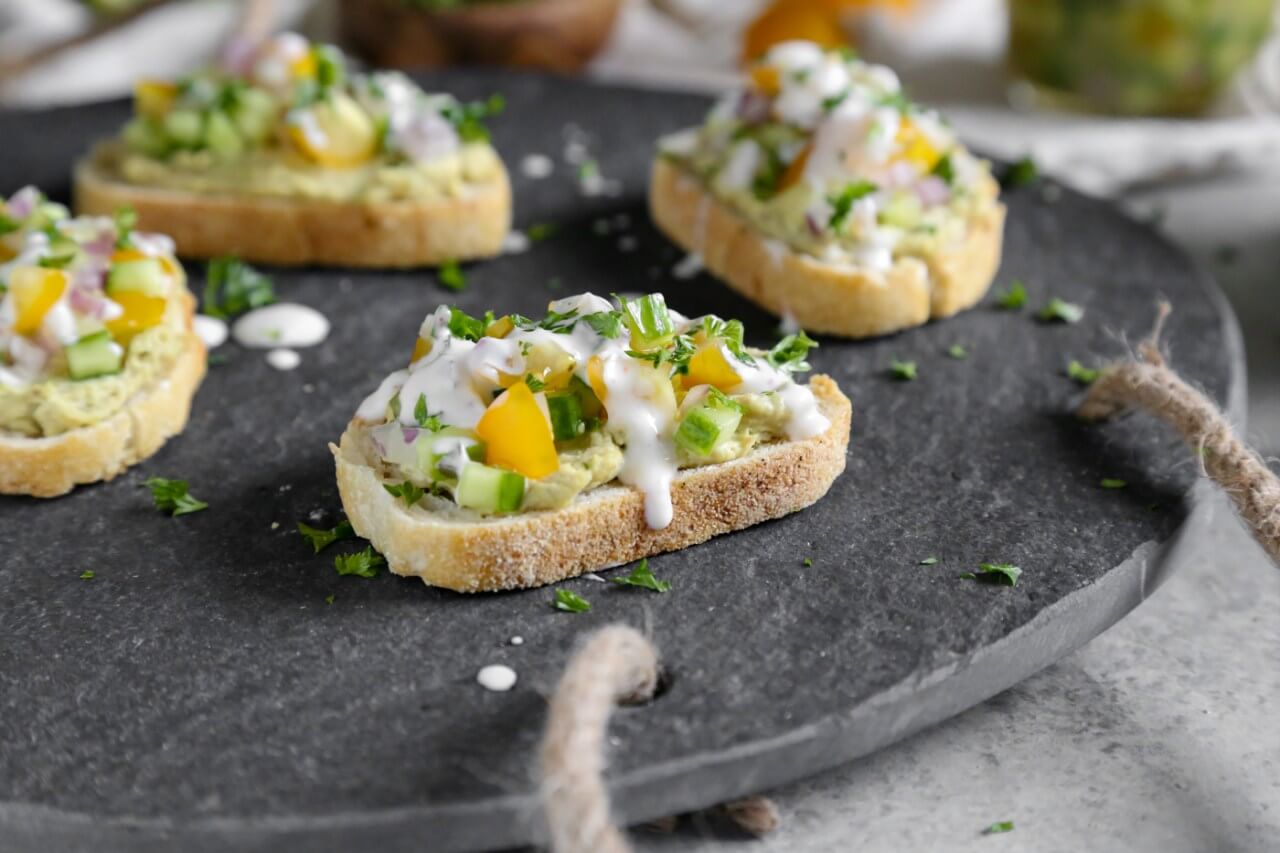 Pair The Plant Philosophy's cucumber relish with your valentine's favorite vegan bread and enjoy!
Russian Style Quinoa Salad With Winter Vegetables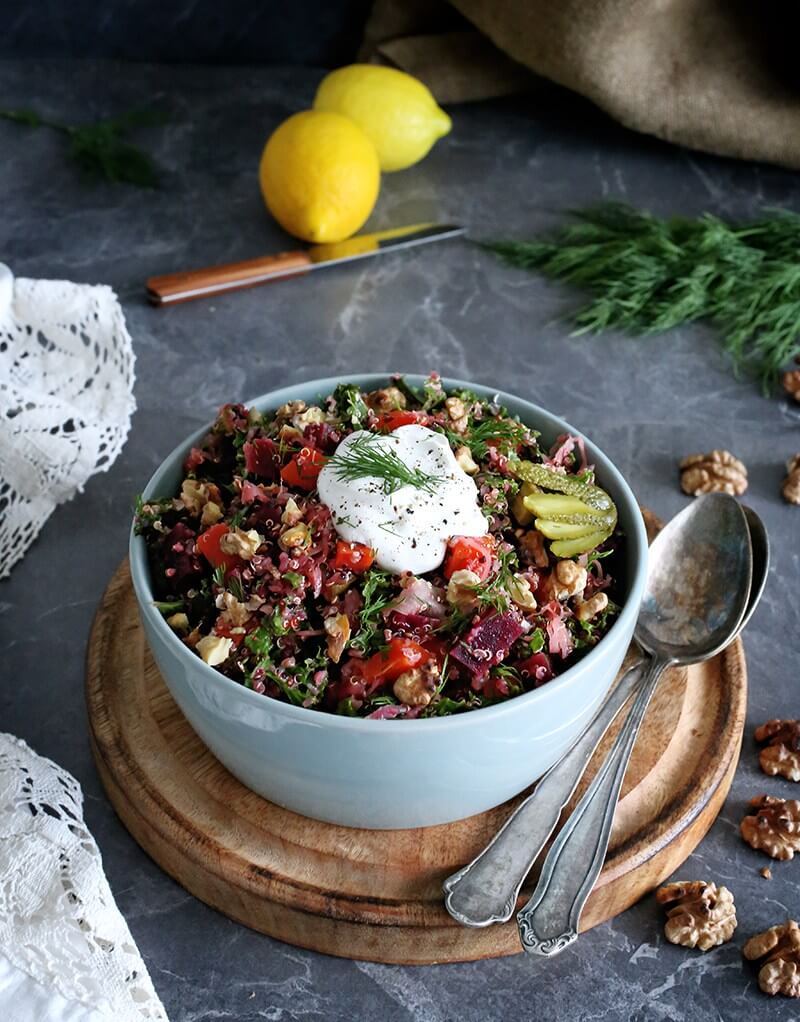 Whether you're planning a light dinner or a plant-based feast this Valentine's Day, you can't go wrong with this hearty winter salad from Green Evi. Packed full of beetroot, carrot, kale, pickles, sauerkraut, walnuts, and heaps of fresh dill, this zesty dish is both comforting and nutritious.
Vegan Shepherd's Pie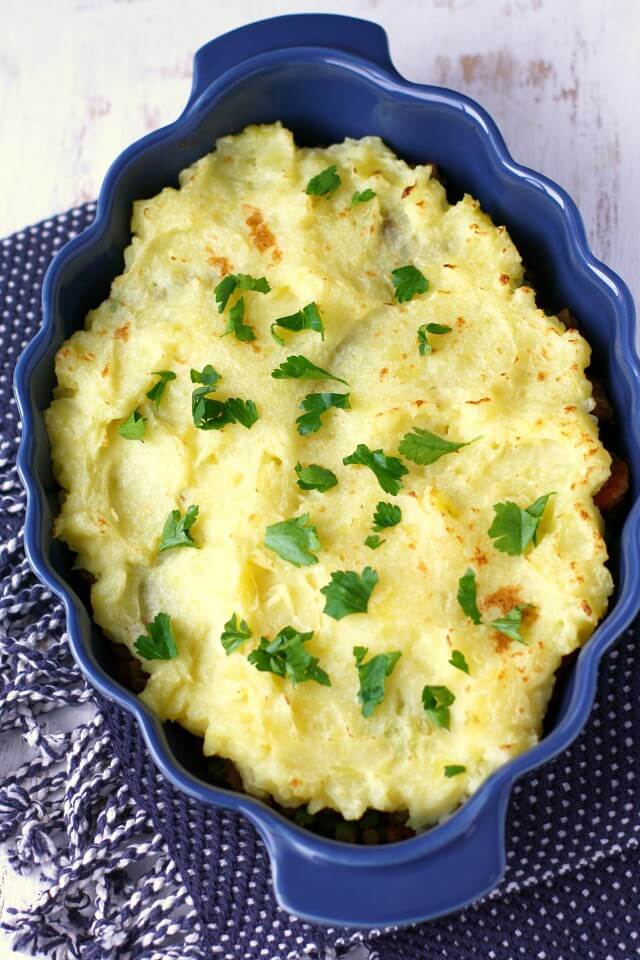 Creamy and filling, this recipe from The Pretty Bee is vegan comfort food at its finest. As an added bonus, this dish is gluten-free and takes just under one hour to prepare.
10-Minute Tostadas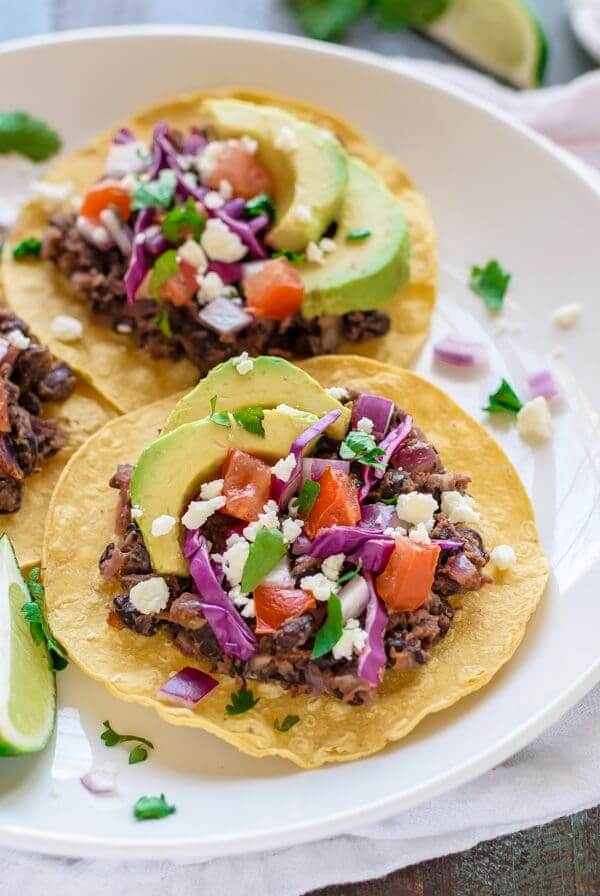 If the thought of cooking an entire vegan dinner on a weeknight is just too much, even if it is Valentine's Day, Erin from Well Plated has the recipe for you. Skip the stress and make these delicious black bean tostadas instead. It's the thought that counts, after all.
Vegan Chimichangas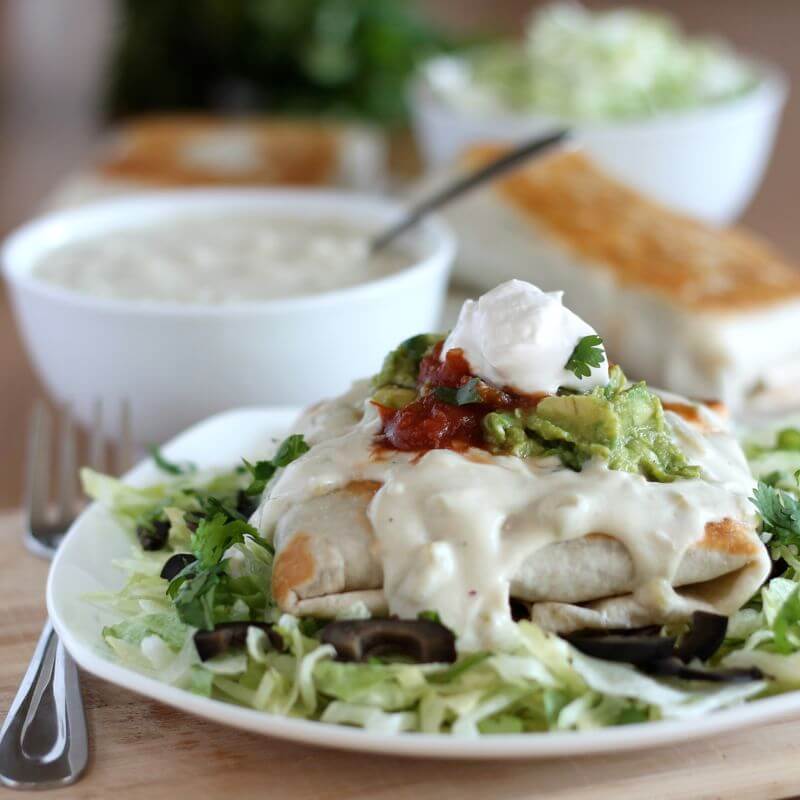 These vegan chimichangas from Vegan Yumminess are essentially fried burritos, and they're entirely plant-based. If you really want to wow the cruelty-free socks off your vegan valentine, add some vegan sour cream and the roasted tomato guacamole from below.
Slow Cooker Quinoa Enchilada Casserole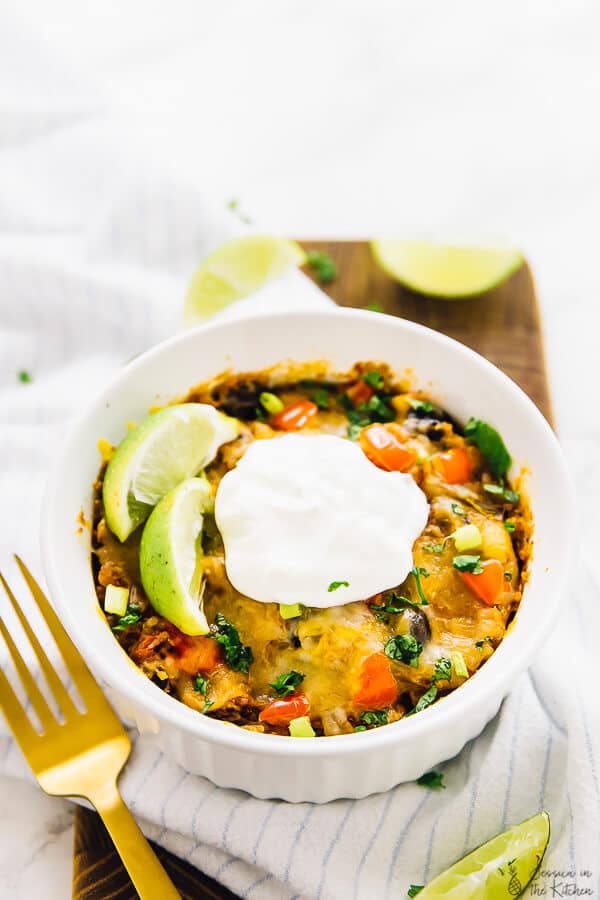 A perfect choice for lazy cooks like me, this mouthwatering dish from Jessica in the Kitchen basically makes itself. Budget 15 minutes to prep your ingredients, toss them in your slow cooker, set a timer for two and a half hours, and voilà! You've got yourself a filling, comforting, protein-packed dinner for two. Just don't forget the shredded vegan cheese and chips.
Vegan Bruschetta
This vegan bruschetta with creamy cashew cheese is sure to melt your lover's heart. Head over to Oh My Veggies to get the recipe.
Roasted Tomato Guacamole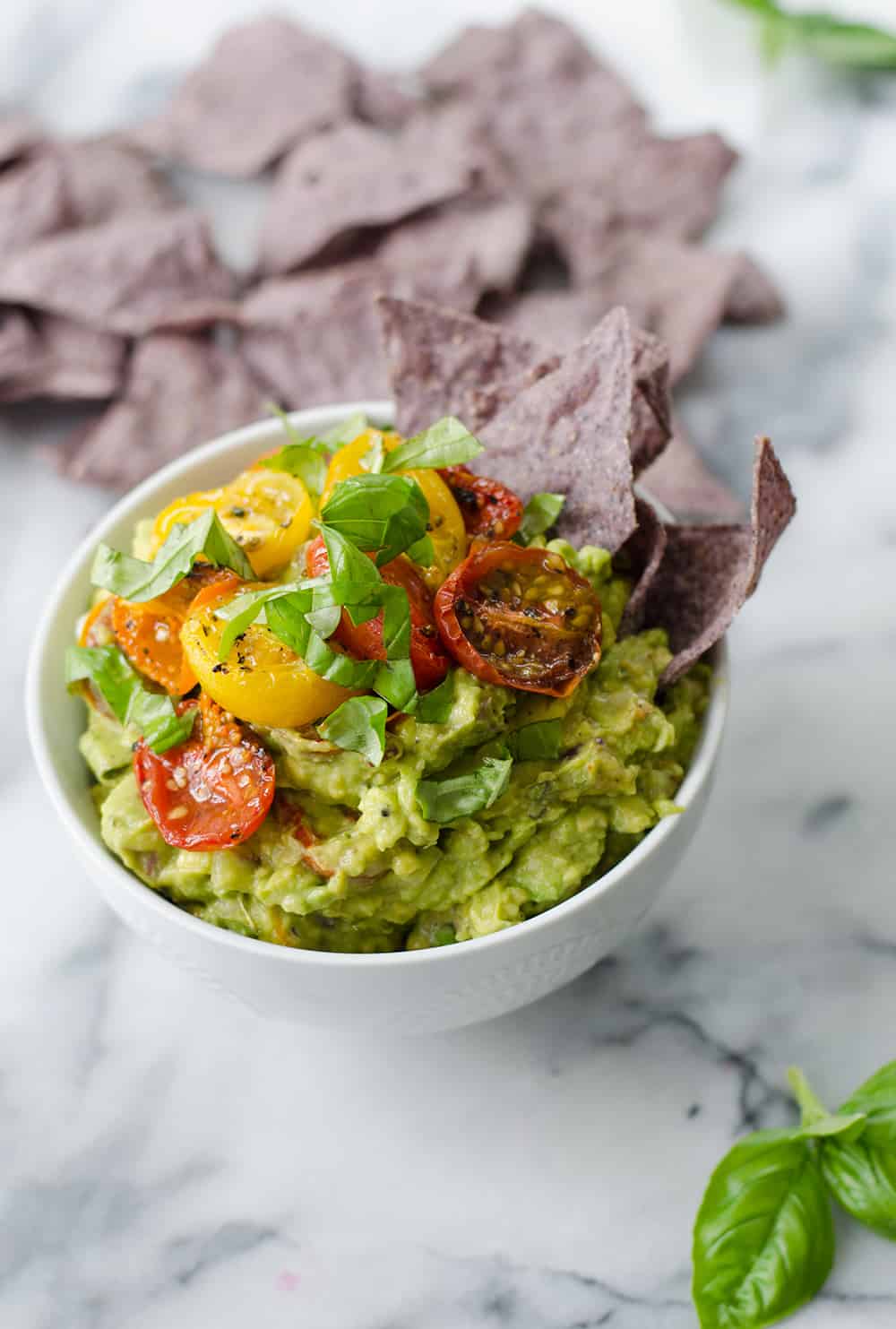 Vegan guacamole is always a good idea, and this roasted tomato guacamole from Delish Knowledge is extra special—just like your favorite vegan!
Vegan French Bread Pizza
ChooseVeg's vegan french bread pizza recipe is as simple as it gets. Make it as an appetizer for your valentine, or treat yourself to a few pieces while you cook dinner.
Vegan Swedish Meatballs

Serve these scrumptious tempeh meatballs from Rabbit and Wolves with some vegan mashed potatoes and you'll win Valentine's Day. Add a side of that green chili mac 'n' cheese we were talking about earlier, if you're feeling extra generous.
Garlic Bread Pasta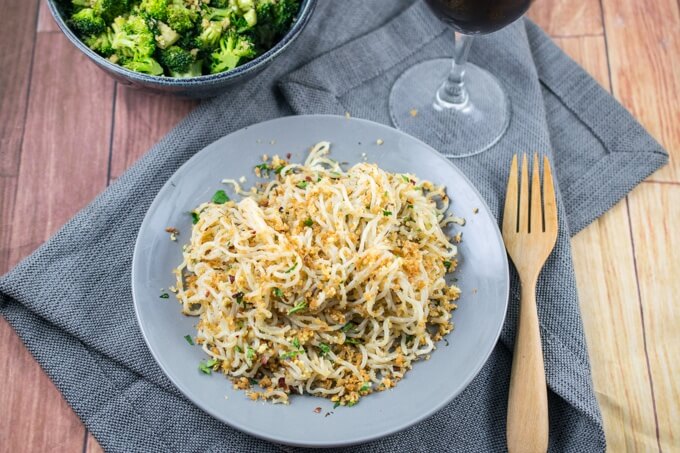 Yup, It's Vegan! takes vegan comfort food to a whole new level with this recipe. I mean, the name says it all.