Canadian Chain Tim Hortons Adds New Beyond Meat Burgers to Menu
Hannah Bugga
After the successful launch of its Beyond Meat breakfast sandwiches, Tim Hortons is offering two new burgers featuring the vegan Beyond Burger patty.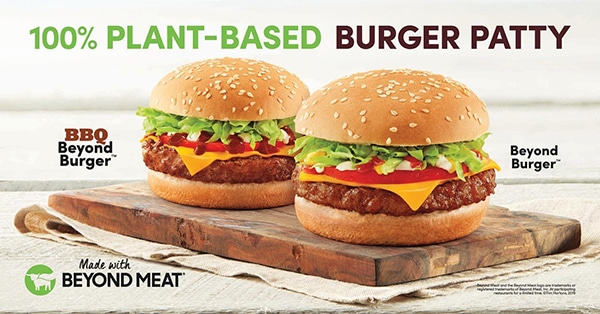 Tim Hortons is Canada's largest quick-service restaurant chain, with more than 4,800 restaurants in North America and around the world. In June, the company added three Beyond Meat breakfast sandwiches, one of which was entirely vegan. Customers were eager to try the new veggie options, making the launch a huge success.
Now Tim Hortons is expanding its vegetarian offerings by adding two new sandwiches with delicious vegan patties. The Beyond Burger comes with Beyond Meat's plant-based patty, processed cheese, fresh tomato slices, shredded lettuce, ketchup, mustard, and mayonnaise on a sesame bun, while the BBQ Beyond Burger has barbecue sauce and no ketchup or mustard.
Both burgers can be made vegan by ordering them without cheese and mayonnaise, and they are available as part of a lunch combo with a beverage and side.
In a statement, Mike Hancock, Tim Hortons' chief operating officer, said:
With nearly 4,000 Tim Hortons locations across the country, we are the largest quick service restaurant in Canada to add the Beyond Burger to our menu and at just $5.69, at one of the most affordable price points as well. Our guests are looking for more options and the Beyond Burger is a delicious addition that doesn't compromise on taste or satisfaction.
Ethan Brown, founder and CEO of Beyond Meat, also weighed in:
Following the success of the Beyond Meat Breakfast Sandwich launch, we wanted to partner with Tim Hortons to offer Canadians a delicious plant-based lunch and dinner option. With more and more Canadians interested in incorporating plant-based proteins into their diet, we are excited to be able to make our Beyond Burger available at Tim Hortons restaurants across Canada.
The restaurant has also launched a plant-based omelet sandwich in 67 Toronto-area locations using JUST's incredible vegan egg. Customers can pair the JUST Egg with Beyond Meat sausage patties to create the ultimate breakfast sandwich.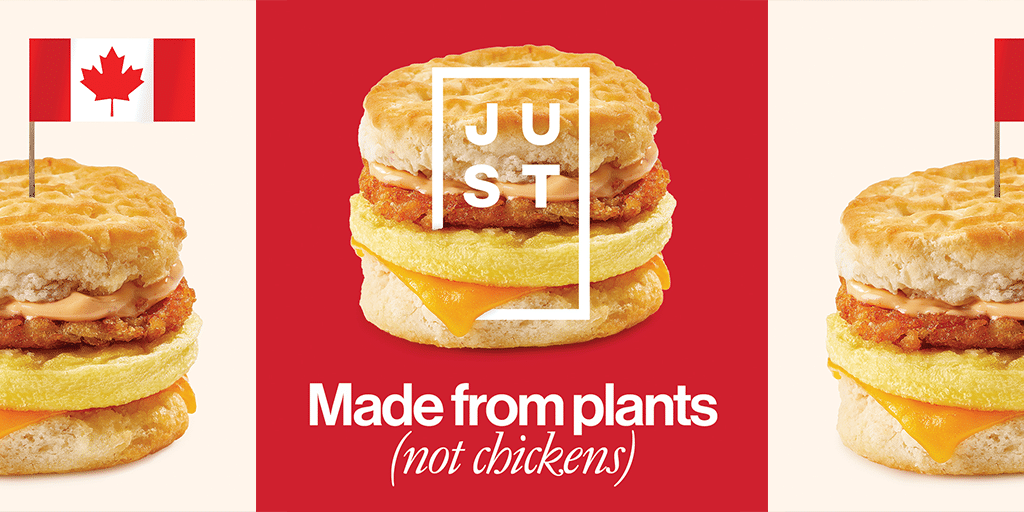 Vegan options are popping up in restaurants and fast-food chains around the world. In June, Kentucky Fried Chicken launched its plant-based Imposter Burger at 20 locations throughout the United Kingdom and sold out in just four days! In the United States, Del Taco expanded its Beyond Meat offerings, adding two new plant-based burritos to the menu. And American restaurant chains Red Robin and White Castle have been struggling to keep the wildly popular Impossible Burger in stock.
There's never been a better time to add more plant-based meals to your routine. Order a FREE Vegetarian Starter Guide today, and check out our Pinterest page for thousands of recipe ideas.