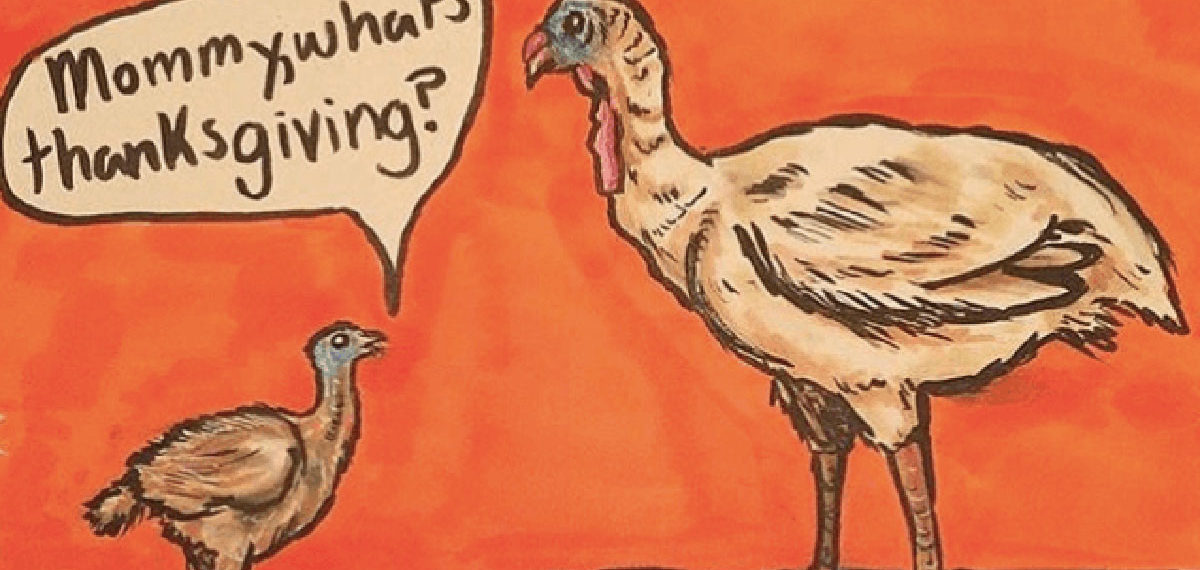 Here Are the Vegan Thanksgiving Recipes We Make Every Year
Sarah Von Alt
Vegan eating is more popular than ever before. As a result, the number of amazing vegan holiday recipes available online has skyrocketed. With Thanksgiving right around the corner, we wanted to share our favorite holiday recipe videos.
These vegan takes on classic dishes make cooking up some delicious vegan fare this holiday season a breeze. Plus, many can be modified with your favorite ingredients!
Homemade Vegan Roast
Here's our recipe for a savory homemade roast that is easy to make and sure to satisfy those who are looking for a meaty vegan turkey alternative to add to their feasts. This recipe serves six to eight, and leftovers can be kept in the fridge for up to one week.
Ingredients:
1¼ cups vegetable broth
2 tablespoons soy sauce
2 tablespoons olive oil
4 cloves garlic, minced
1 cup cooked chickpeas
2 cups vital wheat gluten
¼ cup nutritional yeast
1 tablespoon fresh thyme
1 tablespoon fresh rosemary
1 teaspoon onion powder
1 teaspoon smoked paprika
1 tablespoon seasoned vegan breadcrumbs
⅓ cup vegetable broth (for roasting pan)
Assorted vegetables, cut (for roasting pan)
½ teaspoon turkey rub or poultry seasoning
Directions:
Heat oven to 350°F.
In a blender, combine liquid ingredients and chickpeas, reserving some broth for the end. In a bowl, combine mixture with remaining dry ingredients and knead for one to two minutes. Form into a loaf.
Grease foil with cooking spray or oil, and wrap loaf in foil like a Tootsie Roll, twisting the ends to create a seal. Place loaf in a roasting pan. Bake for one hour, rotating every 20 minutes.
Uncover and discard foil. Rub with poultry seasoning (and additional oil, if desired). Add remaining broth and vegetables and bake for another 30 to 45 minutes. Enjoy!
The World's Best Vegan Stuffing
Thanksgiving just wouldn't be the same without a savory stuffing. This recipe serves six to eight and can easily be customized with your favorite veggies and herbs.
Ingredients:
1 loaf bread, cubed and dried (about 1 pound)
1 cup green apple, diced
1 cup yellow onion, diced
1 cup celery, diced
1 cup carrot, diced
2 cloves garlic, minced
1 tablespoon fresh thyme
2 tablespoons fresh parsley
2 tablespoons vegan butter
3 to 4 cups vegetable broth
Directions:
Heat oven to 350°F.
Sauté carrots in vegan butter (we used Earth Balance) for five minutes. Add apples and veggies. Sauté until soft.
In a bowl, add room-temperature broth to bread cubes. Add sautéed veggies and stir in fresh herbs. Once everything is combined, transfer mixture to a greased casserole dish. Cover with foil and bake for 45 minutes. Remove foil and bake uncovered for another 30 minutes.
Vegan Mashed Potatoes
You really can't go wrong with mashed potatoes. This recipe swaps out dairy milk and butter for plant-based versions, but feel free to use olive oil and vegetable broth for extra flavor.
Ingredients:
5 large potatoes
1 tablespoon garlic, minced
1 cup unsweetened almond milk
4 tablespoons vegan butter
Fresh chives, to taste
Salt and pepper, to taste
Directions:
Dice washed potatoes and add to a pot of water with minced garlic. Boil until soft. Drain cooked potatoes and add vegan butter (we used Earth Balance), unsweetened almond milk, salt, pepper, and chives.
Mash with potato masher or large fork. Mix ingredients well and serve with your favorite vegan gravy!
Vegan Mushroom Gravy
Mashed potatoes need gravy. This recipe uses fresh herbs and mushrooms, creating a rich umami flavor.
Ingredients:
4 cups vegetable broth
1 cup yellow onion, diced
2 cloves garlic, minced
2 packages (1 pound total) sliced mushrooms (your choice)
2 tablespoons Earth Balance vegan butter or olive oil
1 tablespoon soy sauce
3 to 4 tablespoons all-purpose flour or cornstarch
1 tablespoon fresh thyme
¼ teaspoon rubbed sage
Black pepper and salt, to taste
Directions:
Sauté mushrooms, onion, and garlic in butter or olive oil. Add vegetable broth and simmer for 10 to 15 minutes or until mushrooms have reduced.
Slowly whisk in flour, one tablespoon at a time. Add thyme and sage and simmer for another five to 10 minutes. Season with salt and pepper to taste.
*For thicker gravy, add more flour. For thinner, add more vegetable broth.
The Best Vegan Pumpkin Pie
We saved the best for last. This pumpkin pie is the ultimate vegan Thanksgiving dessert—made with minimal ingredients and easy to prepare.
Ingredients:
Premade pie crust
1½ cups cashews (soaked overnight or at least eight hours)
1 cup maple syrup
1½ cups pumpkin purée
3 tablespoons pumpkin pie spice
Directions:
Heat oven to 375°F.
Blend cashews, pumpkin purée, maple syrup, and pie spice until smooth (about three minutes). Pour mixture into pie crust and bake at 375° for an hour.
Cool on counter for 20 minutes and then chill in fridge for at least three hours.
—
Celebrating your first vegan Thanksgiving? Here are some tips for a successful holiday meal.