Fast-Food Giant KFC Adds Vegan Chicken to Menu in Vietnam
Sarah Von Alt
Kentucky Fried Chicken is well-known for its fried chicken, and the company is making headlines this week for debuting vegan chicken options in Vietnam. According to KFC Vietnam, the brand released these limited-time offerings earlier this month to coincide with the lunar calendar.
Many Vietnamese people, who are predominantly Buddhist, abstain from animal products on certain lunar calendar dates. These two vegan chicken dishes—a vegan chicken sandwich with lettuce, tomato, and eggless mayo and a rice bowl with shredded vegan chicken, roasted seaweed, and other greens—give the popular fast-food giant an edge on its competitors.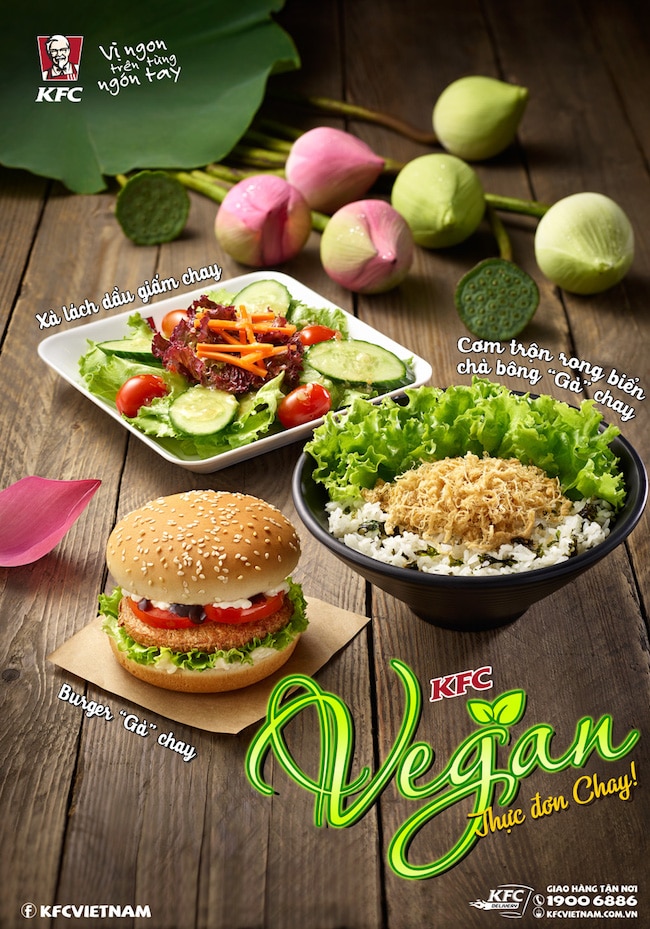 But these new offerings shouldn't come as a complete surprise. In May, KFC announced plans to test a vegetarian alternative to chicken in the U.K. and Ireland, in an effort to cut calories from its menu. Vowing to remove 20 percent of the calories "per serving" from its food by 2025, KFC also plans to offer low-calorie beverages and healthier sides instead of fries.
In the States, many of KFC's sides are already plant-based, including the barbecue baked beans, corn on the cob, green beans, and potato wedges. And while the planned "vegetarian option" in the U.K. is a bit vague, these new menu items in Vietnam are promising.
Vegan eating is becoming more popular by the day, with more companies introducing plant-based products to meet growing demand. We can't wait for the day when KFC offers vegan chicken at all of its locations!
—
While far from the healthiest choice, fast food is sometimes your only option. Luckily, several popular chains already have vegan offerings that are perfect when you're in a pinch. Click here for a few of our favorites.
Not veg yet? You can get delicious plant-based recipes, quick meal ideas, and tips on making the switch here.