Everything You Need to Know About the Vegan Food Pyramid
Elizabeth Enochs
The list of vegan and vegetarian celebrities keeps growing, and vegan hip-hop fans couldn't be more excited. Earlier this month, Beyoncé announced she'd gone vegan to prep for Coachella, and Drake recently announced that he'd ditched meat. But switching to a plant-based diet can be challenging at first—and I'm guessing most of Beyoncé's and Drake's fans don't employ personal chefs. Luckily though, it's easier than ever to learn about vegan nutrition and vegan cooking.
In fact, the Academy of Nutrition and Dietetics approves a vegan diet, and the American College of Cardiology and the American Institute for Cancer Research both promote plant-based eating. Vegans even have their own food pyramid of sorts, and it's called the Power Plate.
Created by the Physicians Committee for Responsible Medicine, the Power Plate presents four food groups: fruits, grains, legumes, and vegetables.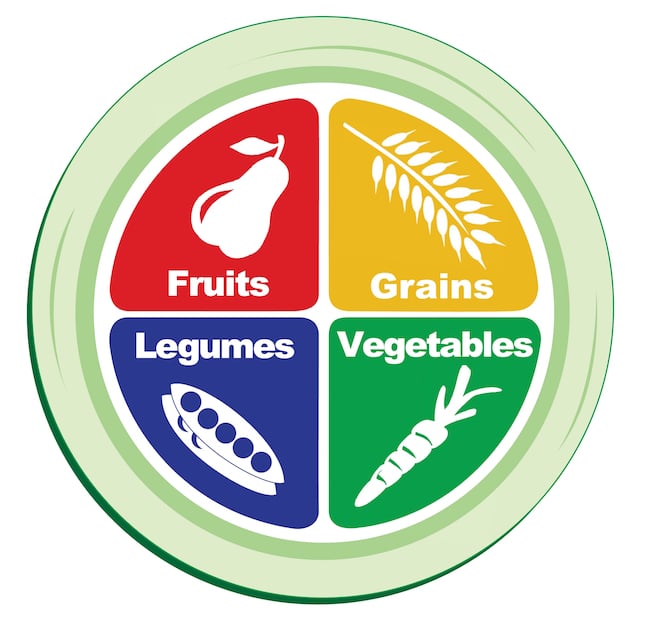 According to the Power Plate, a healthy vegan diet should focus on filling your plate with a colorful variety of these foods, not on counting calories or servings—which is pretty rad, because no two people have the exact same dietary needs.
Although all vegans need a daily dose of plant-based protein, it's safe to say former NFL player David Carter (aka the "300 Pound Vegan") requires more of the stuff than this 115-pound writer. Fortunately though, super-active vegans can meet all their protein needs with a whole-foods plant-based diet. And according to one plant-based nutritionist, active vegans don't necessarily need to eat protein-packed plants at every meal.
Julieanna Hever, the Plant-Based Dietitian, VegNews nutrition columnist, and author of The Complete Idiot's Guide to Plant-Based Nutrition, had this to say: "There is no need to focus specifically on protein. Instead, just eat more whole plant foods to meet your demand and include one to one and a half cups of legumes and one to two ounces of nuts and seeds per day."
But whether you're a professional athlete, a career-focused person, or a full-time parent, you can thrive on a plant-based diet. Hever suggests avoiding highly refined sugars, oils, salts, and flours. And for vegans who are constantly on the go, she has this advice: "Cook more and use techniques such as batch cooking to always have healthy food ready to go."
So there you have it: a comprehensive, physician-approved guide to getting all your nutrients from plants, plus some solid advice from a verified plant-based nutritionist. And if you could use some extra help coming up with specific snacks and meals, head over to ChooseVeg and check out the meal planner.
You've got this!