The Advice I Wish I'd Given My Pre-Vegan Self
Veganism is a lifestyle that promotes compassion for animals and lessens our impact on the planet and its inhabitants. And for many of us, adopting this new lifestyle is a learning process, so I think I speak for a lot of vegans when I say that there are some things I definitely wish I'd realized sooner:
• It's not about being perfect.
Veganism isn't about perfection or purity; it's about living in a way that avoids exploiting or harming animals and takes a stand for a kinder world. 
If you accidentally eat something that isn't vegan, don't beat yourself up. You can always start fresh at your next meal. Remember, the goal isn't personal perfection but reducing animal suffering as much as we can.
• You can find vegan food pretty much anywhere.
Most cities have incredible restaurants that are either all-vegan or able to create fantastic vegan dishes. You just have to know how to find them. Of course, Google is a great first option, but sites like Happy Cow and Yelp make it even easier. For veg restaurants near you, click here.
• You can eat vegan on a budget.
When affording food is a struggle, veganism can seem out of reach. Fortunately, some of the most affordable foods on the planet are vegan, including rice, beans, legumes, pasta, and all kinds of fruits and veggies. Here are a few tips for saving money at the grocery store and finding food when you have no money.
• There are vegan versions of everything.
Seriously. Over the past few years, the number of vegan products on store shelves has skyrocketed. From savory new vegan meats to decadent plant-based versions of your favorite Ben & Jerry's pints, vegan products are more widely available (and more delicious) than ever before. Try a few to find your favorites!
• You don't have to know everything.
You may get a lot of questions from friends and family about your decision to become vegan. It's OK if you don't have all the answers.
Use "I" statements: "I saw a video about how animals are raised for food, and I was horrified. I just don't want to support this cruelty." Or "I found out it's actually healthier to be vegetarian, and I really want to try eating more veg foods."
• It might be the best decision you ever make!
Going vegan is one of the best things we can do to reduce and prevent suffering for farmed animals. You'll be so much happier knowing that you are contributing to a kinder, more compassionate world.
Ready to give it a shot? Click here for delicious meal ideas and tips on making the switch.
Already vegan? Please share this page with your non-veg friends and family!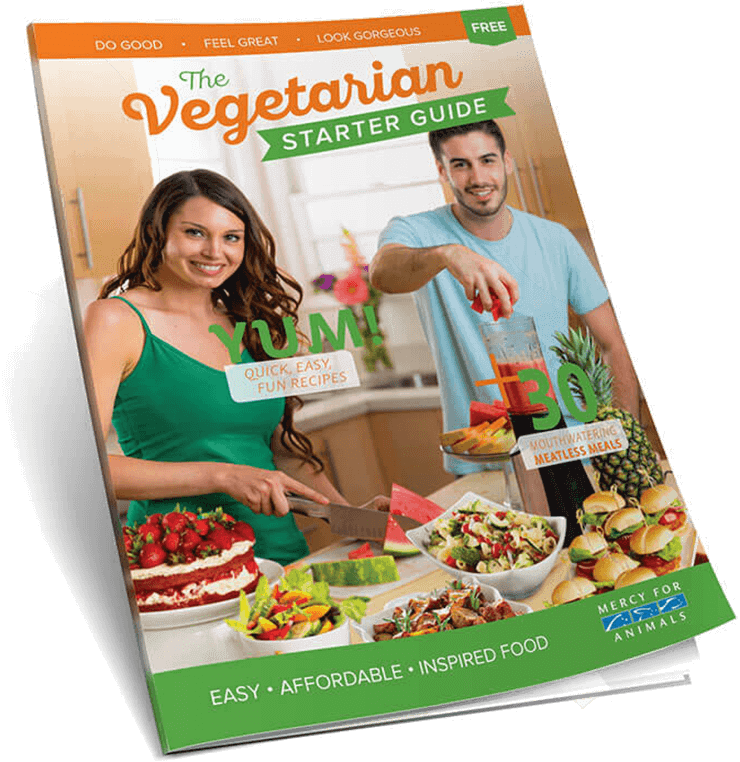 Get Your Free Vegetarian Starter Guide