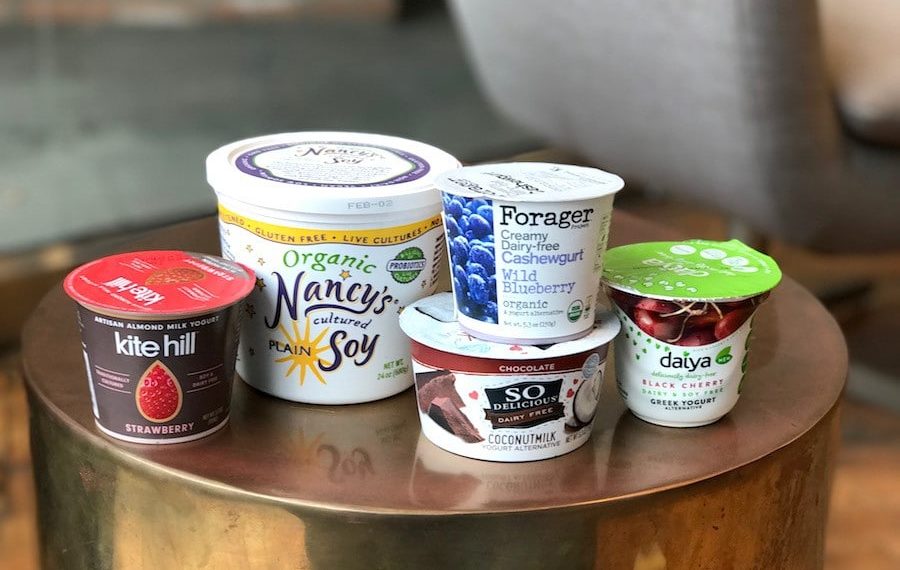 We Tried 5 Different Vegan Yogurts. This Is What We Thought…
Sarah Von Alt
Looking for the best vegan yogurts? We've got you covered.
1. Kite Hill Artisan Almond Milk Yogurt
This stuff is seriously good. Made from cultured almond milk, this product is not only deliciously creamy, but also free of soy and gluten. Plus, it boasts five times the protein of coconut yogurt! This would be perfect on its own as a snack or with granola and fresh fruit for a mouthwatering breakfast.
2. Forager Creamy Dairy-Free Cashewgurt
As the name implies, this organic product is made from cashews. It's also certified non-GMO. While it doesn't have the tart flavor you'd probably expect from yogurt, it is super smooth and has the perfect "yogurty" consistency and a mild, likeable flavor.
3. Daiya's Greek Yogurt Alternative
One of the few Greek yogurt alternatives, this product packs eight grams of protein and three grams of fiber. It's also an excellent source of calcium and vitamin B12. This was the thickest one we tried, and would be great as a dessert or late afternoon treat.
4. So Delicious Coconut Milk Yogurt Alternative
Made with organic coconut, this product is a little reminiscent of pudding, while also containing the gut-healthy probiotics. You could use this to make a tasty parfait, dessert with cookie crumbles, or a healthy "smoothie" bowl!
5. Nancy's Cultured Soy Yogurt
Certified organic and GMO-free, this product has no added sugar and is a good source of vitamins C and E. This plain yogurt is available at Whole Foods stores and would be a great addition to your favorite cake recipe for a little extra richness.
Want more? Click here for 17 vegan products that will make you forget all about dairy.