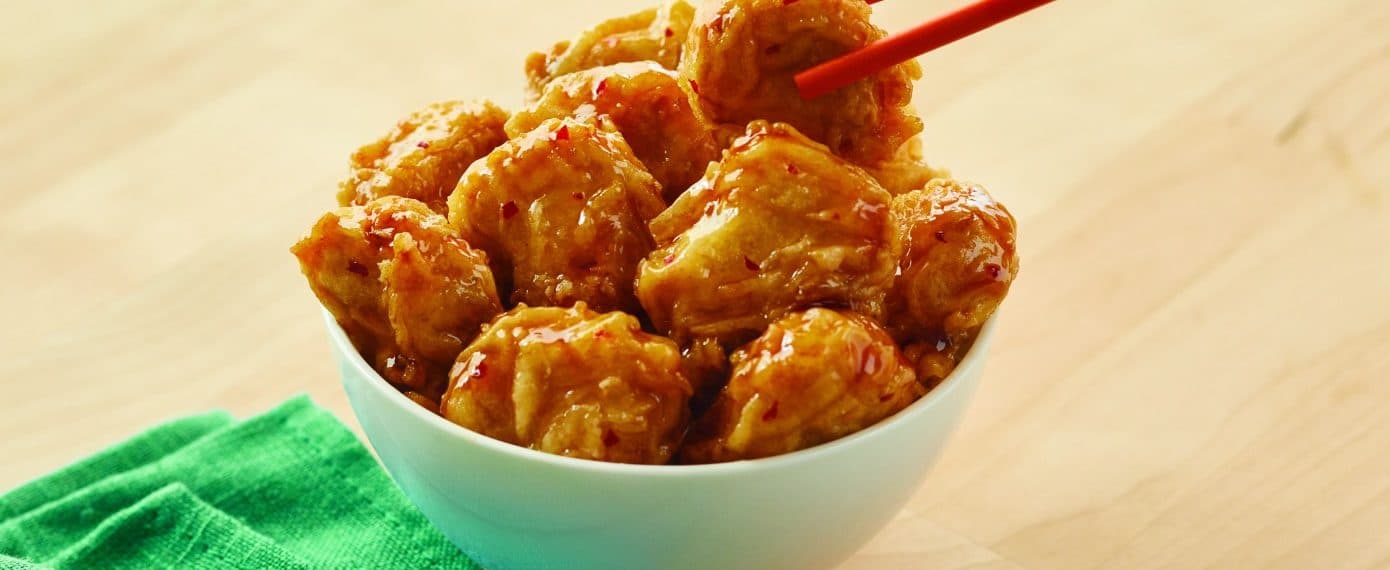 Vegan Orange Chicken Returns to Panda Express
Kimberly Johnson
Plant-based orange chicken is back by popular demand at all Panda Express locations for a limited time.
After a successful regional launch in 2021, Beyond Meat and Panda Express just announced that their co-developed plant-based version of The Original Orange Chicken—cleverly titled "Beyond the Original Orange Chicken" (also known as BTOOC)—is now available at all 2,300 restaurants while supplies last.
Beyond the Original Orange Chicken has the same texture and flavor as the original sweet and tangy orange chicken, the chain's bestselling menu item. Keep scrolling for everything else that's vegan at Panda Express to complete your meal! 
What's vegan at Panda Express:
Chow Mein 
Referred to as a "side dish" on the Panda Express menu, Panda's chow mein is flavorful and hearty enough to be easily enjoyed as an entree. It's made up of stir-fried wheat noodles, onions, celery, and cabbage.
Super Greens
Don't forget to eat your veggies! Panda's Super Greens (a medley of cooked broccoli, kale, and cabbage) is a side dish that's as flavorful as it is healthy. 
Steamed Rice
You'll want to steer clear of the fried rice because it contains egg, but both steamed white and steamed brown rice are perfect for soaking up all the yummy sauces from the super greens or chow mein. 
Vegetable Spring Roll
No trip to Panda Express would be complete without a savory, crunchy spring roll. Cabbage, celery, carrots, green onions, and Chinese noodles fill a crispy wonton wrapper fried to perfection. According to Panda's website, ingredients in the spring rolls may vary by location, but all appear to be plant-based. 
Eggplant Tofu (Regional)
The eggplant tofu at Panda Express is super delicious, and we're so sad that it's not available nationwide. This dish is a delightful combination of tofu and eggplant cooked to perfection with a delectable sauce that goes great over rice. Check with your local Panda Express to see if they offer it. 
Sauces
Whether you like spicy, sweet, or salty, there's a sauce for everyone to enjoy. The chili, hot mustard, plum, pot sticker, soy, sweet and sour, and teriyaki sauces are all plant-based. 
Allergen warning: Menu items and ingredients are subject to change. At the time of this writing, the menu items listed above did not contain any animal-derived ingredients. But items at Panda Express are prepped and cooked in shared facilities with the same equipment. 
Growing Demand
We're thrilled that demand for Panda Express vegan orange chicken was so high that the company expanded its test market. Companies listen to their customers—that's why it's always important to speak out and let restaurant chains know that you want more plant-based options. 
You can take action and help make change! Join our Breakfast of Champions campaign that asks major breakfast chains to add vegan entrees to their menus. As a result of our campaign, Denny's and Cracker Barrel recently announced that they would explore vegan breakfast options. Join us now as we urge Waffle House, Bob Evans, and Black Bear Diner to step up to the plate too.
Everyone deserves a good breakfast! 🌱🥞🥓🧇☕️ Ask major breakfast chains to offer plant-based menu items.