Here Are 5 Vegan Meal Prep Tips for Beginners—and a Few Recipes to Try
Preparing delicious, satisfying vegan meals is a crucial part of making the switch to a plant-based diet. And if you're especially short on time or money (or both), prepping meals in advance can make life a lot easier. Plus, prepping your own meals is pretty much guaranteed to be healthier than takeout. Here are a few tips to keep in mind, along with a few recipes to try, if you'd like to spend less time cooking:
1. Plan Ahead
Heading to the grocery store without a list can result in a lot of wasted money (and food). Before you head to the grocer, plan out a few meals and buy only what you need. Think about the meals you would like to make for the week, paying special attention to ingredients that overlap in recipes. You'll likely want to double or triple your favorite recipes, so keep this in mind when deciding what to buy.
2. Cook in Big Batches
Consider making a big pot of soup or chili on Sunday and eating the leftovers for lunch or dinner that week. Dishes that freeze well are great if you're looking for a little more variety because you don't need to be concerned about eating them all in one week.
And you don't need to prep the whole recipe at once. Making minimally seasoned beans or legumes, rice, quinoa, or roasted veggies is a great way to be recipe-ready.
3. Cook and Store in Individual Portions
Rather than make a large casserole or loaf of banana bread, consider ways to make your recipes in individual portions, like in a muffin pan. Whether than means freezing individual servings of soup in food storage bags or freezing herbs in an ice cube tray, this tip is sure to make meal prepping easier.
4. Find the Right Containers
If you're cooking in bulk and freezing tons of meals, having the right containers is essential. Choose a variety of sizes, keeping in mind the dishes you love to make. And remember, reusable is always better. It saves you money and spares the planet from needless waste.
5. Use Your Kitchen Appliances
The slow cooker is a gift to home cooks everywhere. You can find tons of recipes, including many you wouldn't expect, that can be made more easily in a slow cooker. Other appliances that will come in handy are a blender and an instant pot or a pressure cooker (or both).
And here are a few recipes to try:
Southwestern Quinoa Jar Salad
Loaded with black beans, quinoa, red bell peppers, and more, this mason jar salad is hearty AND healthy. Plus, there's a recipe for DIY vegan salad dressing!
Overnight Oats
Yes, please! These overnight oats are super easy to prepare in advance—just add the liquid ingredients the night before you want to enjoy for breakfast.
Mini Tofu Pot Pies
While you'll want to store these in a sealed container in the freezer until you're ready to bake, they are sure to make a hearty meal that you'll be eager to enjoy.
Chocolate Peanut Butter Crispies
Don't forget to prep some snacks—we all deserve a treat now and then. This recipe is rich AF, so one square is perfect to add to lunch or to satisfy a sweet tooth.
Vegan French Bread Pizzas
Just add your favorite toppings and put these guys in sealed bags in the freezer. They prepare in almost no time and are super easy to heat and eat!
—
Want more? Click here for a list of vegan recipes you can make in 30 minutes or less.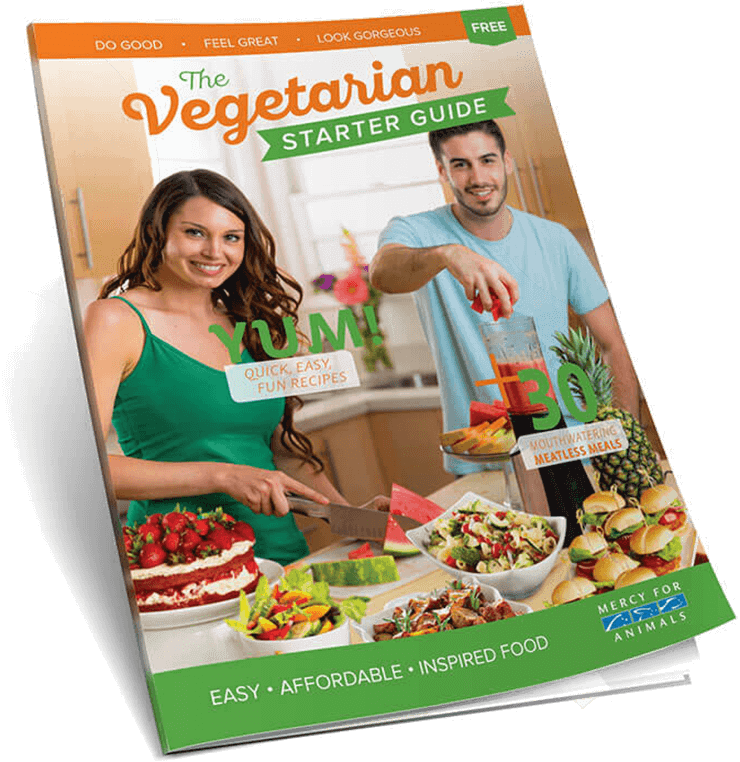 Get Your Free Vegetarian Starter Guide