Morningstar Farms Offers Impressive Vegan Lineup, With New Chicken Options
Sarah Von Alt
Morningstar Farms has built a name for itself as one of the longest-standing and most widely available makers of meat alternatives. Owned by Kellogg's, the brand is known for a variety of meatless products, from sausage patties and bacon strips to meal starters like chik'n and steak strips.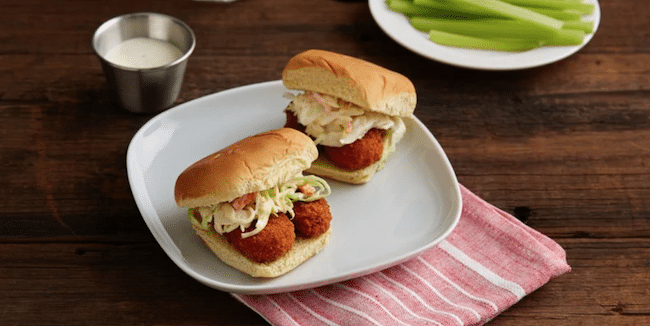 And to the dismay of vegans everywhere, many of its products contain dairy and eggs. But recently the company made an effort to increase the number of vegan products sold, and most recently it decided to ditch the dairy and eggs in four of the brand's chicken alternatives:
Buffalo Chik Patties

Buffalo Wings

Chik'n Nuggets

BBQ Chik'n Nuggets
These new offerings are sold at a wide range of retailers, meaning you can find them at a store near you! And while you're there, here are some other Morningstar Farms products that are vegan:
Meal Starters Chik'n Strips

Meat Lovers Vegan Burgers (¼ pound)

Veggie Lovers Vegan Burgers (¼ pound)

Meal Starters Pulled Pork

Roasted Garlic and Quinoa Burgers

Spicy Indian Veggie Burgers

White Bean Chili Burgers

Meal Starters Steak Strips
As more people find out about the benefits of a plant-based diet, they're ditching animal products in favor of delicious vegan alternatives like these. According to researchers, 33 percent of U.S. consumers plan to purchase more plant-based food products in the next year. The number is even higher—37 percent—among millennials.
Morningstar Farms isn't alone in offering more vegan products to hungry consumers.
The demand for vegan products is skyrocketing so quickly that many companies are having a hard time keeping up. In fact, after the incredible success of the Beyond Burger, which has been added to the menus of several major restaurant chains, like TGI Fridays and A&W Canada, Beyond Meat is creating a second production facility in Missouri specifically to keep up with demand for its products!
—
Ready to give vegan eating a shot? You can find tasty vegan recipe inspiration, simple meal ideas, and more on this site. Click here to order a FREE Vegetarian Starter Guide.