Qdoba Testing Vegan Meat From Impossible Foods at Select Locations
Sarah Von Alt
Impossible Foods is taking its famed plant-based meats to yet another restaurant. Qdoba, a fast-casual chain known for its Mexican-inspired menu, recently announced plans to test vegan ground meat from Impossible Foods at select locations in Michigan.
According to the Detroit Free Press, Qdoba is launching the new offering at more than 60 locations across Michigan, in the Detroit metropolitan area, Flint, Lansing, and Traverse City. Jill Adams, Qdoba's senior vice president of marketing, explains in a press statement:
Launching this test is an exciting milestone for Qdoba as we experiment with options for our customers' evolving dietary preferences, especially for those looking for a meatless option.
Now customers can create their own meals with plant-based protein crumbles. Available in tacos or a bowl, the vegan meat is flavored with tomatoes, garlic, smoked chilis, paprika, and red onion.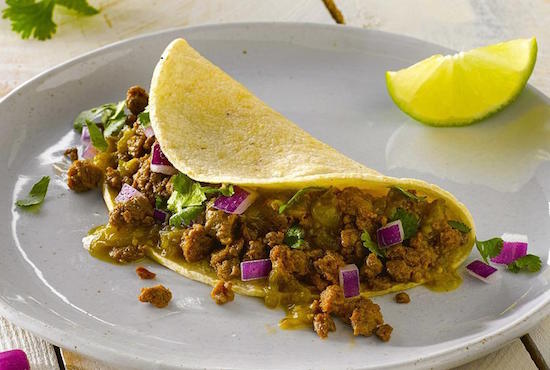 But this isn't the only big news from Impossible Foods. In January, Moe's Southwest Grill began testing Impossible Foods plant-based meat—available in place of animal meat in all burritos, bowls, and tacos—at its Manhattan location.
In addition, the company has announced the Impossible Burger 2.0, which is said to be even meatier than the original. The Impossible Burger is a top menu item nearly everywhere it's served, according to Food News Media, and when sold alongside beef burgers, the Impossible Burger outsells its meat-based competitors.
While the company has offered its products only to foodservice providers and restaurants so far, it plans to roll out plant-based ground beef to grocery stores later this year.
Looking to eat more plant-based food in 2019? You can get delicious vegan recipes, easy meal ideas, and tips on making the switch to a vegan lifestyle by ordering a FREE Vegetarian Starter Guide today.