Look at All the Vegan Food at Moe's Southwest Grill
MFA Volunteer
If you're new to vegan eating, finding a plant-based meal when you're on the road or short on time can sometimes feel overwhelming. Luckily, finding vegan food at chain restaurants is easier than ever. From Olive Garden to Red Robin, many major restaurants now offer great plant-based options!
Build Your Own
The best part about Moe's Southwest Grill is that you can get exactly what you want. Build your own taco, burrito, or salad with a variety of plant-based ingredients, like tofu and beans, fresh veggies, and many kinds of salsa!
Choose from these animal-friendly ingredients:
Base: Corn tortillas, 12″ whole-grain tortilla, salad bowl

Protein: Black beans, pinto beans, tofu

Rice: Cilantro-lime rice, seasoned rice

Vegetables and fruit: Cucumber, grilled mushrooms, grilled onion, grilled peppers, black olives, cilantro, diced onions, diced tomatoes, pickled jalapeños, chopped romaine, shredded lettuce, sliced lime

Salsas and sauces: Pico de gallo, corn pico, El Guapo, Ghostujang, Kaiser, scorpion pepper, tomatillo, Tomatillo's Hot Friend, Hard Rock 'n' Roll, guacamole, Southwest Vinaigrette

Sides: Tortilla chips
Don't know what to choose? Moe's has a list of suggested vegan meals on its website:
Vegan Tacos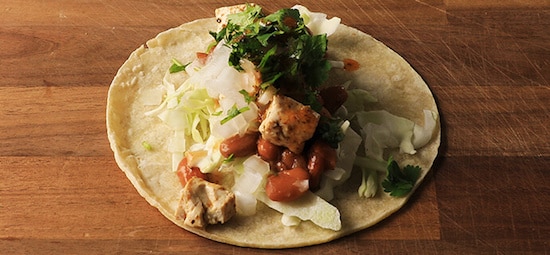 Get a tortilla with tofu, pinto beans, onions, cabbage, cilantro, and Moe's Southwest Vinaigrette.
Vegan Burrito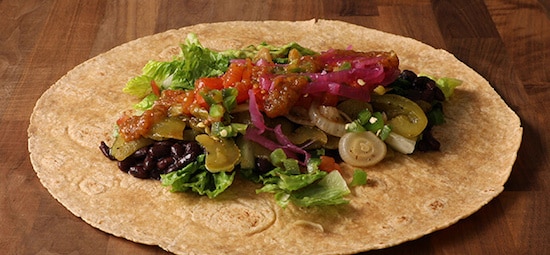 A whole-grain tortilla is stuffed with romaine, black beans, pico de gallo, guacamole, pickled red onions, jalapeños, grilled onions, and peppers.
Vegan Salad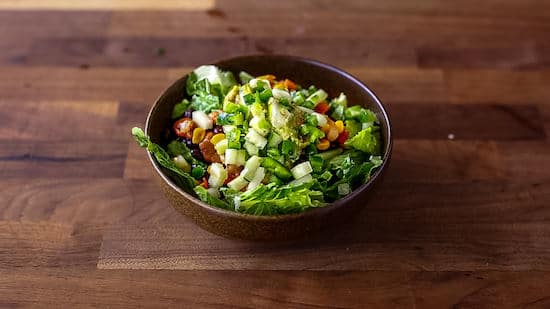 Try a refreshing salad with romaine, black and pinto beans, corn pico de gallo, guacamole, cucumbers, diced jalapeños, cilantro, lime juice, and salsa.
—
Pushing for more animal-friendly menu options is a great way to make vegan eating easier for you and the millions of Americans moving away from meat. Click here for five easy tips on getting more vegan food at your favorite restaurant.
Not veg yet? You can get delicious vegan recipes, easy meal ideas, and tips on making the switch to a plant-based diet by ordering a FREE Vegetarian Starter Guide.