Miyoko's Vegan Cream Cheese Is Headed to Trader Joe's This Month
Sarah Von Alt
Miyoko Schinner, author of Artisan Vegan Cheese, has made a name for herself with delicious nut-based cheese, butter, and now cream cheese! These dairy-free products, which ship nationwide, are available at Whole Foods Market, Ralphs, Wegmans, and countless natural food stores around the country.
In 2016 Miyoko's Kitchen expanded its reach with the introduction of its Cultured VeganButter at 226 Trader Joe's locations on the West Coast. Made with organic coconut oil and cashews, this amazing plant-based product is cholesterol-free and non-GMO. And starting this month, you can find it at ALL Trader Joe's locations!
But that's just the beginning. Thanks to $6 million in funding from several investors, Miyoko's Kitchen is expanding even further and will launch new products in 2018, including a line of dairy-free cream cheese in several flavors. One of these flavors, Un-Lox Your Dreams, is going mainstream, with sale at Trader Joe's stores.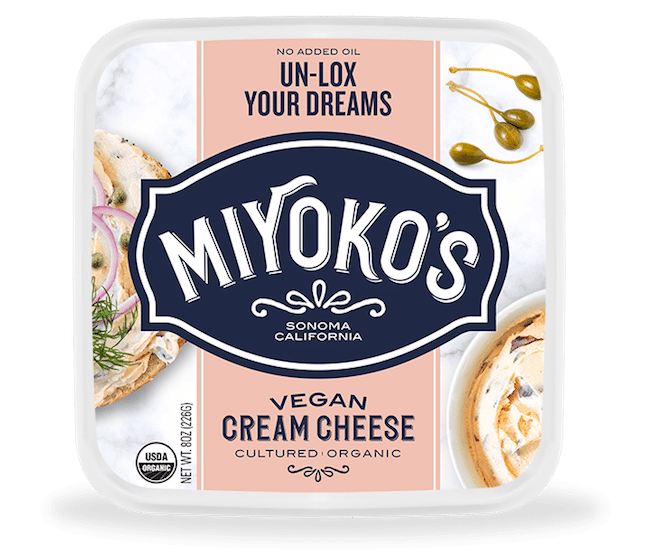 Miyoko's Kitchen describes the flavor: "The perfect Lox schmear for your bagel. It's smoky, rich, creamy, and well, a bit 'seafood-y' without the fish."
In case you missed it, Miyoko's Kitchen will debut several other products this year, including two additional cream cheese flavors—Sensational Scallion and Plainly Classic—and a new line of pub cheese in equally inspiring flavors: Biergarten Garlic Chive, Cheers to Cheddah, and Spicy Revolution!
—
These products will not only make veganism easier than ever but help spare countless cows a lifetime of suffering at dairy farms. Click here for a list of incredible vegan offerings at a Trader Joe's near you.