Get Rollin' with These 20 Innovative Vegan Sushi Recipes
Hannah Bugga
You don't need raw fish to enjoy mouthwatering sushi! These 20 vegan sushi recipes use ingredients like tofu, sweet potato, and bell pepper to create unbelievable rolls and bowls.
Vegan sushi is not just incredibly delicious. It's better for animals and the environment. Several scientists around the world have shown that fish not only feel pain but are aware of it and can suffer consciously. Fish even feel pleasure in ways similar to dogs, cats, and other animals. But sadly, fish are among the most abused animals on the planet. On top of that, the fishing industry is emptying our oceans of fish and damaging fragile aquatic ecosystems.
Eat better and stand up for our planet by choosing delicious vegan sushi.
15 Vegan Sushi Roll Recipes
Sweet Potato Tempura and Avocado Rolls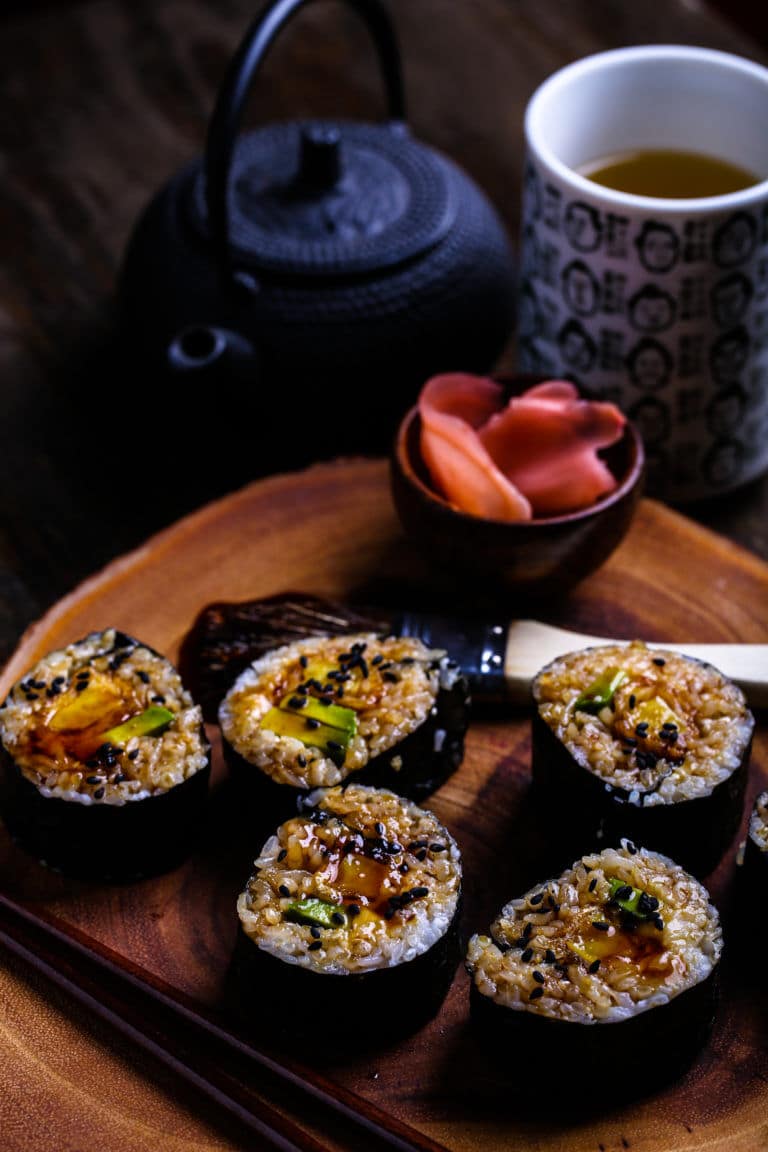 Stuffed with crisp sweet potato, avocado, and seasoned rice, these maki-style vegan sushi rolls are to die for. The recipe includes a homemade teriyaki glaze that you will want to smother on everything.
Avocado-Cucumber Sushi Roll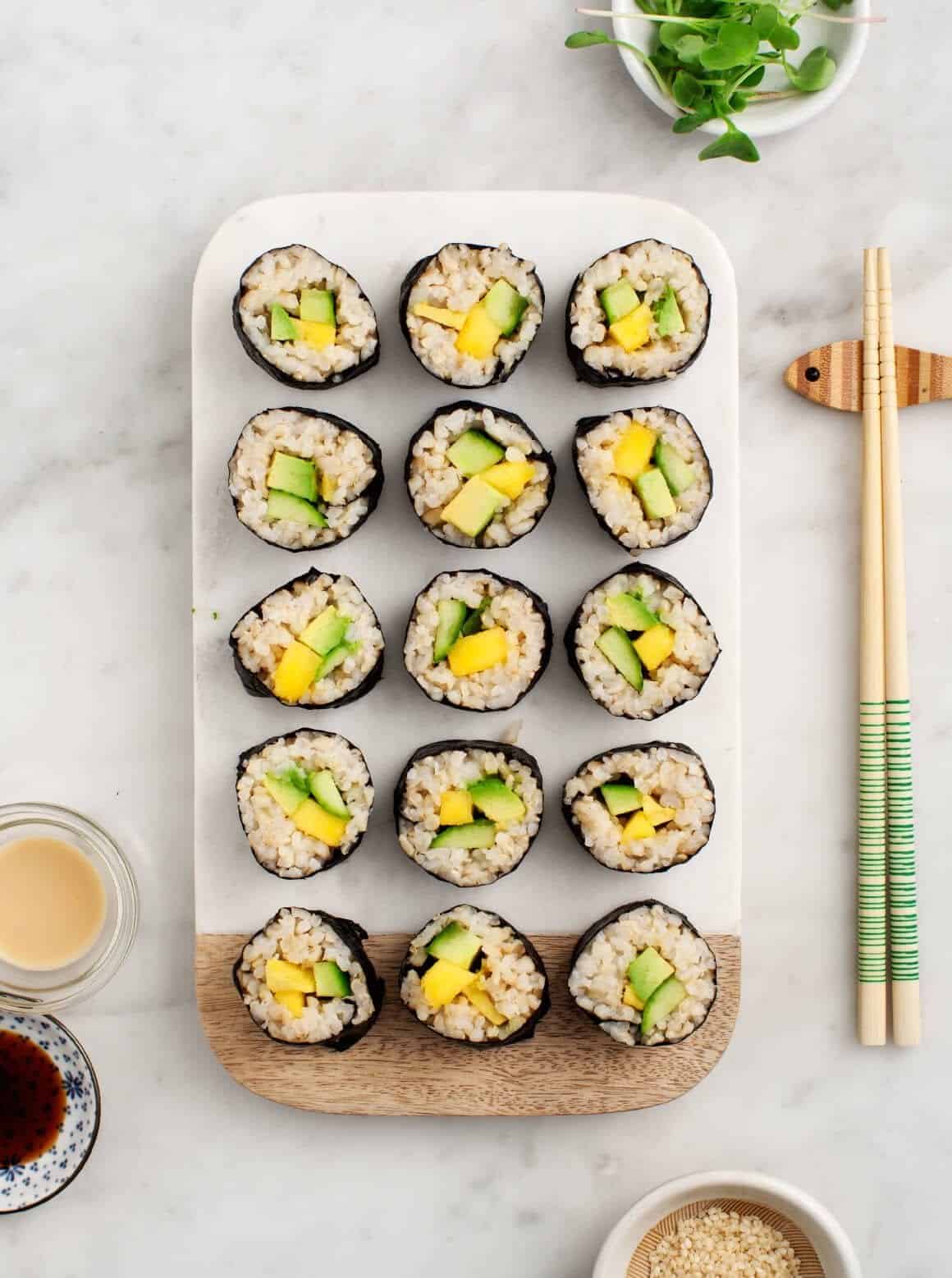 This healthy roll is made with short-grain brown rice. The dish features avocado and cucumber, but the true hero is mango.
Easy Vegan Sushi with Spicy Tomato Tuna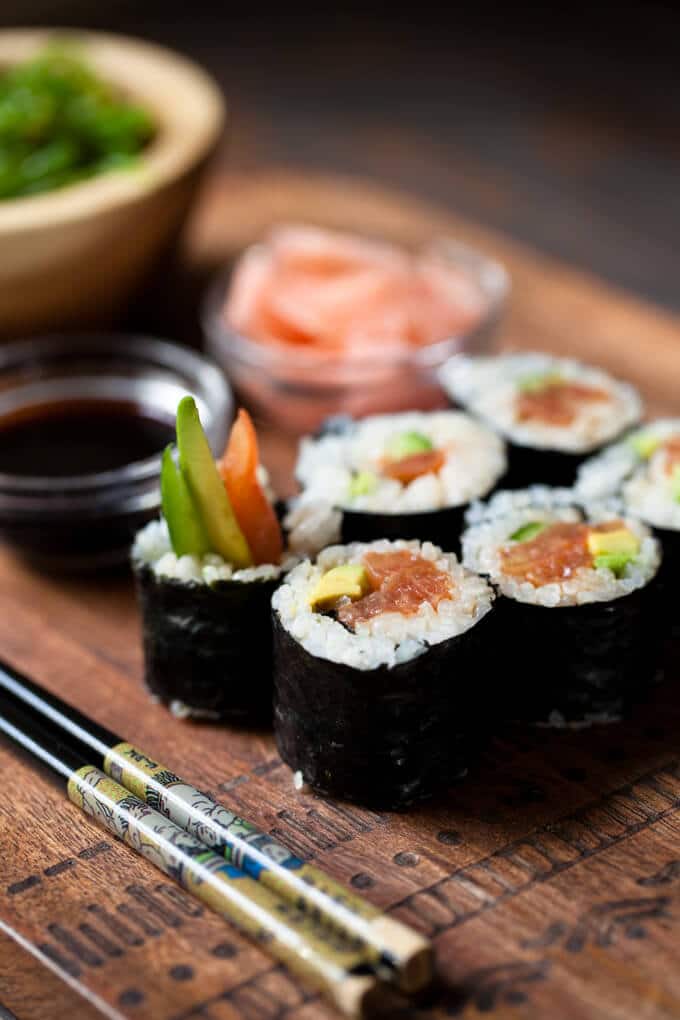 You'll be amazed by how much tomato tastes like fish with the right seasonings. Whip up this crowd-pleasing vegan sushi dish in just 30 minutes—no bamboo mat required!
Veggie Brown Rice Sushi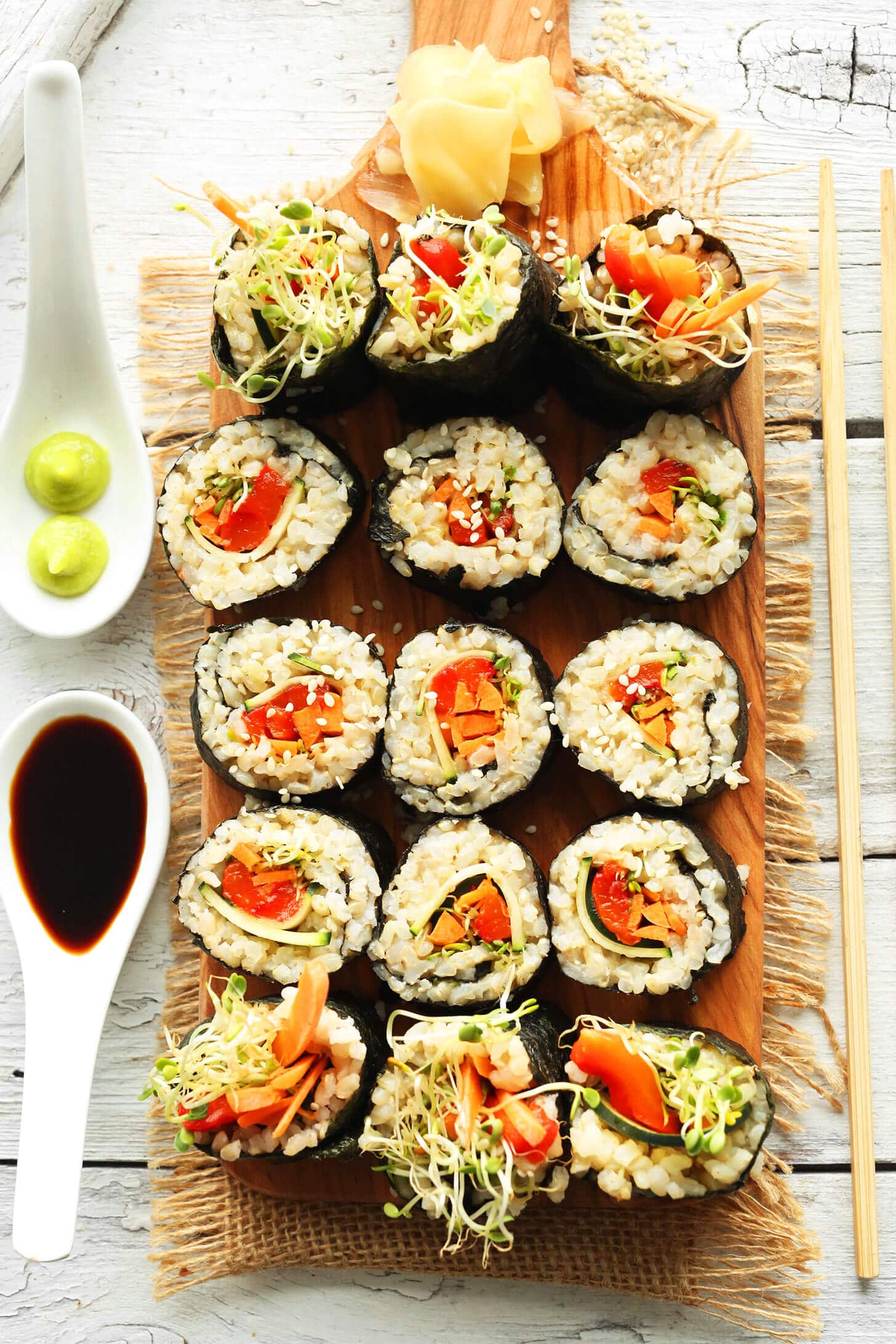 With just 10 ingredients, these veggie-packed sushi rolls are both crunchy and tender. It all begins with brown rice sweetened with a rich vinegar mixture and just gets better from there!
Spicy Carrot Lox and Avocado Sushi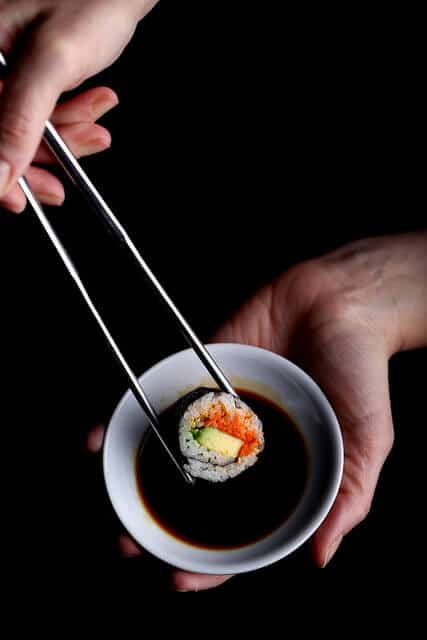 If you've never tried carrot lox, now is the time. Smoky and soft, this plant-based version of lox is delicious on bagels and tucked into sushi!
Marinated Beet Sushi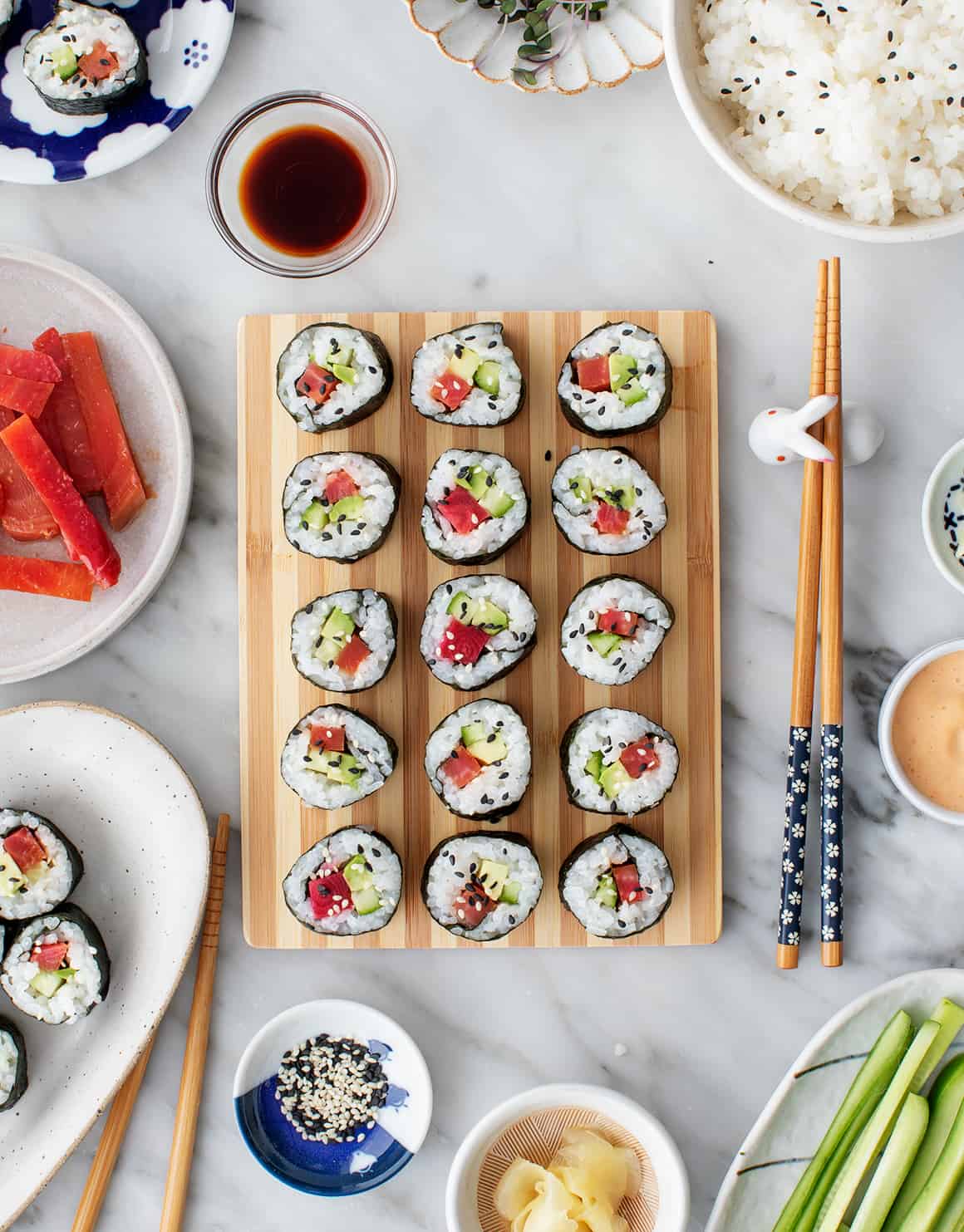 This un-beetable vegan sushi recipe involves roasting Chioggia beets, cutting them into strips, and marinating them. The flavorful marinade—made with tamari, rice vinegar, sesame oil, and ginger—gives the beets a nutty flavor.
Faux-Roe Gunkanmaki with Pickled Daikon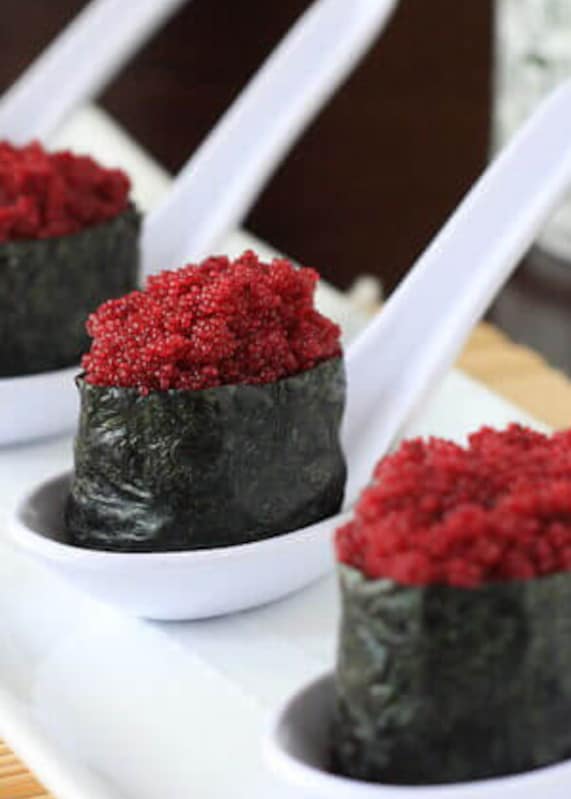 This recipe uses cooked amaranth to replicate the taste and feel of flying fish roe (also known as tobiko). The rich color is achieved by boiling and soaking the amaranth in a beet base.
Miso-Ginger Glazed Roasted Carrot and Toasted Sesame Sushi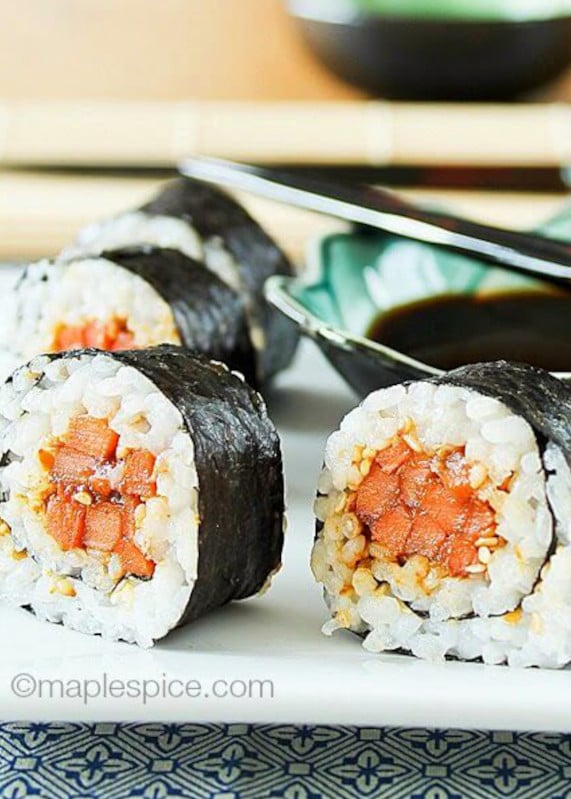 The miso-ginger glaze makes this recipe! Combining syrup, vinegar, and paprika, the recipe perfectly balances sweet, sour, and spicy.
Maki Sushi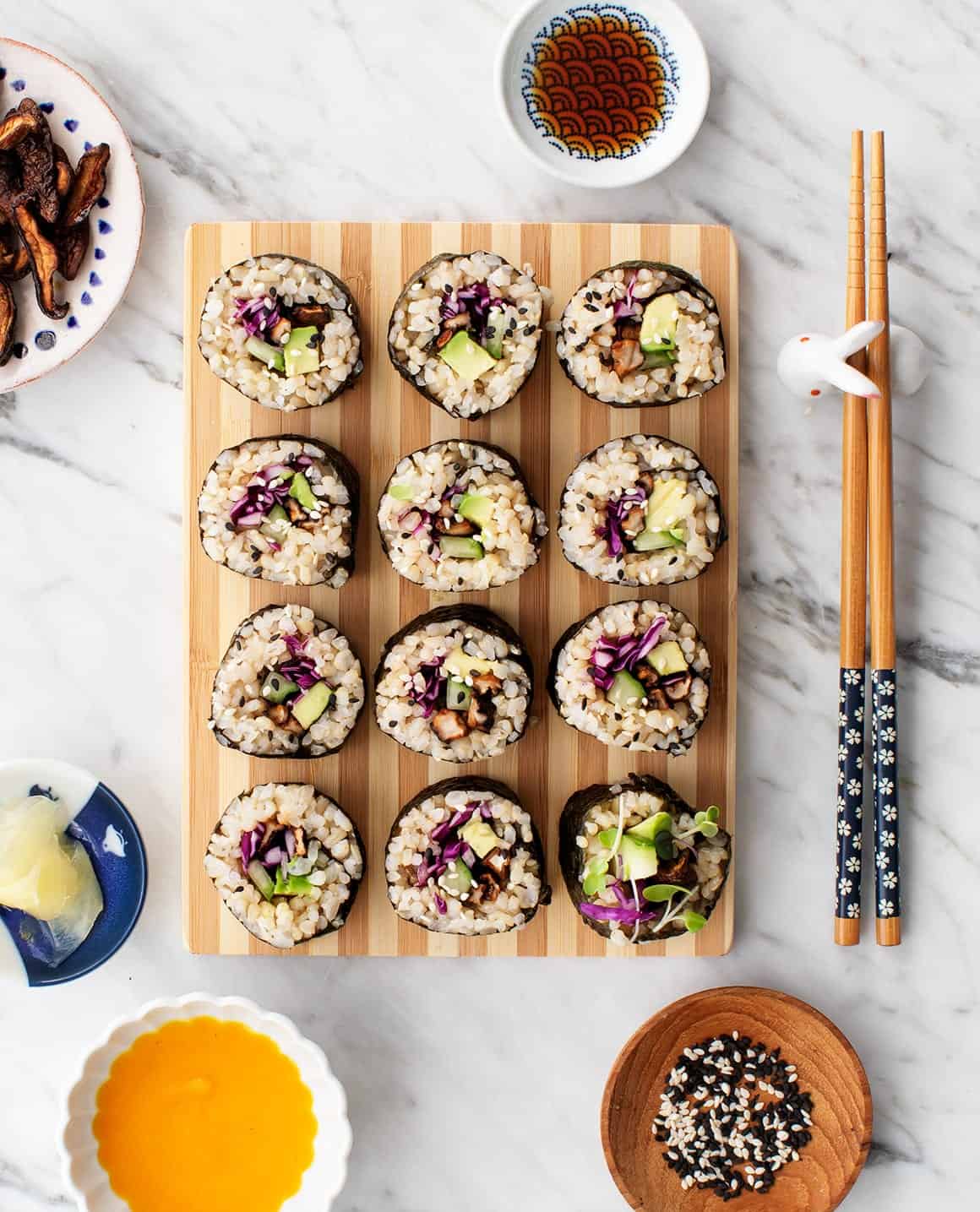 Bursting with color, this hearty vegan sushi roll is filled with roasted shiitake mushrooms, avocado, cucumber, and red cabbage. Each bite is a satisfying crunch.
Silky Bell Pepper Sushi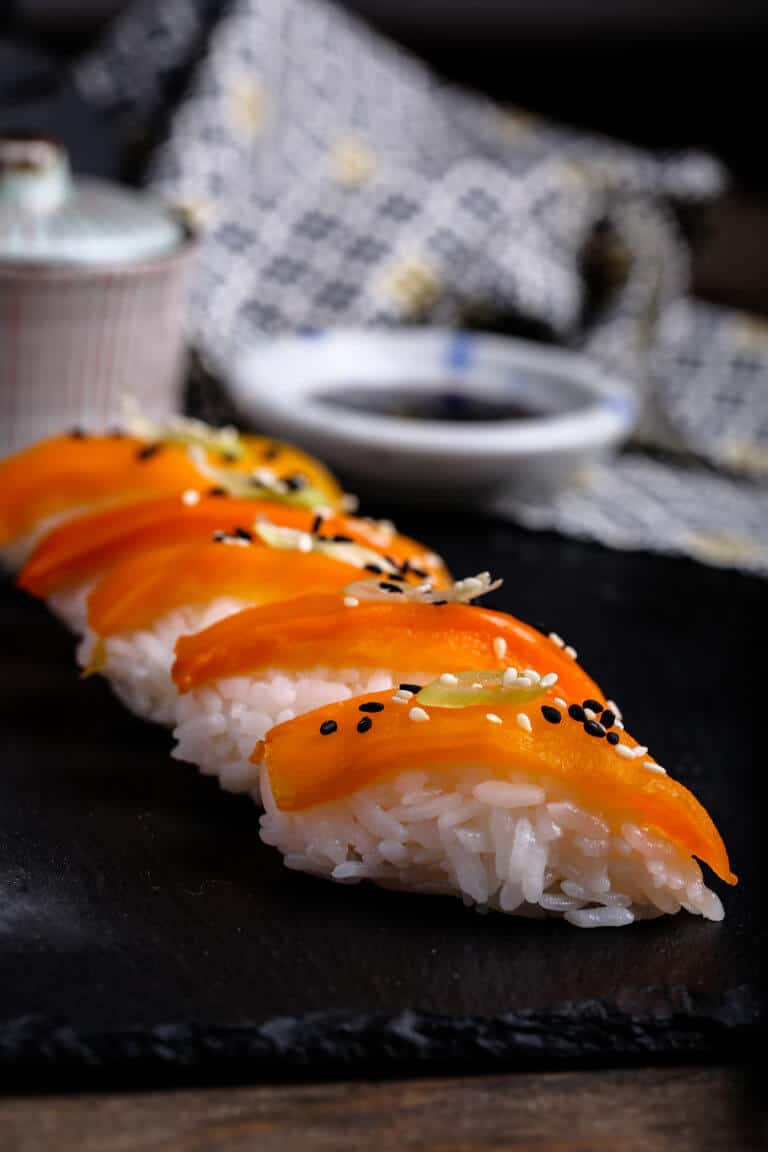 This impressive recipe requires marinating sliced bell pepper in mirin and rice vinegar for two days! Make sure you prepare a lot of pepper because once you taste it, you'll want more.
Raw Collard Greens Sushi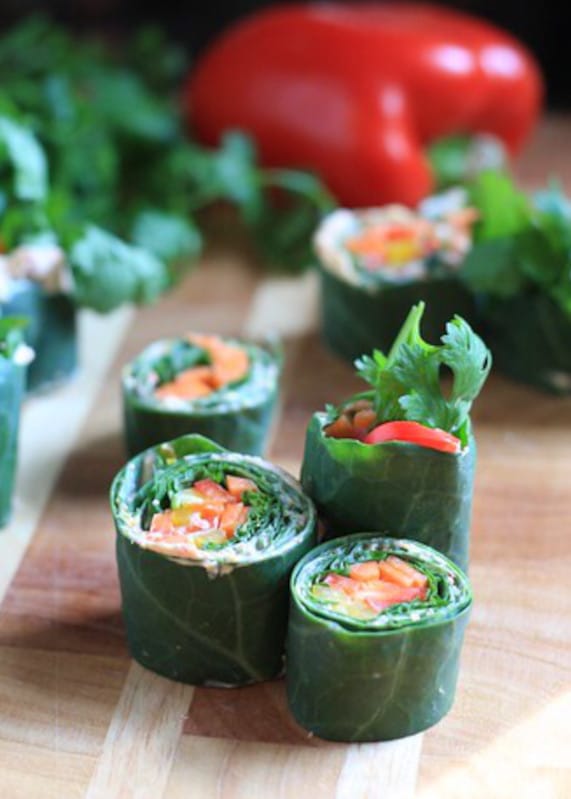 A healthier sushi roll you will never find! The combination of mint and cilantro adds zest to every bite, and the recipe can be modified to include all your favorite fillings. Best part? This roll can be thrown together in minutes.
Brown Rice Veggie Roll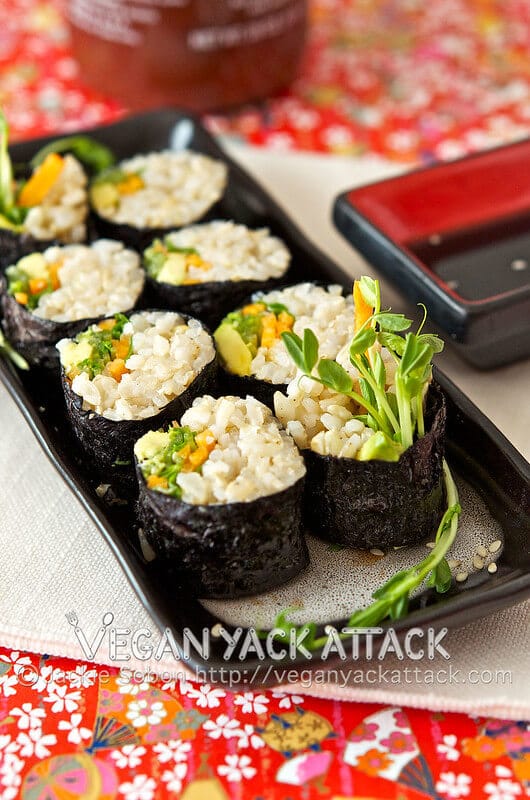 Simple and delicious, this veggie sushi recipe uses brown rice and fresh veggies for a healthy take on a classic roll.
Lobster Mushroom Tempura, Avocado, and Kimchi Sushi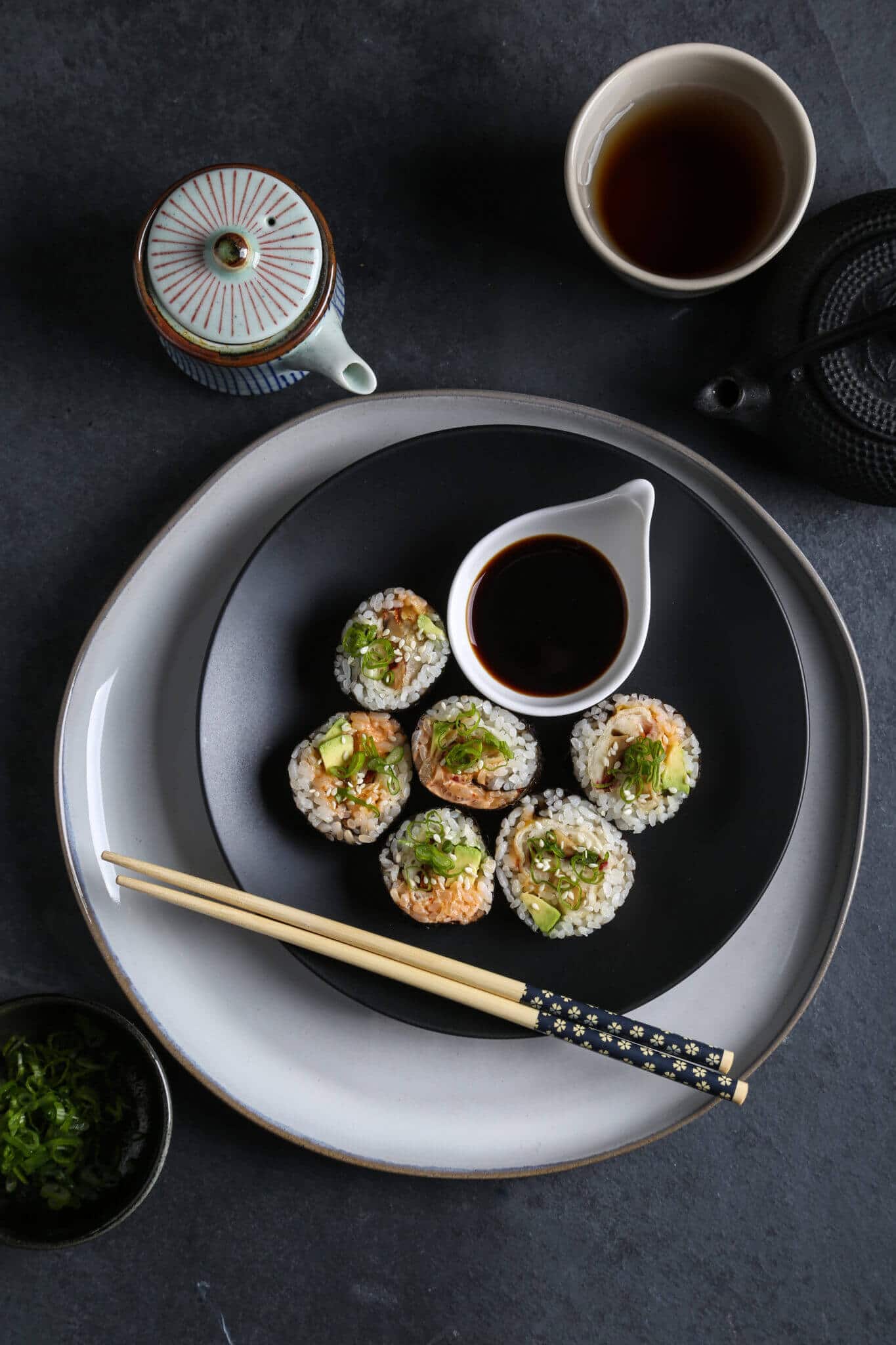 This unbelievably innovative vegan sushi recipe encases meaty lobster mushrooms in a crispy tempura shell. Enjoy these rolls with a creamy mayo made with avocado and spicy kimchi.
Vegan Pink Sushi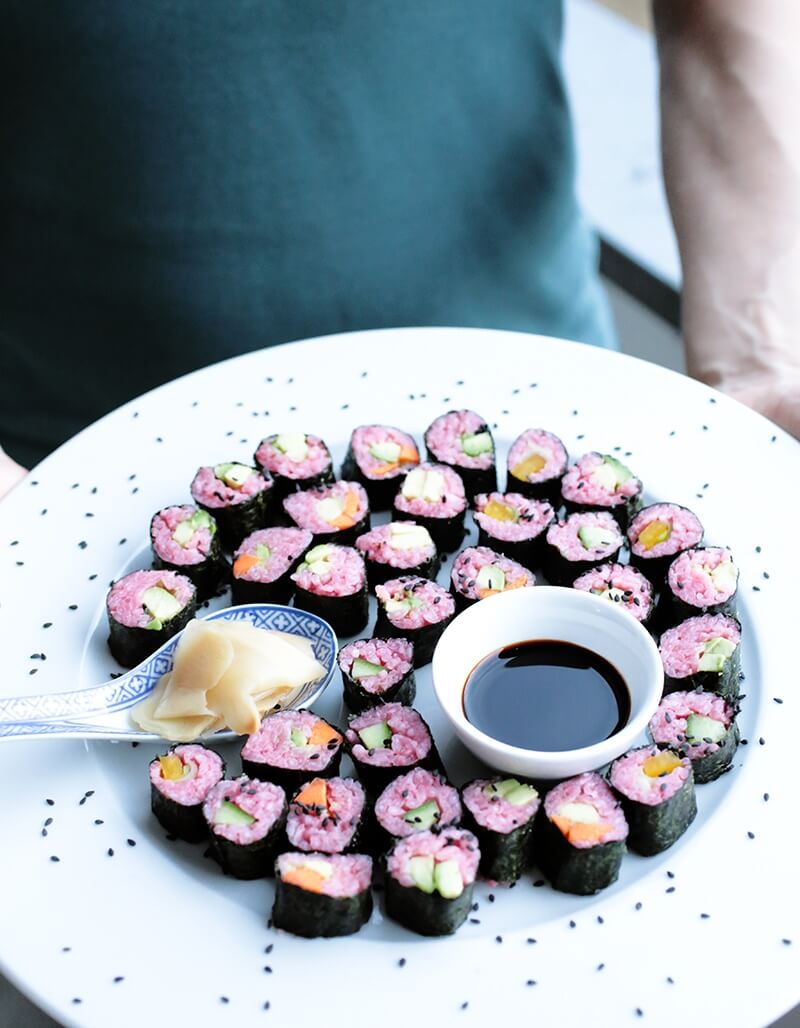 This customizable vegan sushi recipe uses beet powder to turn the rice an inviting pink color. Once you have made the rice, mix and match fillings to your heart's content.
Crispy and Spicy Enoki Mushroom Roll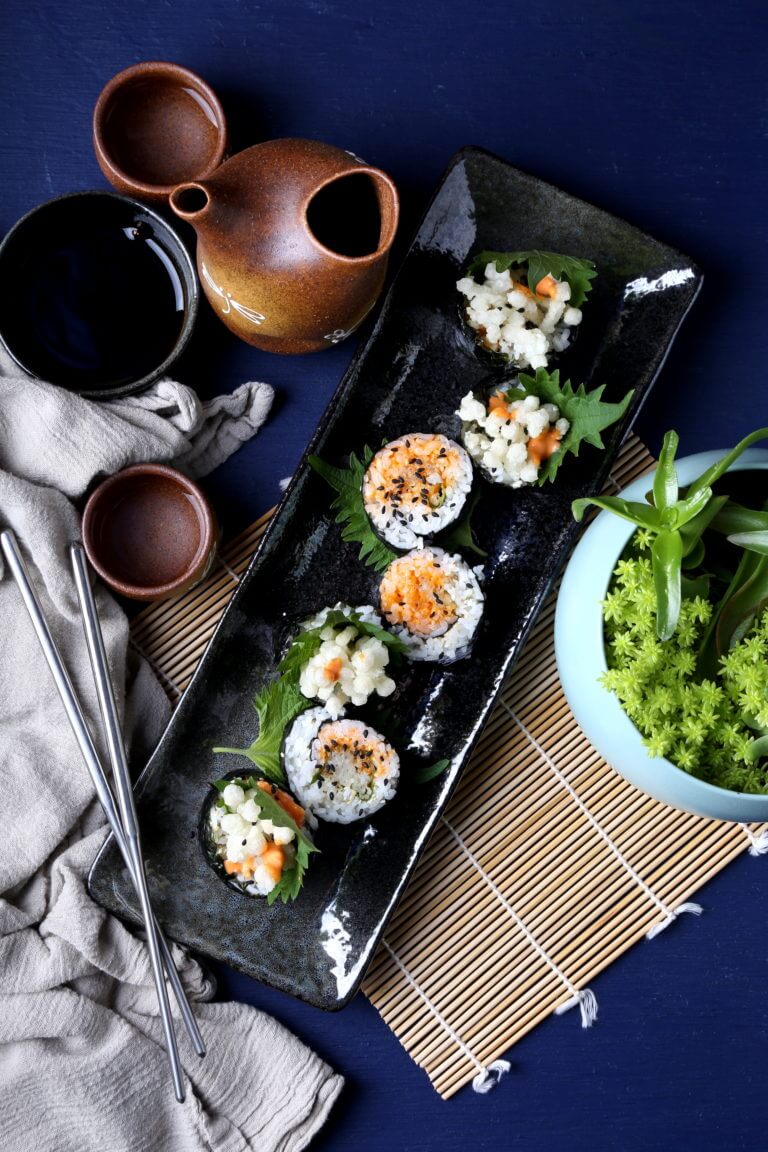 Has there ever been a more gorgeous sushi roll? This recipe involves breaking up, battering, and frying a bunch of delicious enoki mushrooms. Once they are done, roll them up with Sriracha mayo and a shiso leaf.
Four Vegan Sushi Bowl Recipes
Vegan Sushi Bowl with Sesame-Soy Dressing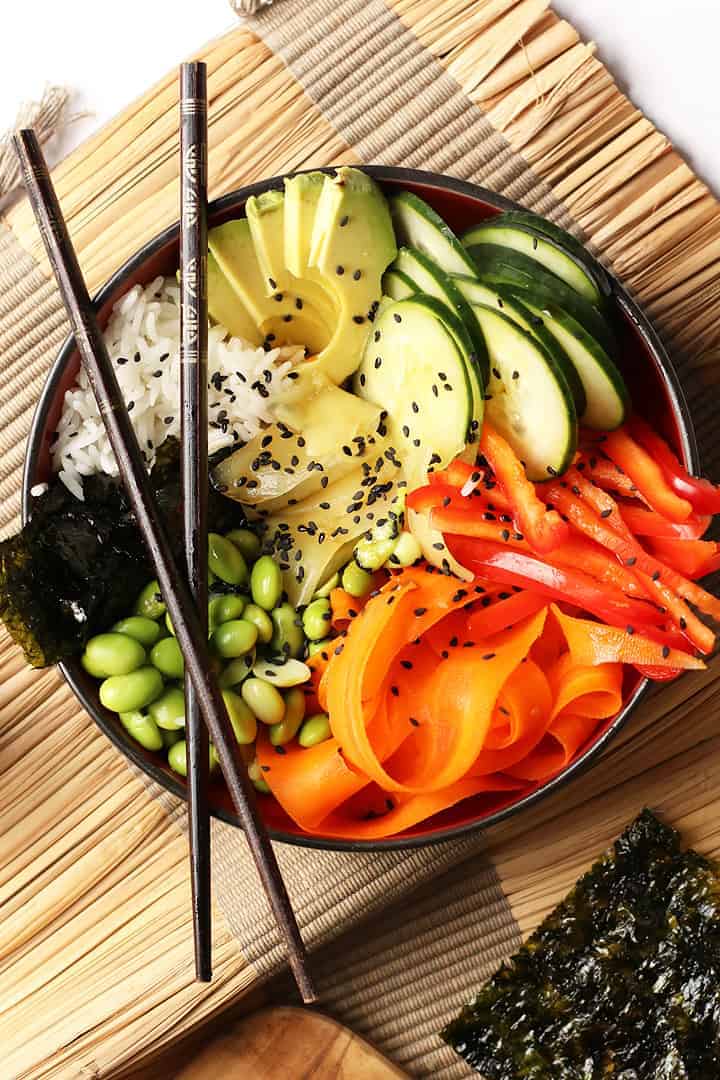 This vegan sushi bowl comes together easily once you have the components prepared! All you need is cooked rice, pickled vegetables, and sesame soy sauce.
Vegan Sushi Bowl with Ginger Marinated Tofu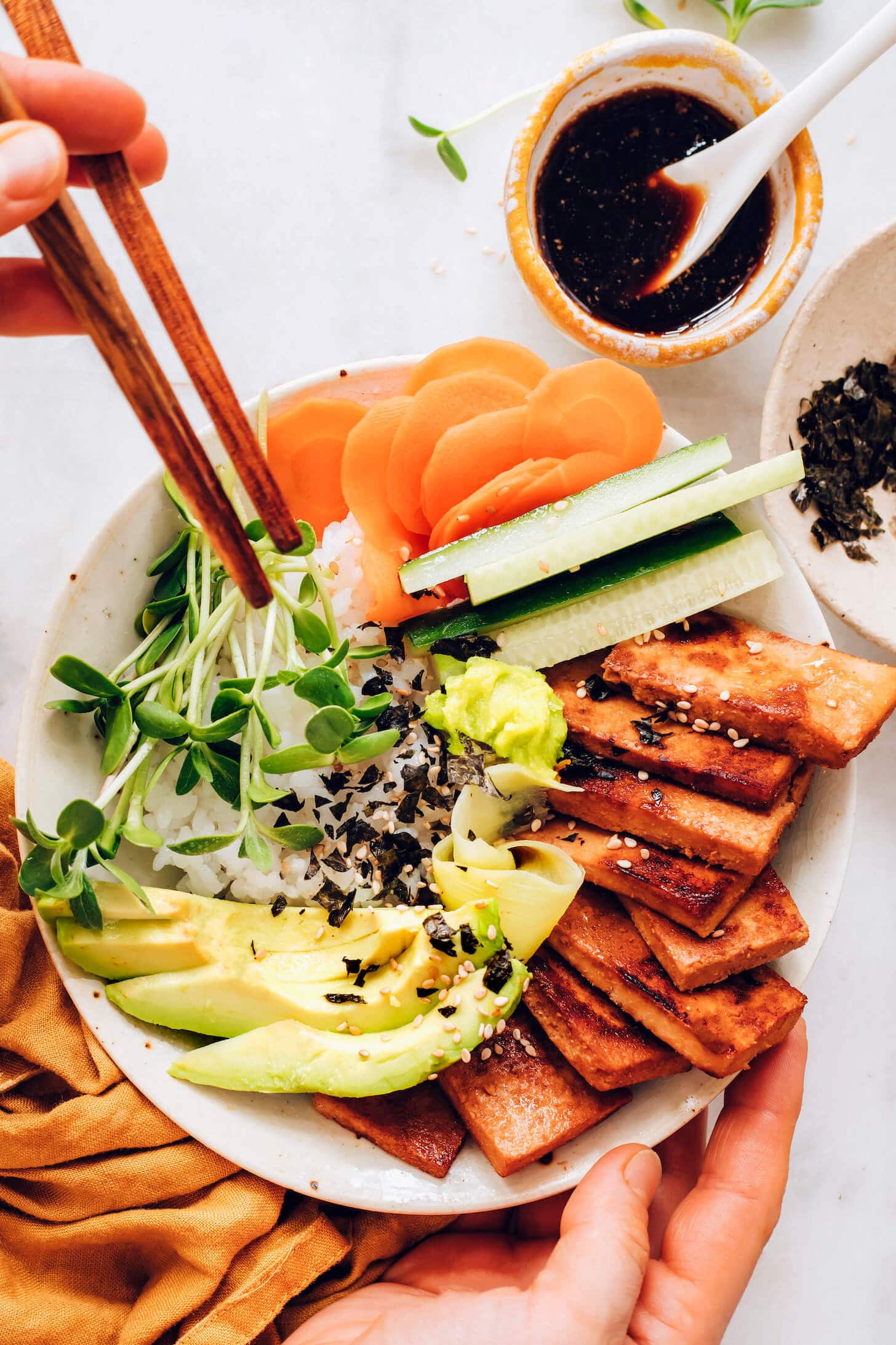 The best part of this recipe is the decadent tofu! Marinated in tamari-ginger-sesame sauce and cooked until slightly crispy, the tofu may not even make it into the bowl before being gobbled up.
Vegan Sushi Rice Bowl with Sesame-Soy Dressing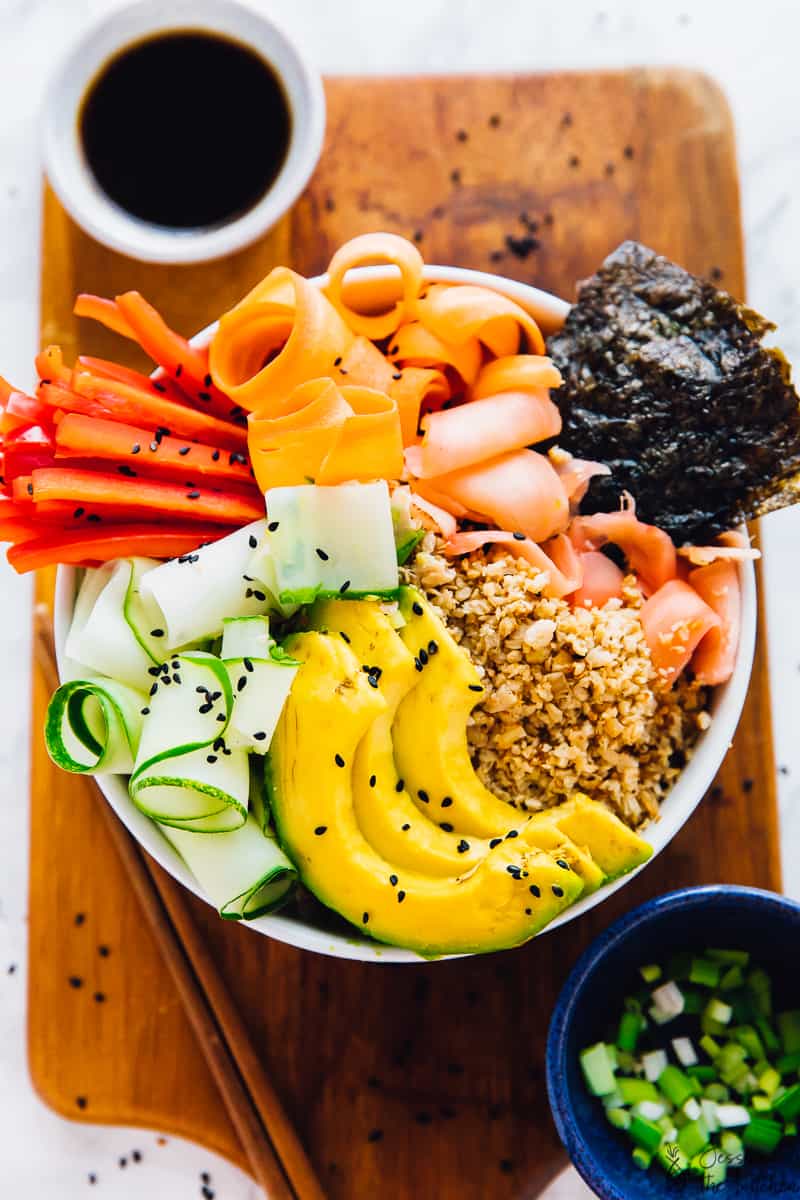 Swapping traditional rice for cauliflower rice, this light sushi bowl recipe still feels satisfying thanks to slices of avocado and a sesame-soy dressing.
Deconstructed Spicy Avocado Sushi Bowl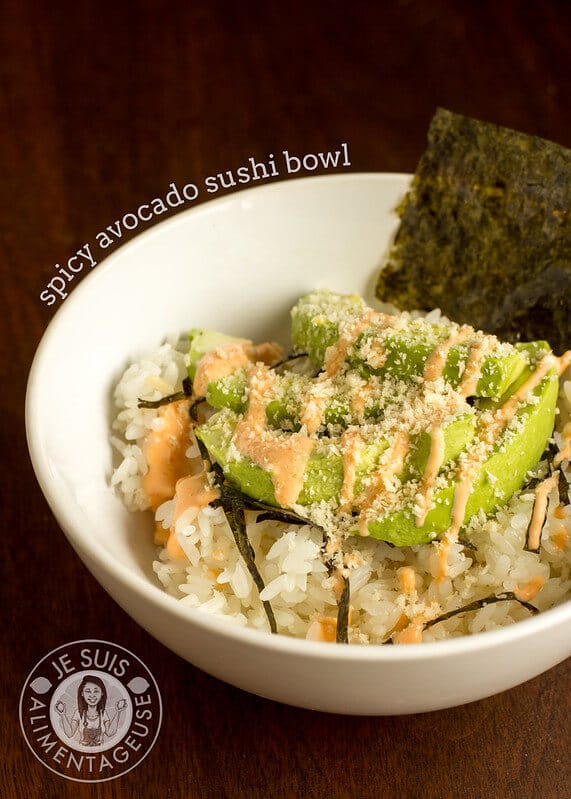 If you want sushi without the wait, this deconstructed avocado sushi bowl is just the thing! Quick and filling, the bowl offers all the sushi goodness without the rolling.
Bonus Sushi Cake
Vegan Sushi Cake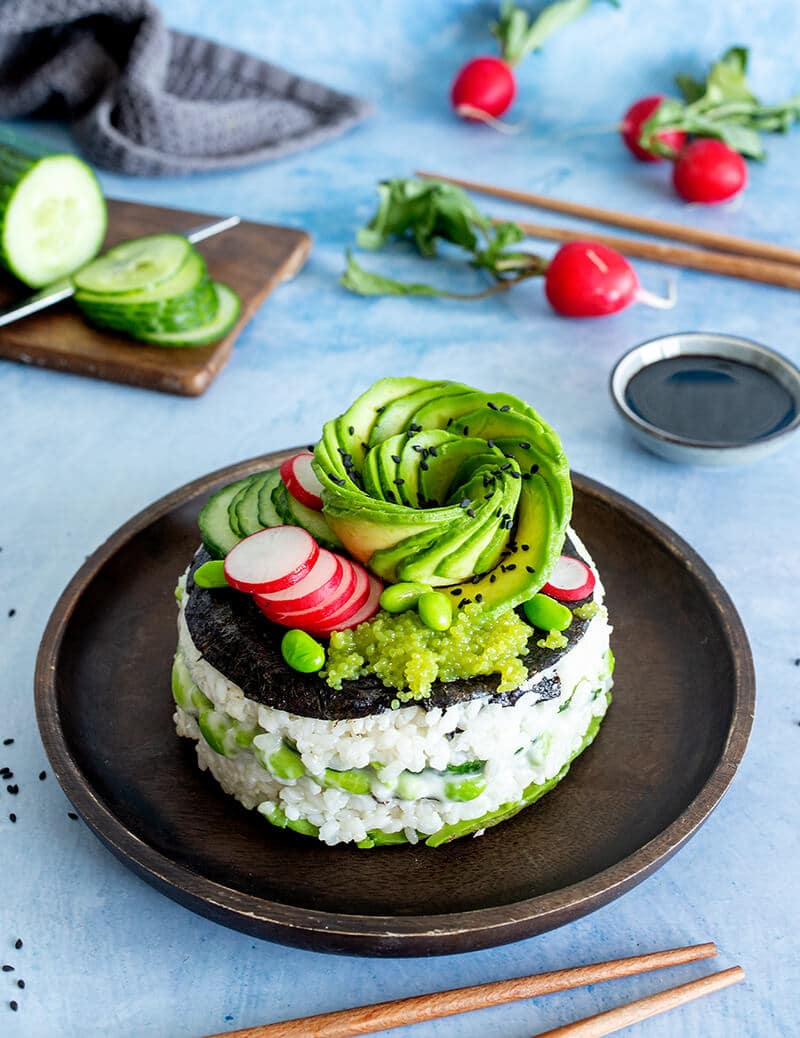 I had never heard of a sushi cake before, so of course we needed to include it! Quicker and easier than traditional sushi rolls, this cake is made with vegan caviar, coconut sugar, and vegan mayo.
–
Not a single law protects fish in the United States. By devouring delicious plant-based sushi instead of animals, you are taking a stand for these incredible beings.
Still hungry? Discover vegan fish recipes and more at ChooseVeg.com.