You Can Now Get a Vegan Pumpkin Spice Latte at Starbucks in the U.K.
The pumpkin spice frenzy has officially begun, and with it comes the return of the beloved pumpkin spice latte (aka PSL). While the pumpkin spice flavorings in the popular Starbucks version contain dairy, the company has just rolled out its first pumpkin spice latte that can be made completely vegan. The catch? It's available only in some European Starbucks markets.
The Independent explains:
Previously, the syrup used in the flavoured lattes contained condensed milk, however Starbucks baristas have now rejigged the recipe to make it vegan-friendly—all without affecting the taste, they claim.
But the vegan-friendly pumpkin syrup is available only in the U.K., France, the Netherlands, Switzerland, and Austria. Just ask for soy, almond, or coconut milk, and skip the whipped cream!
Unfortunately, the Starbucks version in the U.S. still contains dairy, and while you could make your own (see our recipe below), many of us would rather stop by a coffee shop and leave that to the professionals.
Luckily, U.S. coffee chain Peet's Coffee is essentially a vegan haven, especially when it comes to this cherished seasonal drink. Choose the Peet's pumpkin latte made with soy or almond milk. And if coffee isn't really your thing, you can always give the pumpkin chai latte a shot. To top it all off, Peet's offers vegan whipped coconut cream!
Don't live near a Peet's? Panera Bread is another cafe that offers this famed seasonal drink—and with real pumpkin! Just be sure to ask for soy milk and skip the salted caramel sauce.
Click here to leave a polite message on Starbuck's Facebook page asking them to roll out this exciting new option at a location near you!
—
Whether it's out of concern for one's health, the environment, or animal welfare, it seems that everyone nowadays is switching to plant-based milk. And while dairy has proved detrimental to human health and contributes to environmental degradation on a massive scale, possibly the most important reason so many people are moving away from it is that dairy is unimaginably cruel.
At dairy factory farms, cows are roughly handled, forcibly impregnated, and kept in terrible conditions. Their calves are torn away from them shortly after being born. Male calves are killed for veal. Females are raised to produce more milk, trapped in a cycle of abuse for years until they are considered "spent" and sent to slaughter.
Fortunately, delicious dairy-free alternatives abound! Here are 17 of our favorite vegan dairy alternatives.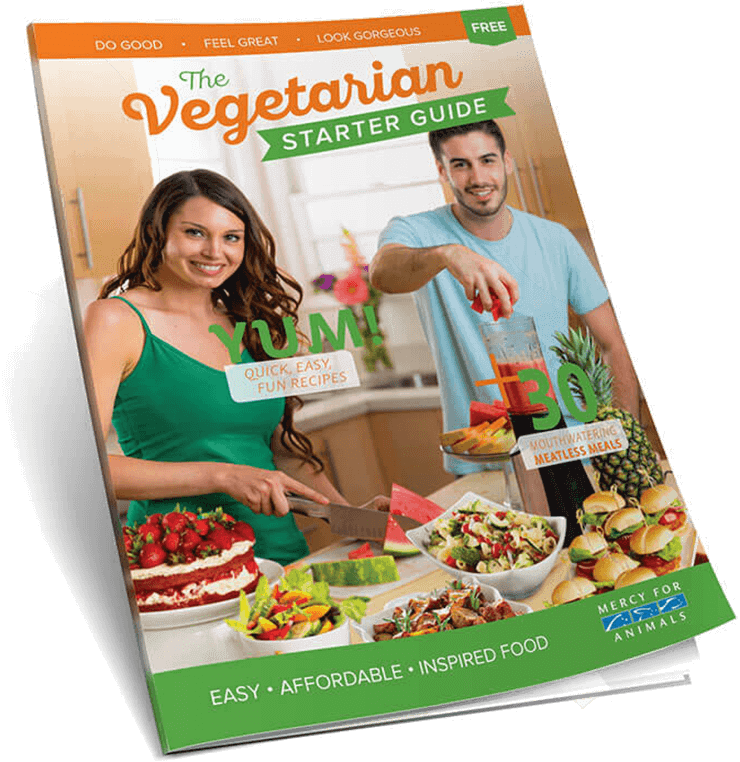 Get Your Free Vegetarian Starter Guide