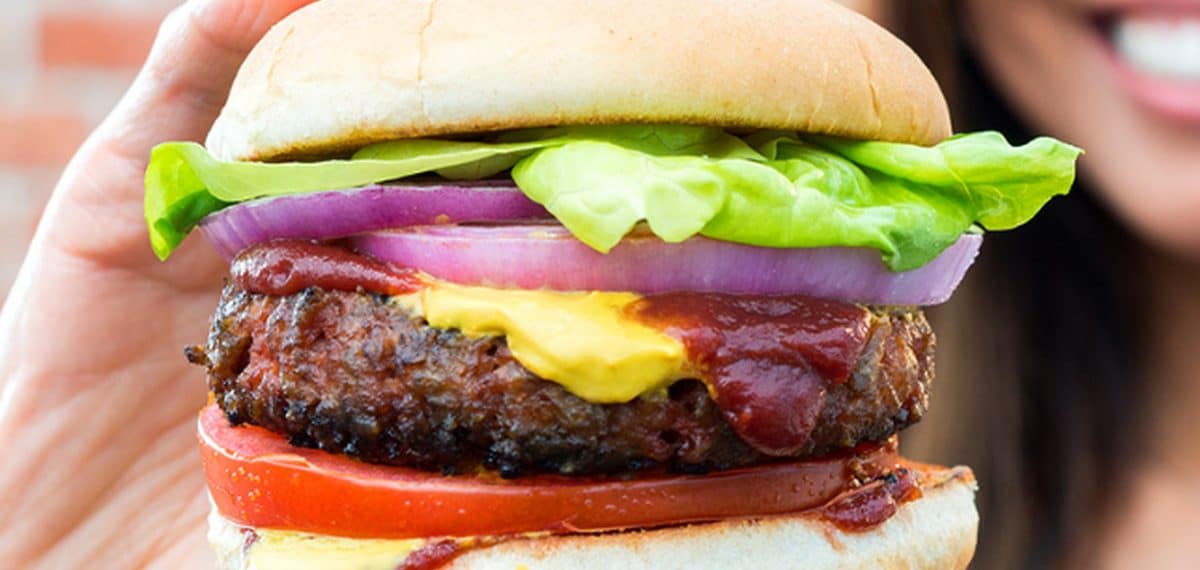 Vegan Beyond Burger Heads to Canadian Grocers This May
Sarah Von Alt
Beyond Meat's products are more popular than ever, and soon its famed Beyond Burger will be available at retail outlets in Canada. The fresh vegan burger "bleeds" pulverized beet juice; looks, smells, and tastes like meat; and has been met with much fanfare around the world.
While the Beyond Burger has been available at A&W Canada locations since last summer, this marks the first time Canadians will be able to grab the plant-based patties at a store near them. VegNews explains:
Beyond Meat's popular vegan patty—the manufacturer's suggested retail price of which is CAD$7.49 to $7.99 (USD$5.57 to $5.95)—will be sold in the meat section at participating retailers, including Co-op Food Stores, Fresh Street Market, IGA, Loblaw, Longos, Metro, Save On Foods, Sobeys, and Whole Foods Market.
This is incredible news for the growing number of people moving away from meat. More than half of all Canadians consume vegan meat. In fact, a study by leading market research firm Mintel found that 53 percent of Canadians eat plant-based meat, with 20 percent—or one in five—eating it a few times a week.
And a study conducted by Dalhousie University last year found that nearly 10 percent of Canadians considered themselves vegan or vegetarian. According to the research, 2.3 million Canadians are vegetarian, an increase from just 900,000 in 2003, while about 850,000 label themselves vegan.
Even the meat industry is taking notice. Maple Leaf Foods, a major Canadian meat supplier, launched an independent subsidiary called Greenleaf Foods that is 100 percent plant-based. The company also owns plant-based businesses Field Roast and Lightlife.
With vegan foods becoming more accessible, it's never been easier to choose plant-based meals. For delicious vegan recipes, easy meal ideas, and tips on plant-based eating, order a FREE Vegetarian Starter Guide today.