Vegan Kahlua Pork Recipe from The Herbivorous Butcher Cookbook
Hannah Bugga
While "vegan" and "butcher" aren't words you typically find together, brother and sister duo Kale and Aubry Walch have been working to change that with their iconic all-vegan butcher shop: The Herbivorous Butcher. Opened in 2016, The Herbivorous Butcher has been making headlines around the country and was even featured on the Food Network program Diners, Drive-Ins and Dives. 
The shop sells a wide array of vegan deli staples, such as plant-based meats, cheeses, and butters—all made from scratch. And while you might be lucky enough to find some of its incredible products at a vegan restaurant or natural food shop near you, The Herbivorous Butcher also ships them nationwide.
Wondering how to cook all those mouthwatering vegan meats and cheeses? Don't worry! Kale and Aubry have just released a cookbook boasting 75 innovative recipes for plant-based meats and standout vegan dishes. The Herbivorous Butcher Cookbook is full of deli classics like pork chops, ground beef, and chicken cutlets—all made without animals.
Here's a sneak peek at one of the recipes:
Lunch Plate Kahlua Pork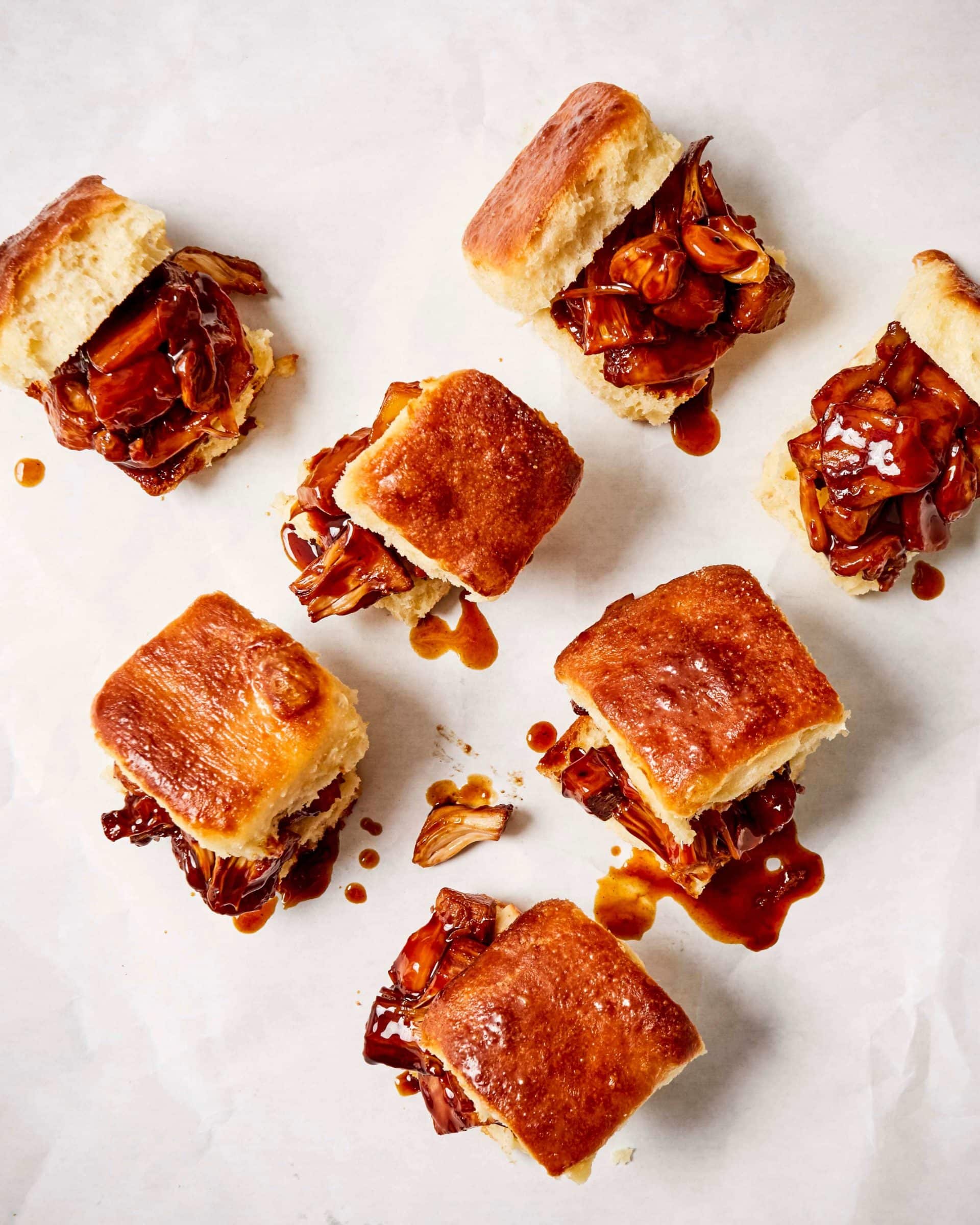 SERVES 6
The food cultures of Guam and Hawaii are kindred in spirit. One thing people of both islands definitely love is a good lunch plate—and Kahlua pork often takes center stage. And deservedly so. In our vegan version, jackfruit is a superstar stand-in for pork.
INGREDIENTS
TWO 15 OZ [430 G] CANS JACKFRUIT, DRAINED

¼ CUP [60 ML] SOY SAUCE

¼ CUP [60 ML] PINEAPPLE JUICE

2 TBSP LIQUID SMOKE

SALT

FRESHLY GROUND BLACK PEPPER

3 TBSP VEGETABLE OIL

RED RICE, MACARONI SALAD, AND/OR GUAMANIAN SWEET BUNS, FOR SERVING (OPTIONAL)
HOW TO MAKE IT
Break apart large pieces of the jackfruit into a large bowl the best you can (you will have the opportunity to break it apart more once it's in the pan and heated). Add the soy sauce, pineapple juice, and liquid smoke; use your hands to combine thoroughly. Season with salt and pepper.
In a large pan over medium-low heat, add the oil. Once heated, toss in the jackfruit mixture. Turn up the heat to medium-high. Cook until the jackfruit is browned, 7 to 10 minutes. If you prefer smaller pieces of jackfruit, and for a more "pulled meat" style, break apart the jackfruit even further using a spatula.
Enjoy with red rice and macaroni salad or on a Guamanian sweet bun. Store in an airtight container in the refrigerator and enjoy within 1 week.
MEET OUR NEW FRIEND, JACKFRUIT
Jackfruit recently exploded onto the vegan cooking scene, a welcome trend for those looking for a simple substitute for meat. That's because this funky, fibrous fruit has the consistency of shredded pork or chicken in its unripe stage. It also has a fairly neutral taste when young, so it takes up the flavor of whatever sauce or seasoning you pair it with. Don't look for this relative of the fig next to the oranges in the produce section, though. The chartreuse tropical fruit weighs in at a whopping 30 to 50 lb. [13.5 to 22.5 kg]. Instead, look for it cut down to size in cans or refrigerated pouches at your local Asian market or health food store. Bonus: It's a decent source of protein and low in fat and calories.
Reprinted from The Herbivorous Butcher Cookbook: 75+ Recipes for Plant-Based Meats and All the Dishes You Can Make with Them by Aubry and Kale Walch, with Sandra Soria and Danny Seo, with permission from Chronicle Books, 2022. Photographs © Rikki Snyder
—-
According to Kale and Aubry, their goal with this cookbook and their business is to make positive changes in the world for the health of people, animals, and the planet. Pick up your copy today!