Turning Mushrooms into Meat with Pan's Mushroom Jerky
Drae Solberg
We are excited to welcome Pan's Mushroom Jerky as a 2022 ChooseVeg partner! Based in Portland, Oregon, Pan's Mushroom Jerky produces a flavorful selection of vegan jerky crafted from organic, nutrient-rich ingredients.
Founder and CEO Michael Pan drew inspiration from a trip to visit family in Malaysia in 2006. Using a traditional family recipe, he was determined to bring this delicious jerky made from shiitake mushrooms to the rest of the world. The Pan's Mushroom Jerky team appeared on Shark Tank, became a fan favorite, and now offers a diverse lineup of snacking essentials. 
To get to know Pan's Mushroom Jerky, we interviewed Michael Pan about his inspiration and how his business has grown since Shark Tank. This is what he had to say:
What inspired you to bring the innovative and delicious ingredients and recipes from Malaysia to Portland, Oregon?
I discovered this family recipe in 2006 during a trip to Borneo, Malaysia, visiting my extended family. I grew up as a first-generation American in Mississippi. My mother is Chinese Peruvian and my father is Chinese Malaysian. I did not know many people with a similar multicultural background as me, which is one reason I love to learn about my family history and culture. 
During this particular visit, my cousin put a bowl of food on the table that I loved. I thought it was pork, but I was confused because my family is Buddhist and follows a vegetarian diet. So how could they be snacking on something so meaty? I finally realized—it was a mushroom! 
This was something special, a recipe that had been in my family for decades, yet nothing like this existed in the United States. I realized then that I needed to share this with the world.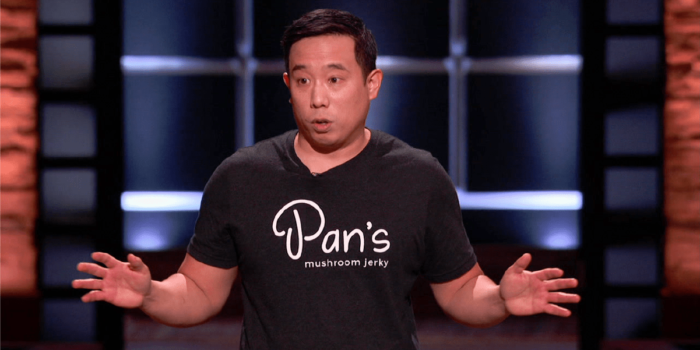 Pan's Mushroom Jerky was a favorite on Shark Tank. How was your experience on the show? How has your business grown since then?
I am incredibly grateful for the opportunity to be on the show. When we were working on our pitch, we were careful with the way we described our product. Pan's Mushroom Jerky has an umami, earthy, shiitake flavor, and we didn't want to set the expectation that Pan's tastes just like meat. We didn't want to have an "Impossible Burger" type of trick reveal, but we wanted to surprise and delight the sharks with our main ingredient. The producers we worked with were very respectful of our approach and supported however we wanted to present our brand. It was overall a great experience working with everyone at Shark Tank. 
Shark Tank presented Pan's to a national audience, and as a bootstrapped startup company, that level of exposure is invaluable. We ended up selling $1 million's worth of jerky (35,000 orders) in four days before we had to shut off our website for sales. Our performance secured us a spot on another episode that same season and opened the doors to many retailers who became interested in carrying Pan's.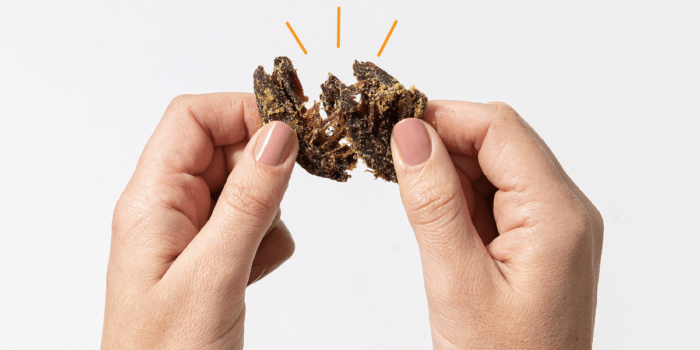 How do you hope your business will impact people?
We want to reduce meat consumption by offering delicious, nutritious, and satisfying plant-based foods made of mushrooms. We are proud to offer a vegan snack food that enables people to make a substitution in their diet, which can ultimately have a huge impact.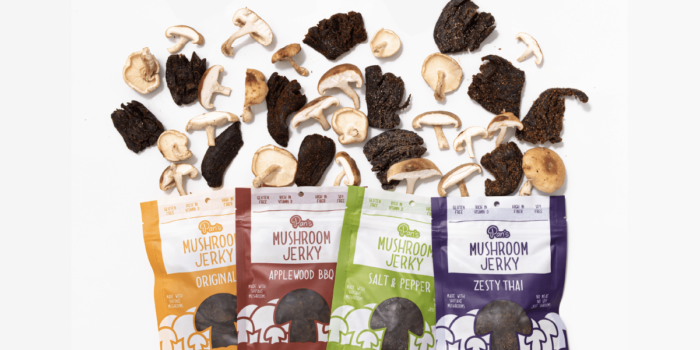 What is your relationship to vegan eating?
It sparked when I connected with my extended family in Malaysia and learned more about their culture and values. They are vegetarian Buddhist, and during my trip to visit them in 2006 I tried many vegetarian foods from recipes they have shared for decades. It really opened my eyes to not just "substitutes" for nonvegan foods but also the many unique, delicious recipes and ingredients that were satisfying in their own right. For example, Pan's Mushroom Jerky isn't trying to taste just like beef, but it is umami and satisfying in the same way.
And now that I work in food manufacturing, I am much more mindful of where my food comes from. It really helps that I get to go to events and tradeshows where I sample delicious vegan foods and find my favorites!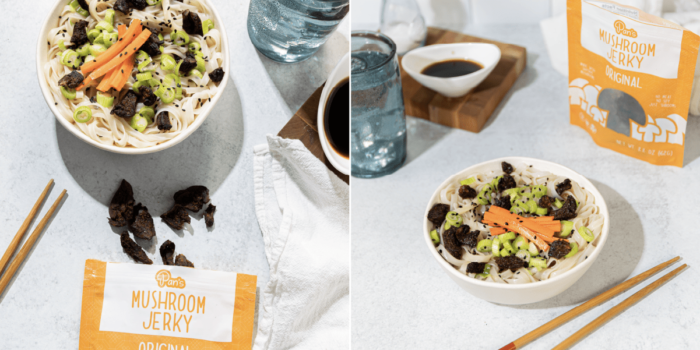 It's been over two years since the pandemic started. How has Pan's Mushroom Jerky adapted? What challenges, if any, have you encountered?
We have a team of about 30 people who manufacture Pan's Mushroom Jerky in Portland. All of our products are hand produced, packaged, and shipped from our facility. The start of the pandemic was a challenge. We rearranged our space to enable people to keep six-foot distances, created outdoor spaces for break rooms, stocked up on masks and gloves, and tried as much as possible to enable people to be safe and continue working. 
We are grateful to our team for working through these challenges. The demand for snack foods increased since many people were eating at home, and our appearing on Shark Tank increased demand for Pan's, so we were able to hire more people during the pandemic. 
What are some of the best ways the vegan community can help emerging plant-based businesses thrive?
Word of mouth helped raise awareness of Pan's and gave us credibility, which was huge when we didn't have a huge marketing budget. Also, requesting food brands you enjoy be carried at your local grocery stores. I'm not sure consumers are aware of how much power they have with getting brands into grocery stores. We've gotten emails from buyers who simply said, "A customer gave me this empty bag [of Pan's] and requested we carry this, so can you send me wholesale information?"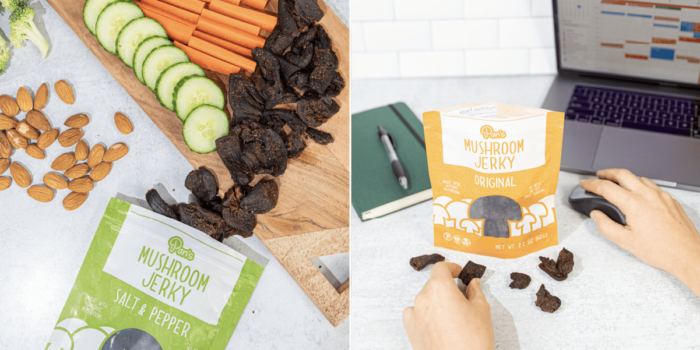 Do you have any recommendations for Asian American and Pacific Islander entrepreneurs breaking into the vegan food market?
Don't be afraid to reach out to the food community for help or just to have someone to talk to. This journey can be lonely, and I underestimated how mentally challenging it is. I've been lucky to surround myself with smart, empathetic, and caring people to help us along the way. In particular, I've found fellow founders of AAPI brands to be extremely supportive!
Do you have any favorite vegan brands you wish more people knew about?
—
Pan's Mushroom Jerky offers a variety of vegan jerky options tailored to different taste and spice preferences. Each is packed with family-inspired ingredients and plenty of flavor that's perfect for satisfying your cravings. Want to try their Zesty Thai jerky—Michael Pan's favorite—or their unique applewood barbecue or curry flavors? Either way, be sure to check out their website, and look for special deals on their Instagram! 
In 2021, our ChooseVeg Partners program spotlighted seven Black-owned businesses that are disrupting the food system, building influential brands, and producing delicious vegan foods. This year, we are featuring founders who are queer, Black, Latinx, and Asian American and Pacific Islander to celebrate the powerful impact these communities are making for farmed animals through innovative vegan foods. Make sure to sign up for our newsletter to not miss out on tasty food giveaways and "behind the brand" interviews with our 2022 ChooseVeg partners—like Pan's Mushroom Jerky!