This Incredible New Cookbook Makes It Easy to Eat Vegan on a Budget. Here's a Taste.
Sarah Von Alt
Chef and food blogger Toni Okamoto has put together yet another amazing collection of recipes so you can eat plant-based without breaking the bank—Plant-Based on a Budget: Delicious Vegan Recipes for Under $30 a Week, in Less Than 30 Minutes a Meal. From jackfruit carnita tacos to real-deal chocolate chip cookies, the book features 100 delicious, affordable, and easy-to-make recipes.
The publisher's website explains:
Through her popular website, Toni has taught hundreds of thousands of people how to eat a plant-strong diet while saving money in the process. With Plant-Based on a Budget, going vegan is not only an attainable goal, but the best choice for your health, the planet—and your wallet.
Available on May 14, this new cookbook is sure to be a valuable addition to your collection. Preorder your copy today.
Here's an excerpt: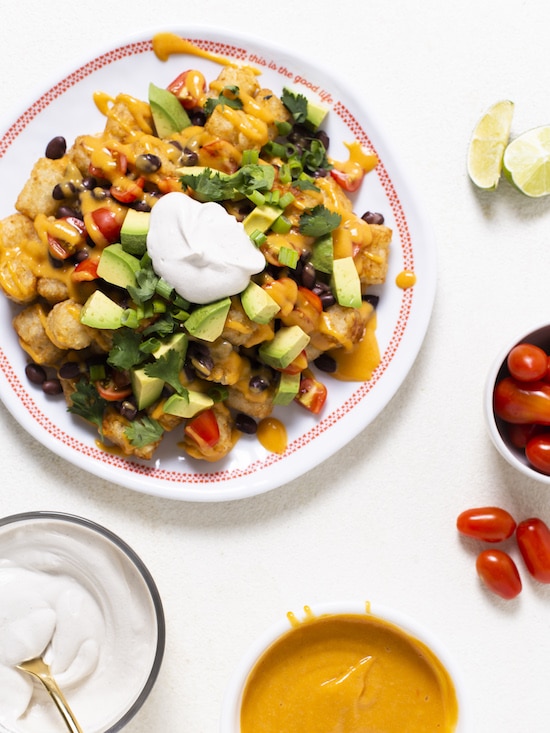 Totchos
Yields 4 to 6 servings.
Not familiar with Totchos? Let me introduce you. They're tater tots with nacho fixings. Tot-chos. And they are so flippin' good! I find them to be the perfect Friday night recipe. In my home, after a long work week, I'll put on a Disney feel-good movie and pile high the Totchos and their toppings. This is comfort food at its best.
Ingredients:
1 (32-ounce) bag frozen tater tots
1 batch Nacho Cheese (see below)
1 (15-ounce) can black beans, drained and rinsed
Optional Toppings:
1 avocado, diced
2/3 cup diced tomato
Dollop of Cashew Cream (see below) or vegan sour cream
1 tablespoon minced cilantro
Squeeze of lime juice
Directions:
1. Prepare the tater tots according to the directions on the package.
2. After they're baked, top with the Nacho Cheese and black beans. You can transfer the Totchos to a plate or save an extra dish by serving them directly from the pan once it cools.
Toni's Tips:
With several other recipes in this book, it won't hurt to add a bit more or less of a veggie. But here, I recommend measuring out the potato and carrot exactly rather than eyeballing their amounts. I found that adding more or less of each of these changes the consistency and makes the mixture seem less cheesy.
Testers' Tips:
"The day after I made this, I added a little over half of my Nacho Cheese to about 8 ounces macaroni noodles. It made a really nice and easy mac and cheese! Another day, I also used it as a topping on a baked potato, which was also delicious!" —Melanie S. from Warsaw, NY
Nacho Cheese
Yields 3 cups.
This recipe made its debut appearance in my first book, The Super Easy Vegan Slow Cooker Cookbook. Since then, I've tweaked the measurements. Consider this the improved 2.0 version.
Ingredients:
2 cups peeled and diced russet potatoes
1 cup sliced carrots
½ cup water
1 tablespoon lemon juice
½ cup nutritional yeast
1 teaspoon onion powder
1 teaspoon garlic powder
½ teaspoon salt
Optional Additions:
¼ cup salsa added in step 2
Directions:
1. Fill a large pot with water and add the potatoes and carrots. Over medium-high heat, bring the water to a boil and keep cooking for 10 minutes or until the veggies are soft. Remove from the heat and drain the water.
2. In a blender, blend the boiled potatoes, carrots, water, lemon juice, nutritional yeast, onion powder, garlic powder, and salt until completely smooth.
Cashew Cream
Yields 1½ cups.
I realize that cashews are a bit pricey, so I didn't include them in any of the other recipes. But if you have some extra money to spend or have cashews in your pantry already, this cream makes a great topping for lots of the recipes in this book.
Ingredients:
1 cup raw cashews, soaked overnight and drained
½ cup water
¼ teaspoon salt
1–2 teaspoons lemon juice (depending on your sourness preference)
Directions:
1. In a blender or food processor, blend all the ingredients until creamy.
2. Store in an airtight container in the fridge for up to 7 days.
Toni's Tips:
Some stores with bulk sections sell "cashew pieces"—broken up cashews that are cheaper than their whole counterparts.

You can make this a sweet cream by omitting the salt and lemon juice and adding 1 tablespoon agave or maple syrup and 1 teaspoon vanilla extract.
—
*Recipe courtesy of Plant-Based on a Budget by Toni Okamoto (BenBella Books, 2019)