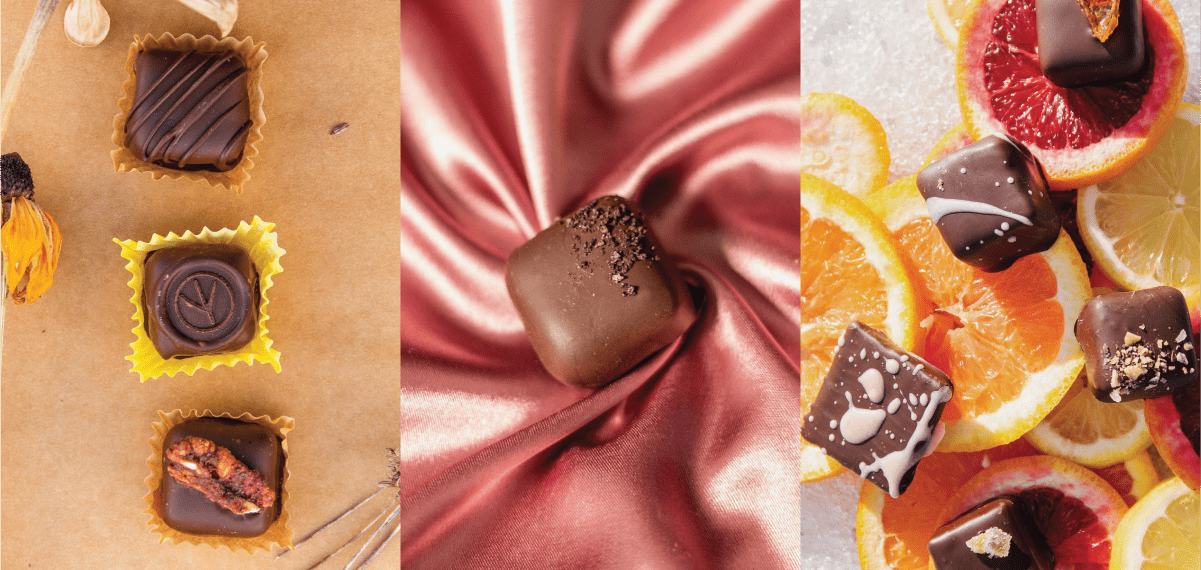 Creating Chocolate and Social Change with Lagusta's Luscious
Drae Solberg
We are thrilled to announce Lagusta's Luscious as one of our eight 2022 ChooseVeg partners! Lagusta's Luscious specializes in delicious artisanal vegan chocolates in their home town of New Paltz, New York, where they have become a leader in the community and vegan food scene. 
Lagusta Yearwood founded the brand in 2003 to reflect her passion for social justice and contribute to building a strong local community of collective care. Combining a love of homegrown ingredients with a commitment to environmentalism and animal rights, Lagusta's Luscious makes chocolates that taste good and have a positive impact on the world. 
To better understand the compassionate nature of the company, we interviewed the owner, Lagusta Yearwood, who kindly answered all our questions.
What inspired the creation of Lagusta's Luscious?
In 2003, I wanted to make chocolates that were vegan but more closely aligned with fine French confections than the vegan confections on the market at the time, which were a lot of, like, carob and date kind of things. Vegan food producers seemed not to have noticed that dark chocolate is vegan!
Lagusta's Luscious has been thriving for nearly two decades now. Congrats! Do you have any reflections on your journey?
It's been really hard. Also really fun! Once I stood in line for an hour at a trade show to meet Bob from Bob's Red Mill. I told him he was an inspiration to me and he said: "Do you want to know the secret? Get up every day and work hard." And the longer I'm in business, the more I realize that is the secret. Just do it—even when it's hard and not profitable, even when you feel like giving up, even when your friends are all having fun and you're working. Then, the minute it's easier, make it easier on you too! 
How does your queer identity impact how you operate your business?
Well, I'm currently dating a man, so I'm careful not to take up a ton of space in the queer sphere. But I've always strongly identified as a queer person, and I've tried to take that perspective into my business. How can I lift people up? How can I form a community on my own terms? How can I be loud about the values we're trying to uphold? Happily, both of my businesses (the chocolate shop and a cafe around the corner) have attracted queer, trans, gender-nonconforming people to work, which I see as a huge victory in terms of our work environment. 
Do you see a connection between the fight for farmed animal protection and queer liberation?
I think all movements for liberation are connected. We need to work on all of it at once, or else any victories are partial victories, you know? 
What are some ways that Lagusta's Luscious builds up and gives back to its community?
We're a very committed part of our community. We make all kinds of business decisions because we want to be rooted in our small town. For example, we could make more profit by not shipping our products in-house, but it allows us to provide more jobs and better customer service. We donate to lots of local nonprofits. This year we sponsored a soccer team. We're really here for New Paltz. 
It has now been over two years since the start of the pandemic. How have you seen the plant-based market adapt? What challenges, if any, have you encountered?
I kind of want to puke thinking about it. It's been impossibly difficult to operate in a pandemic, obviously—just really soul crushing to navigate it all. I haven't been watching the plant-based market; I'm too busy just trying to keep my staff safe, you know? But I do think there's been an explosion of interest in vegan stuff!
—
When you want to enjoy tasty vegan chocolate, you now have a great place to go—Lagusta's Luscious! Treat yourself by ordering directly from the Lagusta's Luscious website, and stay up to date on their latest creations on Instagram. 
In 2021, our ChooseVeg Partners program spotlighted seven Black-owned businesses that are disrupting the food system, building influential brands, and producing delicious vegan foods. This year, we are featuring founders who are queer, Black, Latinx, and Asian American and Pacific Islander to celebrate the powerful impact these communities are making for farmed animals through innovative vegan foods. Keep an eye out for "behind the brand" interviews and tasty food giveaways with our 2022 ChooseVeg partners, like Lagusta's Luscious!