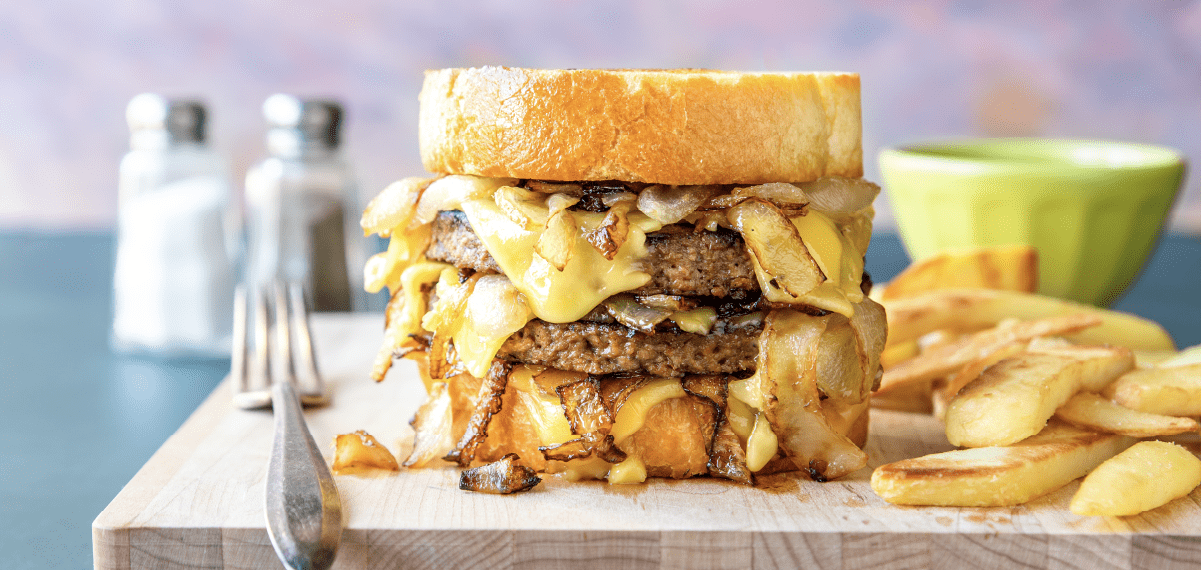 Meet the Fast-Growing Vegan Burger Startup Everything Legendary
Drae Solberg
At Mercy For Animals, we believe that animals should be respected, protected, and free and that a plant-based food system is possible. This is why we are proud to welcome plant-based meat brand Everything Legendary as a 2022 ChooseVeg partner! With their mouthwatering vegan burgers, sausages, and grounds, you are sure to enjoy every legendary bite.
Food entrepreneurs and Everything Legendary co-founders Duane Myko and Danita Claytor worked together after seeing their mothers struggle to find plant-based versions of their meaty favorites. An idea for a delicious burger that their family could enjoy blossomed into the Shark Tank favorite Everything Legendary.
Duane and Danita are determined to bring their popular burgers to more families across the United States. To get to know the inspirations and aspirations of the Washington, DC, business partners, we conducted an exclusive interview with the team behind the growing business.
Introduce us to the Everything Legendary team and how you came together as business partners.
The core team consists of Duane Myko, Danita Claytor, Vince Parker, Cynthia Betterson, Darise Deal, Destiny Avent, Todd Fletcher, Frank Zampardi, Jane Flemming, and Maria Pancella. 
The idea for Everything Legendary came from Duane, whose mother suffers from lupus. She has been a vegan for more than 35 years. Over the years, she's complained about the limited plant-based selection of burgers (and food in general) available to her. She tried nearly every plant-based burger brand, and none of them tasted delicious in her opinion.
Duane decided to call Danita, who was immediately on board. Danita's mom, who we called Honey, suffered from cancer for many years before she passed away. Like Duane's mom, Honey also struggled to find healthy plant-based foods that also tasted good. 
This was the start of a legendary idea. Now we are proud to say that we are the fastest-growing manufacturer of plant-based products in the world.
What is your inspiration for creating plant-based burgers?
Our inspiration for creating plant-based products comes from our purpose, which we believe is to offer healthy plant-based alternatives to our communities. Our greatest inspiration for creating this brand has been our parents and our child. For too long, communities of color have not been equipped with the information and resources needed to make healthier lifestyle choices. In fact, our communities are often disproportionately affected by illnesses such as diabetes, heart disease, kidney disease, obesity, and more. 
Our goal is to show the world that the future is plant-based. That's why we've made it cool to care about the environment, the animals, and what you put into your body. Every day we invite our customers, supporters, and social media followers to join our plant-based flavor revolution. 
Everything Legendary started as a family kitchen operation and grew to a brand seen in stores across the United States! What sets your brand apart?
From the very beginning, we agreed that we wanted to disrupt the traditional plant-based market. Everything—from our packaging to our marketing to our logo to our street team to our grocery store activation strategy—is unconventional. We break through barriers, and occasionally we break the rules. We're invited to have a seat at the table because what we are doing is unlike anything anyone has ever seen before from a plant-based brand. 
We believe our products are unmatched. They're lightly preseasoned for taste, and we include all-natural, soy-free, and gluten-free ingredients that our customers can easily identify. Our products are made in a kitchen by a chef and not in a lab because to us, taste is everything. 
What lessons did you learn from your experience on Shark Tank?
We learned many lessons from being featured on Shark Tank, not once but twice! What we learned was to be prepared for the opportunity. You must have your business paperwork in order. You must be up to date on your taxes, and your finances must be in order. 
The team at Everything Legendary is revolutionizing the plant-based food market. What future do you envision for your brand and your products?
In the near future, we envision our brand expanding to more than 5,000 grocery stores across the country and our products becoming available to every household in the United States. We also plan to roll out new plant-based products, including nuggets, sausage lasagna, maple breakfast sausages, and Caribbean patties, just to name a few! 
How have you seen the vegan movement change in the past two years, especially considering the global pandemic and this period of racial reckoning? 
In the last two years, the vegan movement has changed, considering the global pandemic and the racial reckoning in the United States and globally. Currently, about 4 percent of the country identify as vegan, while 8 percent of African Americans identify as vegan. African Americans are one of the fastest-growing populations that live a plant-based lifestyle. 
Right now, we are seeing well-known African American celebrities, musicians, public speakers, actors, and more speak out about their plant-based lifestyles and beliefs. There has most certainly been a shift toward taking care of your body, respecting the planet, and protecting the animals. 
We will also note that our business launched just before the height of the pandemic and racial unrest. During this time, we experienced many customers, partners, and investors wanting to partner and invest in our brand because we identified as a Black-owned business. 
What is your experience with the connection between human rights and animal rights?
In our experience, animals deserve the same rights as humans. They deserve love, acceptance, kindness, compassion, and a world free from suffering at the hands of humans. We believe we must protect animals from being hunted, bred, or used for food. 
Do you have any advice for other Black entrepreneurs breaking into the plant-based food market?
Our advice for other Black entrepreneurs trying to break into the plant-based food market is to never give up on your dreams. Keep trying, keep reading, keep studying, and keep pressing forward until you make it. You will receive a thousand nos before you finally receive that one yes. Also, be sure to surround yourself with like-minded entrepreneurs so that you can remain encouraged and in the right mindset to achieve your dreams. 
Do you have any favorite vegan brands you wish more people knew about?
We love Chao cheese! One question that we receive often is what kind of cheese we use when we are preparing the burgers for customers. Many customers have also expressed concerns about the flavor of plant-based cheese and its inability to melt while cooking. We use Chao cheese often in recipes because it tastes really good and it melts well in our plant-based recipes.
—
Everything Legendary is not just a healthier alternative—it is a delicious answer to many of the problems plaguing the food industry! Whether you want to make a difference for animals or seek a flavorful plant-based option, Everything Legendary products are sure to delight your taste buds and keep your stomach from grumbling. For news and updates about Everything Legendary and their extraordinary options, visit their website and follow them on Instagram!
In 2021, our ChooseVeg Partners program spotlighted seven Black-owned businesses that are disrupting the food system, building influential brands, and producing delicious vegan foods. This year, we are featuring founders who are queer, Black, Latinx, and Asian American and Pacific Islander to celebrate the powerful impact these communities are making for farmed animals through innovative vegan foods. Make sure to sign up for our newsletter so you don't miss out on our "behind the brand" interviews and tasty food giveaways with our 2022 ChooseVeg partners, like Everything Legendary!