Here's How to Veganize a $1 Boxed Cake Mix
Sarah Von Alt
Baking a vegan cake doesn't have to be complicated. In fact, the cake doesn't even need to be made from scratch! Tons of plant-based cake mixes can easily be prepared without dairy or eggs and with little time and money! Here are a few tips for veganizing your favorite boxed cake mix:
Skip the Eggs
Countless egg replacers can be found at practically any grocer, including whole foods like chia seeds, flax meal, banana, and applesauce, as well as branded products like Ener-G Egg Replacer or Bob's Red Mill Egg Replacer.
Here's a quick guide: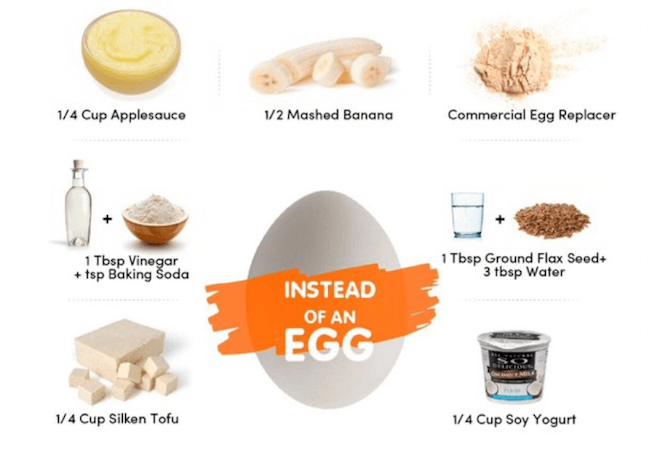 Ditch the Dairy
Look for mixes that call for oil (rather than butter), and be sure that your mix is dairy-free. If the recipe calls for milk, try your favorite dairy-free variety, and consider using an unsweetened vegan milk to avoid making the recipe too sweet.
Try Soda
Yes, you read that right. Rather than adding vegan milk or oil, choose a can of your favorite soda pop! This will act as an egg replacer, making a delicious fluffy cake with minimum ingredients!
Find Your Favorites
The varieties available at grocery stores are virtually endless, from Betty Crocker to Duncan Hines! Here are a few of our favorite plant-based cake mixes:
Betty Crocker Super Moist French Vanilla
Duncan Hines Signature German Chocolate
Pillsbury Girl Scouts Thin Mints
Duncan Hines Decadent Carrot Cake
Pillsbury Moist Supreme Strawberry Flavored Premium
Betty Crocker Super Moist Chocolate Fudge
Don't Forget the Frosting
From double chocolate to creamy vanilla, several big-name brands offer frostings that are vegan too!
—
Inspired to make a cake from scratch? Here is a list of amazing vegan cake recipes that are so good you'll be able to open your own vegan bakery!