Champions of Breakfast: Urge Major Restaurant Chains to Add Vegan Breakfast Entrees
Kimberly Johnson
UPDATE: So far, Mercy For Animals' Champions of Breakfast campaign has made huge strides, thanks to supporters who signed our petition, posted on social media, attended in-person demonstrations, and shared the campaign with friends and family.
After talks with Mercy For Animals, Cracker Barrel became our first champion when it started testing Impossible Sausage on its breakfast menu in September. Since then, Denny's has committed to exploring plant-based protein on its breakfast menu, and Another Broken Egg Cafe began trialing plant-based chorizo in January 2022. 
Let's keep up the momentum! Join us in urging more diners and breakfast chains to add plant-based options to their menus. Sign the petition now at ChampionsOfBreakfast.us.
—
Breakfast is often referred to as the most important meal of the day.
While many eateries have come a long way in offering vegan-friendly choices, major breakfast chains have yet to add a breakfast entree to their menus. It's time for that to change! So Mercy For Animals is launching a new campaign: Champions of Breakfast.
A Champion of Breakfast is a trailblazing restaurant chain that offers delicious plant-based breakfast dishes. But who will be first to go for gold? 
We're calling on Black Bear Diner, Denny's, Waffle House, and Bob Evans to step up to the plate and become a true winner! 
Everyone deserves a good breakfast. By adding plant-based breakfast entrees to their menus, these chains can help animals and the environment, as well as show they welcome a diverse customer base.
According to a recent study, nearly one in four U.S. adults have cut back on eating meat, and more than one-third of Americans who have reduced their meat consumption report eating plant-based burgers, sausages, and other alternatives.
Why Choose a Plant-Based Breakfast?
Animals raised for food often suffer from the moment they are born or hatch until they're slaughtered. Many live in extreme confinement and are denied most things natural to them. Hens raised for eggs spend their lives in cramped cages or crowded, filthy sheds with thousands of other birds. Male chicks in the egg industry are typically tossed into grinders shortly after hatching because they're considered useless.
The more people consume plant-based meals, the lower the demand for animal-based products, which could mean fewer animals suffering at factory farms.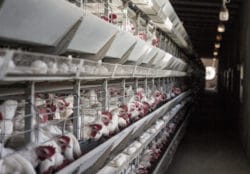 Choosing plant-based foods also helps the environment, as they generally require far less land and water to produce. It also helps reduce our environmental footprint, as vegan food creates less greenhouse gas and pollution.
What You Can Do:
Restaurants listen to consumer demands! Whether you are a full-time vegan or just want to try out more veg options, you can help by letting Black Bear Diner, Denny's, Waffle House, and Bob Evans know that their customers are craving more vegan choices to start their day. 
Hungry right now? Check out these seven easy vegan breakfast ideas to try at home!