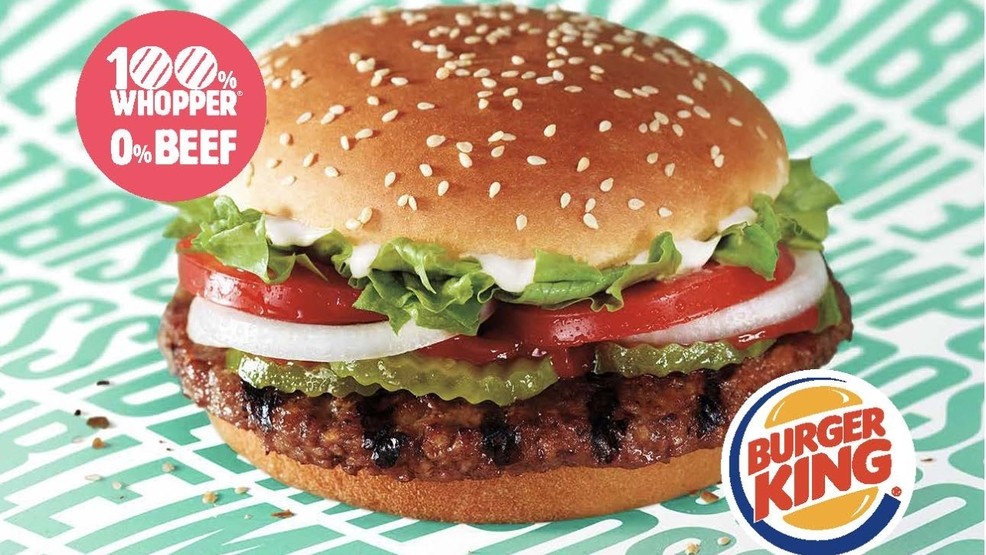 Burger King Launches New Plant-Based Burger at St. Louis Locations
Sarah Von Alt
Burger King, one of the largest fast-food chains in the world, has just debuted its first plant-based patty in a brand-new menu item: the Impossible Whopper. A plant-based take on BK's most popular burger, the new offering features a meatless patty from Impossible Foods.
Currently available at 59 locations in the St. Louis area, the Impossible Whopper costs anywhere from $5 to $6, depending on location. If the test launch is successful, Burger King will consider expanding the offering to other areas. CNN explains:
The burger chain announced on Monday that it is testing out Impossible Whoppers, made with plant-based patties from Impossible Foods, in 59 locations in and around St. Louis. If all goes well, Burger King will roll out the Impossible Whopper nationally.
This is incredible news for the millions of Americans who are moving away from meat. Please take a moment to thank Burger King and ask for plant-based options at a location near you. You can leave a Facebook message here. And if you're in the St. Louis area, be sure to stop in to try one for yourself!
Burger King isn't the only chain adding Impossible meat to the menu. Last week, Red Robin announced plans to launch the Impossible Burger at 570 locations throughout the U.S., starting on April 1.
In February, Qdoba, a fast-casual chain known for its Mexican-inspired menu, reported plans to test vegan ground meat from Impossible Foods at select locations in Michigan. And in January, Moe's Southwest Grill began testing Impossible Foods' plant-based meat—as a swap for animal meat in all burritos, bowls, and tacos—at its Manhattan location.
With plant-based dishes popping up on menus far and wide, there's truly never been a better time to eat more vegan meals. You can get delicious recipes and easy meal ideas by ordering a FREE Vegetarian Starter Guide today.
*Since menu items and ingredients may vary by location, be sure to let your server know if you're vegan to ensure no animal products are used!