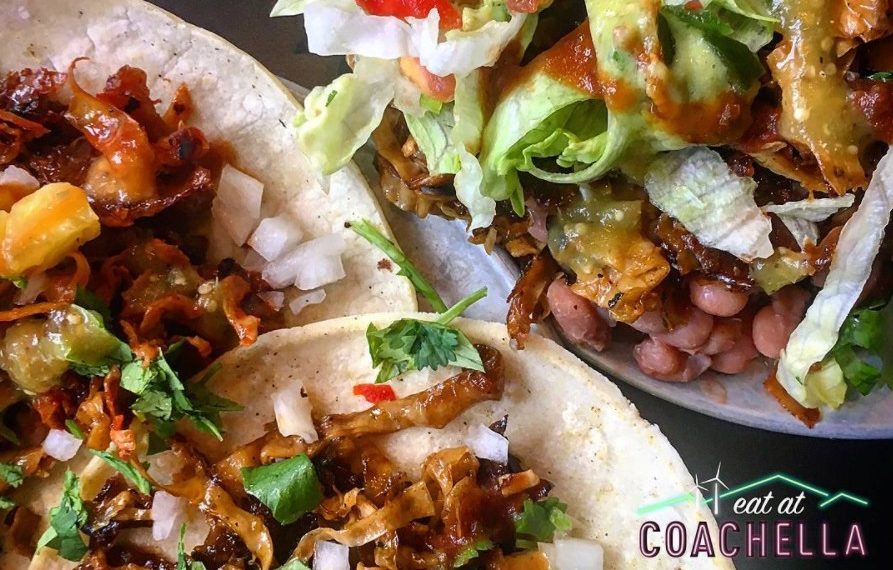 These 6 Vegan Food Vendors at Coachella Will Make You Hungry AF
Sarah Von Alt
*MFA supporter and Coachella enthusiast David Gangel gives us the lowdown on eating vegan at Coachella.
In just under a week, 100,000 people will flock to California's high desert to attend the premier event of the summer season: Coachella. GOLDENVOICE, Coachella's organizer and our co-producer for CIRCLE V, the world's first vegan music festival, has stepped up its plant-based party game. If you're going, the awesome roster of vegan eats cannot be missed!
Check out some of our favorites: 1. ERVEN Location: Rose Garden
Serving up globally inspired, organic plant-based dishes, Erven will satiate hungry festivalgoers with their signature Beer Battered Tofu & Manchamantel Sauce Sandwich, Hominy Ceviche Tostada, and crisp Israeli Salad. Feeling parched? Grab one of their Fresh Pressed Green Juices.

2. RAMEN HOOD
Location: Rose Garden
Ramen Hood
is certain to be one of the most popular booths this year. They're keeping their menu simple:
Classic Ramen
or
Rice Bowl
. When you're done slurping down those tasty noodles, enjoy some of their own refreshing watermelon or mango soft serve.
ALSO! They have a vegan
Pomme Frites
booth on the boardwalk!
3. KINDRED POP-UP
Location: VIP
Their
four-course menu
will get you a
Salad
,
Chargrilled Seitan Skewers
, a
Memphis Jackfruit Sandwich
or a
Seared Cauliflower Steak
, and for dessert, a
Short Stack of Silver Dollar Pancakes
drenched in bourbon butterscotch. YUM! Reservations through
opentable.com
.
4. TAQUERIA LA VENGANZA
Location: Rose Garden
This one's
worth the wait
, no matter how long the line is. Chef Raul Medina will be cooking up a
Taco Trio (vegan carne asada, carnitas, and al pastor)
,
Carne Asada Fries
,
Taquitos
, and of course, the dish that made them famous: their
Signature Burrito
.
5. ROCCO'S SWEET SHOPPE
Location: Boardwalk
Rocco's
is keeping it simple by offering just their most popular cookie,
The Sonoran Cowboy
, and to give sun-exhausted patrons much-needed refreshment, watermelon and strawberry fruit pops. Hit 'em up after dancing in the Sahara tent.
6. BACKYARD BOWLS
Location: VIP
Go a little too hard the night before? No problem. They have acai bowls, smoothies chock-full of all the good stuff, and just about
everything else you need
to get back on your feet and back out on the field.
— Want more?
Click here
for 18 vegan snacks you can find pretty much anywhere.