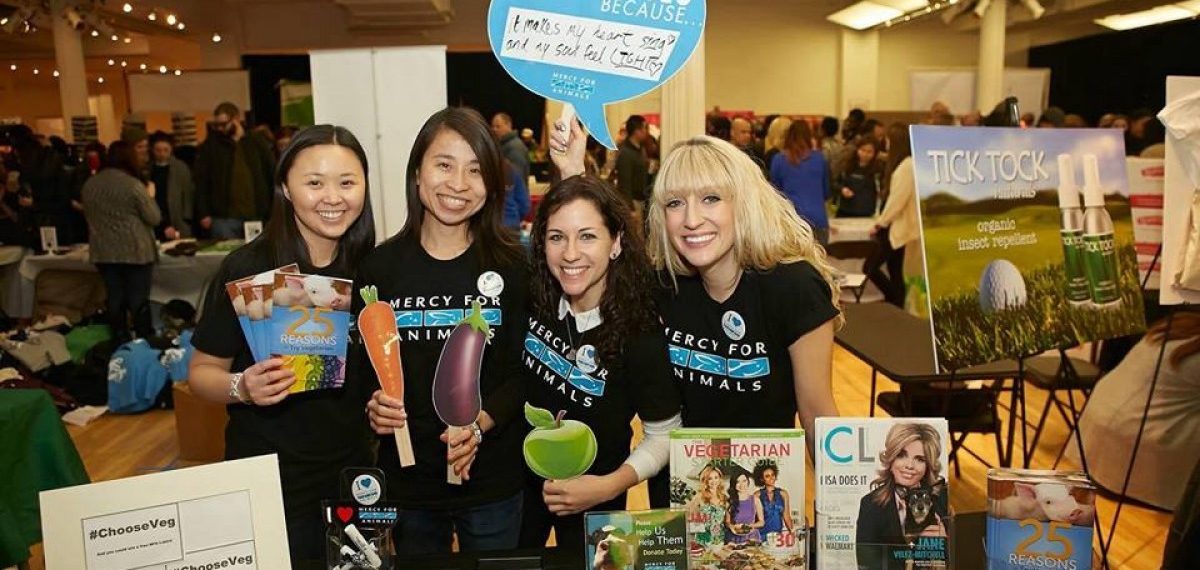 12 Vegan Festivals You Won't Want to Miss
Julie Cappiello
Throughout the year, there are dozens of vegan festivals around the world. While we'd love to tell you about them all, we'd simply be here for days. Here are a few that we're most excited about!
1. Vegan Festival in Adelaide, Australia
This two-day festival doesn't just have excellent speakers and a multitude of sponsors—it's proudly supported by the Adelaide City Council! Cooking demos, yoga workshops, and even kids shows make the festival family-friendly. Be sure to check it out if you're in the area October 28 and 29!
2. DC Vegfest
With more than 15,000 guests expected, DC VegFest happens right in the middle of the U.S. capital. Admission is free, and there are more than 130 vendors! Pencil this event into your calendar. You don't want to be anywhere else on September 2!
3. Hong Kong VegFest
At its 2013 inauguration, the Hong Kong VegFest welcomed more than 4,000 participants, and the festival has only continued to grow in subsequent years. Taking place in the fall, the event includes speakers and presentations, movie screenings, and participation by more than 70 companies and organizations. Check back for more details here.
4. Pittsburgh Vegfest in Pennsylvania
Named "Best Festival" by CityPaper, this fest boasts more than 80 vendors and expects to draw in more than 8,000 visitors. Pittsburgh VegFest has free admission and family-friendly activities—an event not to miss on August 5! For more information, click here.
5. Montreal Vegan Festival in Canada
The fourth annual Montreal Vegan Festival, taking place this November 4 and 5, includes local and international speakers, culinary demos, renowned merchants, and nonprofit organizations. While the schedule of speakers and movie screenings is still TBA, more than 10,000 people are expected! Stay tuned here for updates.
6. Mad City VeganFest in Madison, Wisconsin
More than 3,500 "mad people" will be heading to Mad City VeganFest this June 17! With great food vendors (we see you, Chicago Style Vegan!) and exhibitors, you're sure to have a good time. Guest speakers include Dr. Neal Barnard, Robert Grillo, Ellen Jaffe Jones, Genie Moyer, and Victoria Moran. More info here.
7. VegFest Oahu in Hawaii
You'll want to get "HI on Veggies" this September 2 at VegFest Oahu! This Hawaiian festival features speakers, music, and delicious foods from local businesses. What's cool about this event? You'll learn how to eat plant-based on the main island! Speakers and exhibitors are yet to be announced, but check back here for more info.
8. Tulum Vegan Fest in Mexico
This festival, which takes place July 14–16, is so large that it spans three different venues and includes great vegan food, yoga, and music. Special guests include Marco Antonio Regil, Karina Velasco, David Carter, Claudia Lizaldi, Eamonn Sean Kneeland, Rawvana, The Raw Boy, Chef Miguel Bautista, Chef Eddie Garza, Chef Natalia Delgado, Amamaya, and Jackie Mendoza. Find more information here.
9. Alaska VegFest in Anchorage
It's true: It's easy to be vegan, even in Alaska! For the fourth year in a row, crowds in Anchorage can hear speakers from across the country and try delicious vegan food—including locally made tofu! If you're in the area, be sure to join them on September 9! For speaker and exhibitor information, click here.
10. VeggieWorld Paris in France
Heading to Paris this fall? Don't miss VeggieWorld Paris on October 14 and 15. With more than 130 vendors and 1,000 vegan products, this fest is expected to see over 7,000 visitors. According to their website, VeggieWorld is one of the oldest fairs… so you know it has to be good! More info can be found here.
11. Hudson Valley VegFest in Poughkeepsie, New York
The first-ever Hudson Valley VegFest will take place this September 23 and 24. Dozens of exhibitors, speakers, and nonprofits will attend. There will even be live fitness demos by members of the Vegan Muscle Team! You want to be a part of this. Details here.
12. Texas Veggie Fair in Dallas
If you didn't already know that Texas is going vegan, you do now! One of four veg fests in the state, this veggie fair draws huge crowds. Speakers include vegan chefs, gym owners, and nutritionists. If you're attending, be sure to say hi to us at the MFA booth! More info here.