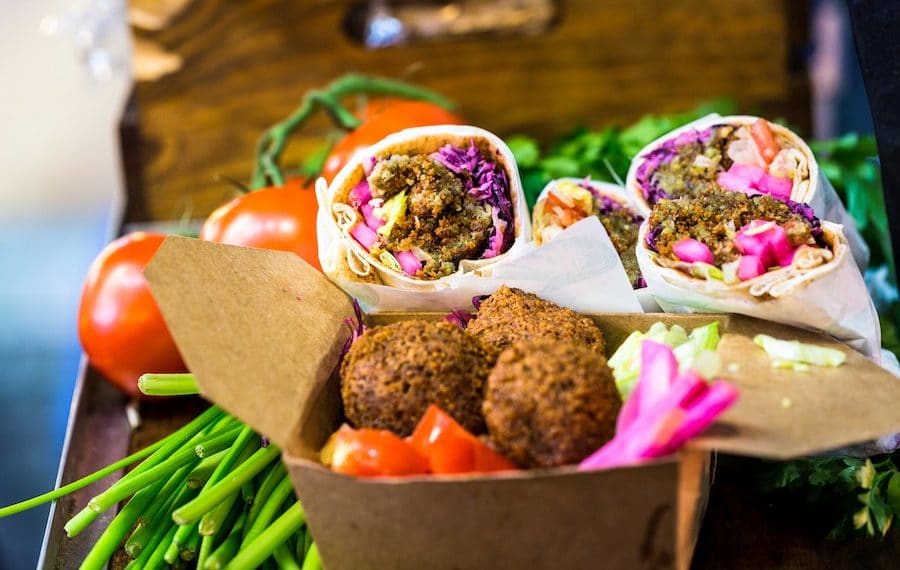 Here's How to Eat Vegan at Your Favorite International Restaurants
Sarah Von Alt
Plant-based dishes are common around the globe. You can stop by almost any international restaurant for a tasty meatless meal!
• Mexican
Chow down on savory bean tacos or corn tamales. If you're really hungry, grab a potato and rice burrito crammed with roasted veggies and salsa. Don't forget a side of tortilla chips and fresh guacamole!
Look out for lard in beans, tamales, and baked goods.
• Chinese
Start with a side of veggie spring rolls or dumplings, and then take your pick from a wide variety of rice or noodle dishes with vegetables and tofu. Sauce and spice it all to your liking!
Look out for eggs in fried rice and noodle dishes.
• Italian
Feast on fresh salad, breadsticks, and a plate of pasta marinara, primavera, or pomodoro. Or order a cheeseless pie with your favorite veggie toppings.
Look out for hidden meat or dairy in pasta sauce.
• Middle Eastern
Try a falafel pita pocket with veggies and tahini. Still hungry? Grab a side of grape leaves, seasoned lentils and rice, or baked pita dipped in delicious hummus or baba ghanoush.
Look out for tzatziki sauce (it's made with yogurt).
• Indian
Enjoy a samosa and take your pick from an array of dishes packed with veggies, lentils, or chickpeas smothered in mouthwatering curries. And if you find yourself at a South Indian restaurant, be sure to try a dosa!
Look out for cream and ghee (this clarified butter can easily be left out or substituted with margarine or oil).
• Japanese
Sushi time! Try some delicious veggie rolls stuffed with avocado, cucumber, carrots, and more. Grab some crispy vegetable tempura or steamed edamame, or try a soba or udon noodle dish.
Look out for hidden seafood, including dashi—a Japanese stock often made with dried fish.
• Ethiopian
Ethiopian cuisine offers tons of vegetarian options and rarely uses dairy and eggs!
Try a variety of traditionally vegan dishes, including mesir wot. This spicy lentil dish made with berbere, a popular Ethiopian spice, is served with teff-based injera flatbread.
—
Want more? Click here for 10 desserts from around the world—veganized!