Incredible Vegan Cheese Headed to Whole Foods Markets Nationwide
Sarah Von Alt
Over the past few years, the number of vegan products on store shelves has skyrocketed, with plant-based offerings more widely available (and more delicious) than ever before. These include many flavorful plant-based cheeses at major grocers. 
And this week Violife, a company well-known throughout Europe for its mouthwatering cheeses, announced it would sell its products at 451 Whole Foods Market locations across the U.S. Made with coconut oil, these vegan cheeses from Violife offer the familiar fattiness associated with their dairy-laden counterparts—so they're great when you want that ooey, gooey fix.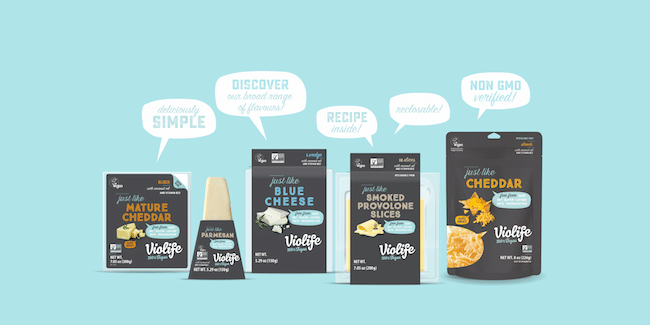 VegNews explains:
The grocery chain now offers three flavors of the brand's coconut oil-based vegan cheese: parmesan, mature cheddar slices, and smoked provolone slices. Prior to the national expansion, Violife products—which also include gouda slices, gorgonzola cream cheese, blue cheese, and mozzarella-style shreds—were available at select retailers in the United States and abroad.
All Violife products are vegan and free of soy and nuts, and the varieties offered at Whole Foods are just the beginning. No matter where you live, you can choose from Violife's full product range by ordering online at Vegan Essentials!
—
Cows at dairy farms are subjected to extreme confinement, mutilations without painkillers, and—inevitably—a ruthless slaughter. Even worse, they are denied nearly everything that comes naturally to them, including caring for their young.
As more people find out about the animal cruelty and environmental degradation inherent in dairy farming, they're ditching milk and other dairy products in favor of healthful plant-based alternatives like these dairy-free offerings from Violife.
Ready to give plant-based eating a try? You can get delicious vegan recipes, easy meal ideas, and tips on making the switch to a vegan diet by ordering a FREE veg guide here.