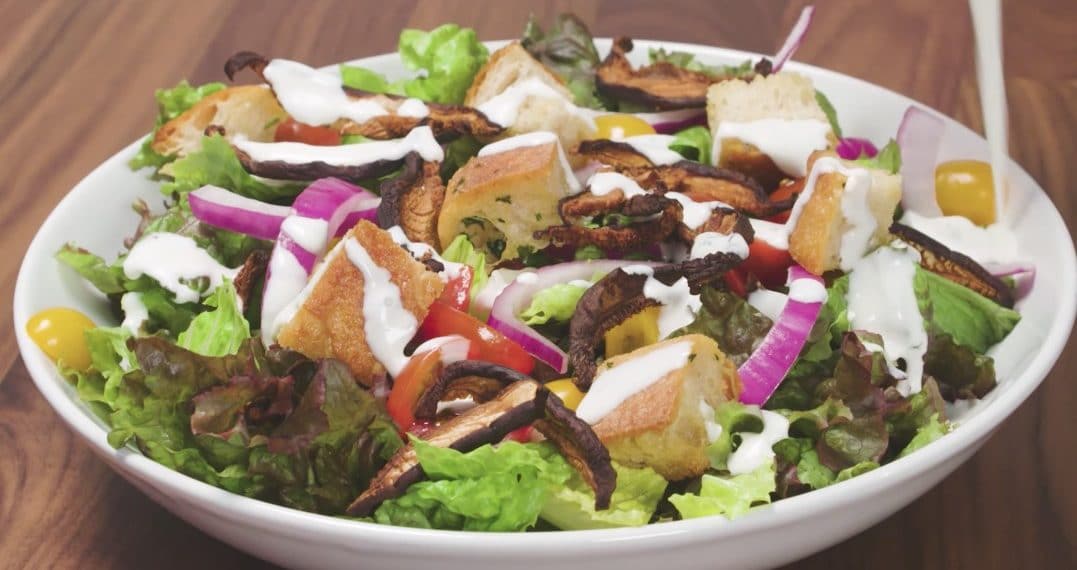 This Video Will Teach You How to Make a (Vegan) BLT Salad With Shiitake Bacon
Sarah Von Alt
This BLT salad is the perfect mix of healthy and indulgent. Lettuce, tomatoes, and red onion come together for a simple salad,
but once it's topped with our savory shiitake bacon and crunchy homemade croutons… Trust us, you won't be disappointed.
Watch here:
Vegan BLT Salad
Serves 2
to 4
Ingredients:
Lettuce
Tomato
Red onion
Shiitake mushrooms
Thickly sliced bread
Vegan butter
Fresh parsley (or your favorite fresh herbs)
Olive oil
Salt
Make shiitake bacon by tossing sliced mushrooms with olive oil and salt and baking them at 350 degrees for 40 minutes.
Make croutons by dicing
your favorite bread and coating it with a mixture of melted vegan butter and herbs. If you do not have vegan butter, you can use olive oil instead.
Arrange croutons on a baking sheet and bake at 350 degrees for about 15
minutes.
Assemble salad with lettuce, tomato, red onion,
and any other veggies you like. And don't forget your favorite nondairy dressing!
Want more? Click here for our favorite vegan salad recipes.