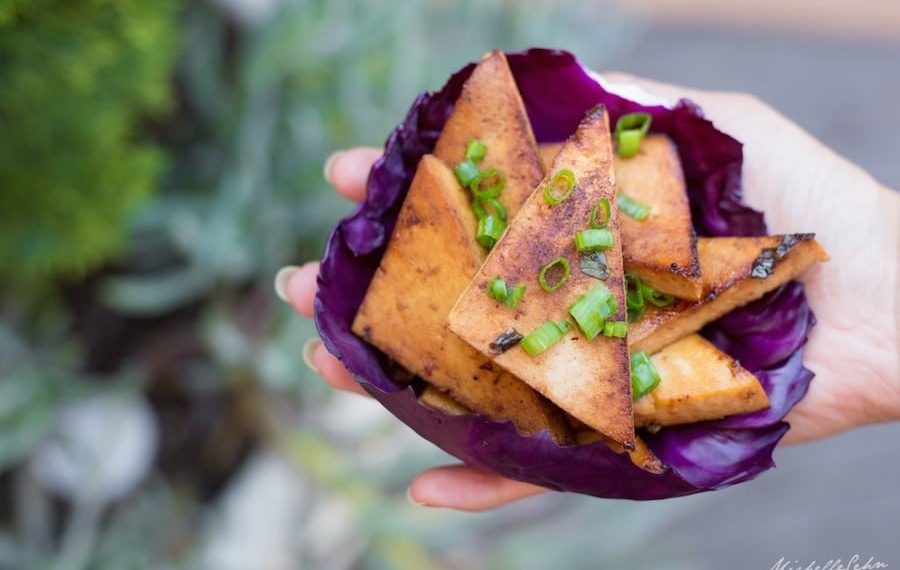 This Tofu Recipe Is So Good You'll Be Able to Open Your Own Vegan Restaurant
Sarah Von Alt
Move over, meat! This mouthwatering tofu recipe is everything you want: flavorful, crispy, loaded with protein, and totally vegan!
Garlicky-Ginger Tofu Triangles
Serves 4
Ingredients:
12 oz extra firm tofu, drained
2 garlic cloves, minced
2 Tbsp soy sauce
3 stalks of green onion, thinly sliced, plus more for garnish
Juice of 1 small lemon
2 Tbsp brown sugar
1 ½ tsp fresh ginger, grated
¼ cup water
Directions:
1. Cut tofu into thick triangular slices, place in a large casserole dish, and set aside.
2. To create the marinade, thoroughly mix together the rest of the ingredients in a medium bowl and pour over the tofu. Allow tofu to sit for a minimum of two hours, or overnight for a richer taste. Flip tofu halfway in between.
3. Once tofu is marinated, place a large sauté pan over high heat. Add just enough oil to coat the bottom of the pan. Add as many tofu slices as will fit in one layer. Cook until tofu is browned on the bottom, 2-3 minutes. Flip the pieces, and brown on the other side, about 2 minutes. Pour in the marinade mixture, and cook until tofu darkens slightly, about 45 seconds. Flip tofu and repeat.
4. Plate, garnish with remaining thinly sliced green onion and enjoy!
Big thanks to Michelle Cehn and Toni Okamoto, the folks behind The Friendly Vegan Cookbook — a brand-new, totally vegan e-cookbook — for being kind enough to share this amazing recipe. Order yours today and use the coupon code "MFALOVE" to get 25% off!
BONUS: Use this link and 30% of the proceeds of your purchase will be generously donated to Mercy For Animals!
Want more? Click here for a list of our favorite tofu recipes.
* Photo courtesy of Michelle Cehn.