Starbucks Announces Two New Vegan Drinks Made With Plant-Based Protein
Sarah Von Alt
Starbucks has just announced the release of two brand-new drinks—Almond Protein Blended Cold Brew and Cacao Protein Blended Cold Brew—and they're completely vegan! Starbucks describes the protein-packed drinks on its site:
The latest in Starbucks cold beverage line-up, Protein Blended Cold Brew is made with slow-steeped Starbucks Cold Brew, alternative milk and plant-based proteins for a delicious, non-dairy beverage that's a good source of protein and keeps you going throughout the day.
While both drinks are made with cold brew, a banana-date fruit blend, and plant-based protein, the Almond Protein Blended Cold Brew uses almond milk and some almond butter for a rich flavor and some extra protein, and the Cacao Protein Blended Cold Brew uses coconut milk and a cacao blend.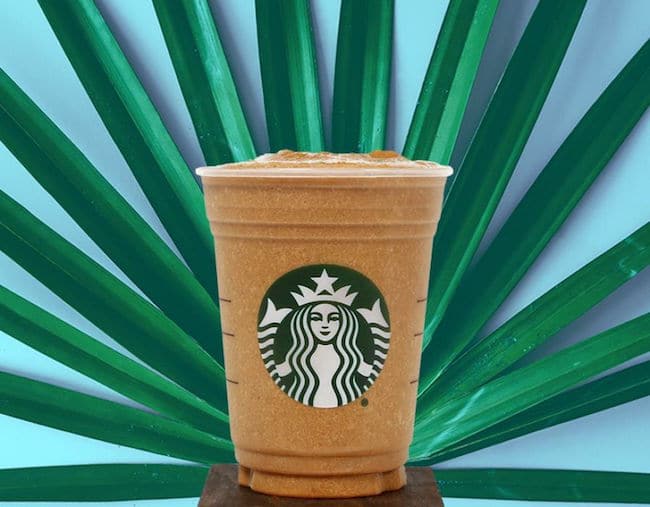 But these are far from the only vegan offerings at Starbucks. Starbucks offers tons of delicious dairy-free drinks, and in the past year, the chain has rolled out a completely plant-based lunch bowl, declared plans to offer an almond-milk version of its famed bottled Frappuccino, and even started selling a certified-vegan macadamia-oat cookie!
Last fall, Starbucks announced it would work to add even more vegan options in the future. According to Business Insider, CEO Kevin Johnson told analysts, "Plant-based beverages and alternatives [are a] big area of opportunity for us, and our customers are asking for it."
As more people discover the animal cruelty and vast environmental destruction inherent in milk production, they're consuming less dairy or ditching it altogether in favor of plant-based foods. Restaurateurs and food producers like Starbucks are taking advantage of this expanding market by adding more plant-based options to their menus and product lines.
Loving the new vegan options at Starbucks? A little praise and encouragement never hurts, so please take a moment to thank Starbucks and ask for even more vegan menu options! You can leave a Facebook message here.