Foodservice Giant Sodexo Launches 200 New Vegan Meals
Sarah Von Alt
Sodexo—one of the largest foodservice providers in the world—just added 200 new vegan meals to their roster in North America. Serving a wide variety of institutions, from corporate cafeterias and school dining halls to stadiums and military mess halls, Sodexo feeds countless people every day, meaning more people than ever will have access to healthy vegan meals.
In a press release the company explains:
As a leader in food service, Sodexo's ability to scale and reach tens of millions of customers per day will ensure that plant-based options are available to more people than ever before in North America. Unilever, a Sodexo supplier and client, will be one of the first locations to feature the new plant-based menu at its corporate headquarters in Englewood Cliffs, NJ.
Introduced in partnership with the Humane Society of the United States and the World Resource Institute-Better Buying Lab, the new plant-based menu includes some pretty enticing dishes, like Chesapeake Cakes, Kung Pao Cauliflower, Carrot Osso Bucco, and Smoky Black Bean Tamales. Sodexo cites the growing interest in plant-based dishes and the vast environmental impact of meat-heavy fare as catalysts for the change.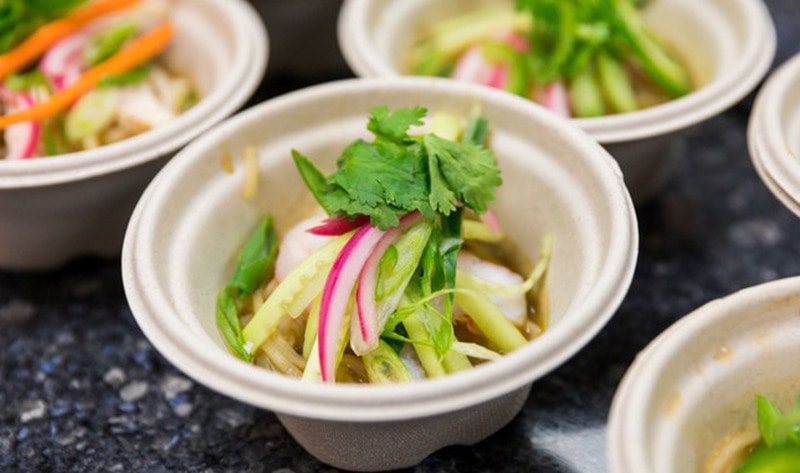 And Sodexo isn't the only foodservice provider adding more plant-based menu items. In August, Aramark announced plans to offer the all-vegan Beyond Burger at universities in an effort to increase the number of healthful, "plant-forward" options.
Aramark also cites the growing interest in plant-based eating as cause for the rising number of vegan offerings on dining hall menus specifically. Plant-based eating is gaining ground especially within Generation Z. The generation's oldest members are getting ready to graduate college, and they are increasingly interested in animal welfare and sustainability. As a result, vegan foods—particularly alternatives to meat, dairy, and eggs—are skyrocketing in popularity.
Ready to make the switch to a healthy vegan diet? You can get delicious plant-based recipes, easy meal ideas, and tips on making the switch by ordering our FREE Vegetarian Starter Guide.