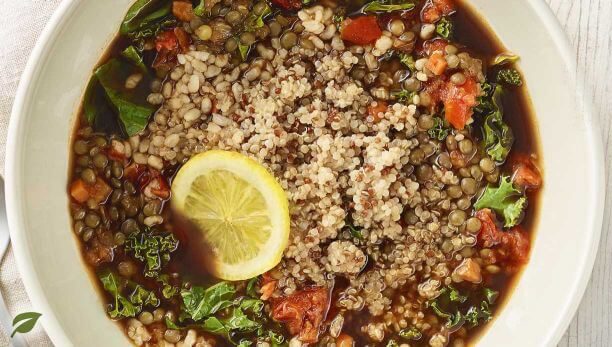 Vegan at Panera Bread? Here Are 7 Plant-Based Options
Sarah Von Alt
If you're new to vegan eating, finding things to eat when you're on the road or short on time can sometimes feel overwhelming. Luckily, many of your favorite chains offer delicious vegan options. Here's how to eat vegan at Panera Bread:
Vegan Lentil Quinoa Broth Bowl
Yes, this is labeled vegan on the menu! With a satisfying, savory soy-miso broth, this entirely plant-based bowl is packed with quinoa, lentils, tomato sofrito, kale, and more!
Soba Noodle Broth Bowl With Edamame
Although this bowl isn't labeled vegan, the umami broth is the same as in the vegan bowl above. But this bowl adds soba buckwheat noodles, napa cabbage, fire-roasted edamame, and sesame seeds.
Vegetarian Black Bean Soup
This soup of savory black beans simmered with veggies and spices is seriously good and can be served in a bread bowl!
Steel Cut Oatmeal With Strawberries and Pecans
The name says it all.
Mediterranean Veggie Sandwich
This sandwich comes with cilantro jalapeño hummus and is packed with fresh veggies, including sweet Peppadew peppers. Just be sure to hold the feta and swap the bread for sourdough, ciabatta, or a French baguette!
Peach and Blueberry Smoothie With Almond Milk
This sweet treat is loaded with peach and mango purée, almond milk, white grapes, passion fruit juice, and fresh blueberries!
Modern Greek Salad With Quinoa
Looking for something a little lighter? Try this refreshing salad made with kale, romaine, cucumber, quinoa, almonds, Kalamata olives, and more. Be sure to hold the feta!
—
Pushing for more animal-friendly menu options is a great way to make vegan eating easier for you and the millions of Americans who are moving away from meat. Click here for five easy tips on getting more vegan food at your favorite restaurant.
*Since menu items may vary by location, be sure to let your server know that you're vegan to ensure no animal products are used!