These Smoky Vegan Kebabs Might Make You Swear Off Meat for Good
Sarah Von Alt
It's no secret that animal agriculture is an extremely cruel, inefficient, and resource-intensive way to produce food. It pollutes our environment while consuming huge quantities of water, grain, and fuel.
Fortunately, by ditching meat and other animal products, we can significantly reduce our carbon footprints. And with Food Is the Solution: What to Eat to Save the World, an incredible new cookbook by Matthew Prescott, it's easier than ever before.
Loaded with compelling information, infographics, and over 80 mouthwatering, earth-friendly plant-based recipes, this new book is giving people all the tools to make the switch to a sustainable vegan diet! Click here to order your copy today!
Can't wait? Here's a taste: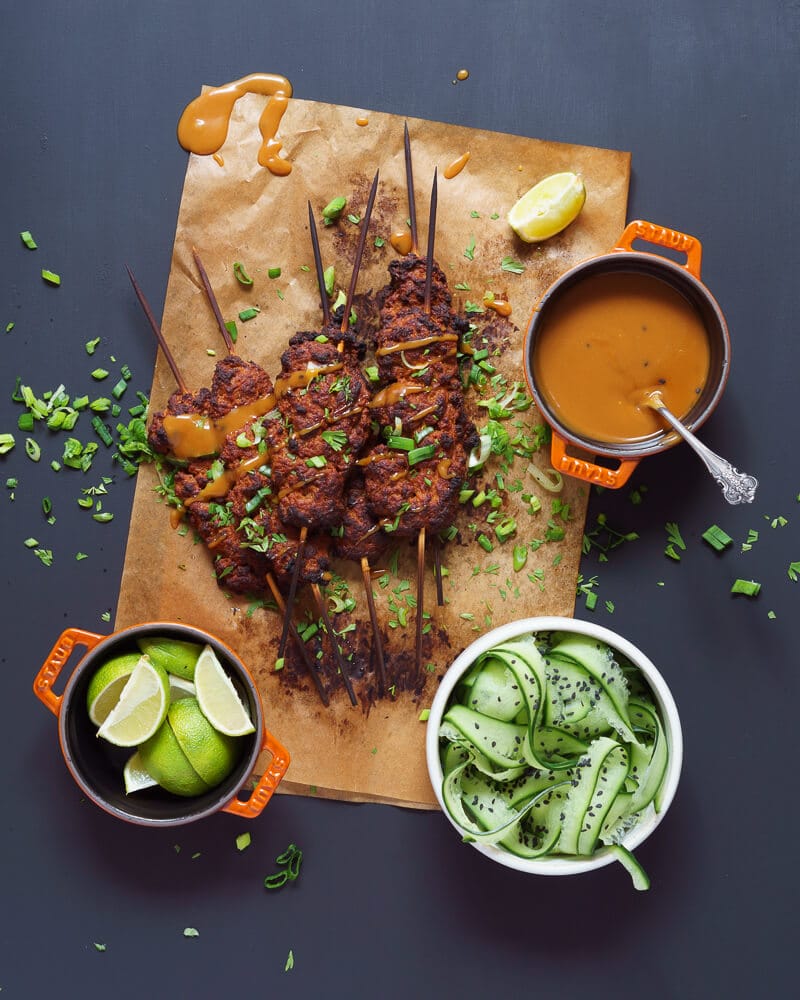 Smoky Seitan Kebabs With Peanut Sauce
Serves 2
Prep and Cooking Time: 30 Minutes
Kebab is a general term that can apply to various types of Middle Eastern grilled meats. In America, we're most familiar with shish kebab: small pieces of meat that are skewered and grilled. But beef and lamb come with a high eco-footprint (especially when the animals eat grass, resulting in higher methane emissions). This smoky kebab recipe uses easy homemade seitan instead, to cut down on emissions. Topped with peanut sauce and served with fresh lime and herbs, it's a deliciously smoky and more sustainable way to enjoy this tasty dish.
Ingredients:
2 Tbsp creamy peanut butter
4 Tbsp soy sauce
2 Tbsp pure maple syrup
1 tsp Sriracha (optional)
1 C vital wheat gluten
1 tsp garlic powder
1 tsp onion powder
1 tsp smoked paprika
1 tsp dried thyme
2 Tbsp nutritional yeast
1/2 tsp liquid smoke
1 tsp vegan Worcestershire sauce
1 Tbsp olive oil
1 Tbsp tomato paste
Fresh cilantro, for garnish
Lime wedges, for serving
Method:
Preheat the oven to 375°F. Line a baking sheet with parchment paper and set aside.
Combine the peanut butter, 2 tablespoons of the soy sauce, maple syrup, and Sriracha, if using, in a small bowl. Stir until well combined. Set the peanut sauce aside until ready to serve.
Place the vital wheat gluten, garlic powder, onion powder, paprika, thyme, and nutritional yeast in a large bowl and stir to combine.
In another bowl, place the liquid smoke, Worcestershire, olive oil, tomato paste, remaining 2 tablespoons soy sauce, and cup water. Stir to combine.
Pour the wet mixture into the dry mixture. Stir gently as you pour, until it vaguely resembles ground beef. Knead the dough in the bowl for 2 minutes. It shouldn't stick to your hands at all.
Once you have a loose ball, break it into 18 small chunks. Press 3 chunks together to form one larger piece, then flatten it out. That'll be one kebab. Repeat this until you have 6 kebabs.
Place the kebabs on the prepared baking sheet. Flatten them out and bake for 10 minutes. Remove and let cool slightly. Turn the oven to broil.
Wet your skewers with water, and skewer each kebab. Place them back on the baking sheet and return to the oven, broiling each side for 2 minutes. Remove and serve topped with fresh herbs, with the peanut sauce and lime wedges alongside.
Excerpted from FOOD IS THE SOLUTION: What to Eat to Save the World by Matthew Prescott. Copyright © 2018 by Matthew Prescott. Reprinted with permission from Flatiron Books. All rights reserved. Photography by Matthew Prescott.