Quaker Just Announced a New Line of Vegan Oat Milk
Sarah Von Alt
Who better than to join in the growing popularity of oat milk than Quaker Oats Company? The beloved 141-year-old company recently announced plans to release its own oat milk, coming to stores in January 2019. Unsurprisingly, the brand plans to focus its marketing on the heart-healthy qualities of oats and will use its wide distribution to compete in this quickly growing market.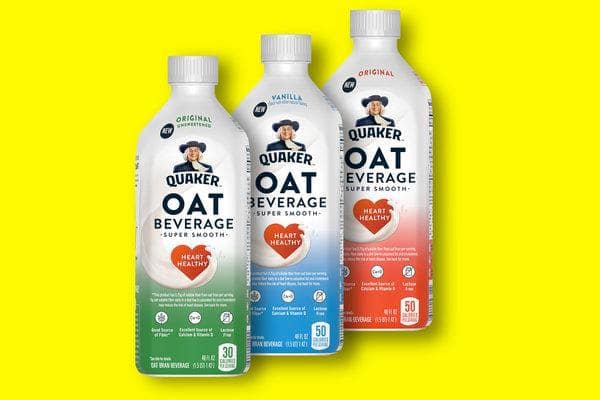 The New York Times explains:
Oat milk, while gaining popularity in parts of Europe, has been mostly a trendy, fringe product in the United States. Quaker is betting it can be more than that. The company's main competitor in the category is Oatly, a 25-year-old company based in Sweden, and its namesake drink.
Oatly is up for the challenge. Just last week the company announced plans to open a new 19,000-square-foot facility in Millville, New Jersey, to meet the demand for its products. This new facility will expand the brand's production capacity eightfold. Oatly currently has a wide line of vegan products made from GMO-free Swedish oats, including five types of oat milk, and will expand to vegan oat yogurt, oat cream, ice cream, canned lattes, and crème fraîche.
And Oatly is far from the only vegan dairy company growing at a rapid pace. Earlier this month Elmhurst Dairy announced it would also be expanding. Now called Elmhurst Milked, the company made headlines last May when it decided to switch from cow's milk to plant-based varieties after 90 years in business. Its new products include a barista line of plant milks designed for coffee drinks and a vegan protein shake.
As more people find out about the animal cruelty and environmental degradation inherent in dairy production, they're ditching milk and other dairy products in favor of healthful plant-based alternatives. Companies like Quaker are taking advantage of this market with new vegan offerings.
Ready to ditch dairy? You can get dairy-free recipes, easy meal ideas, product recommendations, and more by ordering a FREE Vegetarian Starter Guide today.