This Plant-Based Meatball Sub Is Coming to Select Subway Locations, Thanks to Beyond Meat
Hannah Bugga
Subway, America's largest restaurant chain, has announced it will soon offer plant-based meatballs from vegan company Beyond Meat in a new menu item.
This September, 635 Subway restaurants in the U.S. and Canada will begin serving the Beyond Meatball Marinara, a take on Subway's classic meatball sandwich. While it comes with provolone and grated Parmesan, the sub can easily be made vegan by just omitting the cheese.
Featuring the Beyond Meatball created exclusively for Subway, the sandwich boasts an impressive 24 grams of protein. While Subway has offered a variety of veg-friendly options, such as falafel, the Malibu Garden sub, and a black bean patty, the Beyond Meatball Marinara is the first plant-based version of a classic favorite. Subway's chief brand and innovation officer, Len Van Popering, said in a statement:
Our guests want to feel good about what they eat and they also want to indulge in new flavors. With our new plant-based Beyond Meatball™ Marinara sub, we are giving them the best of both worlds. And, we are particularly excited about debuting a co-developed product that can't be found anywhere else: the Beyond Meatball™ made just for Subway.
And Beyond Meat is thrilled to collaborate with Subway:
We're excited to partner with Subway and are grateful that the menu team through to senior management has entrusted us as their innovation partner to deliver delicious plant-based proteins to their guests.
This new development is a true testament to the power of campaigns. Animal advocacy nonprofit Compassion Over Killing and its supporters have worked for years on the We Love Subway campaign to help Subway make its menu more veg-friendly. Compassion Over Killing considers Subway's partnership with Beyond Meat a huge victory for animals.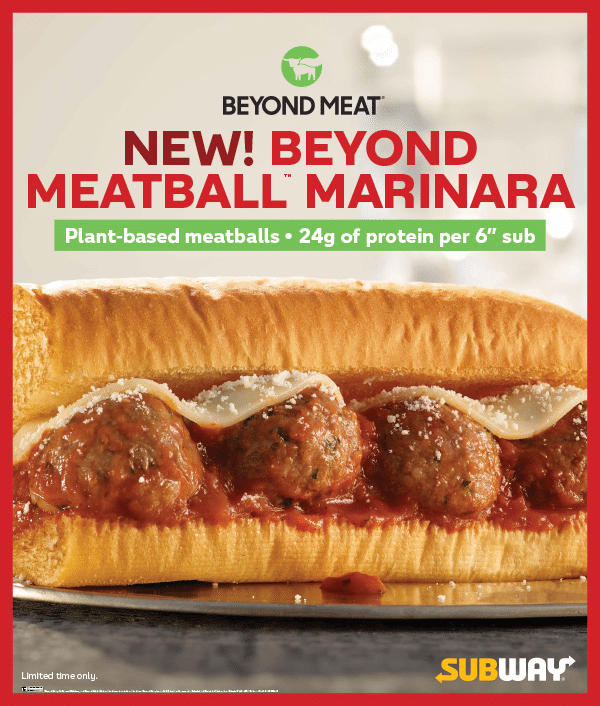 Eager to try the Beyond Meatball Marinara? The sub will be available for a limited time at participating Subway locations in Jackson, Mississippi; South Bend-Elkhart, Indiana; Fresno, California; Louisville, Kentucky; Harrisburg, Pennsylvania; and Halifax, Nova Scotia.
Not near any of these? Go to Subway's Facebook page and leave a comment thanking them for adding this plant-based option and letting them know you would love to have the Beyond Meatball in your area!
Times truly are changing and it's easier than ever to eat plant-based! Get delicious recipes and meal ideas with a FREE Vegetarian Starter Guide today.