New Whole Foods Location Boasts Mac and Cheese Bar With Vegan Option
Sarah Von Alt
A new Whole Foods Market in Denver's Union Station will be among the first to offer a mac and cheese bar with a plant-based take on this classic dish. While there are plans for only one vegan mac in this new hot bar, with the store's other prepared items (Beyond Chick'n Buffalo wings, anyone?), the cruelty-free options are pretty much endless!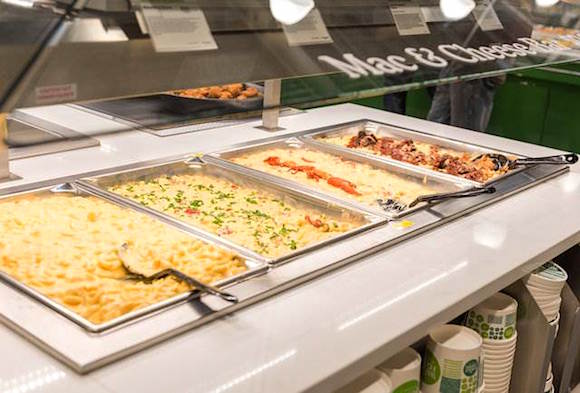 But that's not all. Whole Foods has teamed up with the folks behind Vedge, a beloved all-vegan restaurant in Philadelphia, to create a brand-new vegan holiday menu that will roll out across the U.S. on November 1, World Vegan Day!
"The meal includes mustard-glazed cauliflower, lentil-mushroom stuffing, 'cheesy' rutabaga and potato mash, sauerkraut-roasted rainbow carrots and chocolate toffee mini cake," according to a press release. "Customers can visit shop.wfm.com to place orders for the holidays."
Order online using the promo code VEGAN for $5 off!
This is just the latest news from Whole Foods. Earlier this month, the company added a vegan tuna alternative to its fresh sushi bars in Los Angeles and New York City. And in March, it introduced a "produce butcher" counter at a new store in Manhattan, which allows hungry customers to have their fruits and veggies julienned, minced, diced, chopped, or sliced, eliminating prep time for meals for a small fee.
With the vast variety of mouthwatering vegan products available at grocers far and wide, there's never been a better time to ditch cruel animal products. Click here to order a FREE Vegetarian Starter Guide.