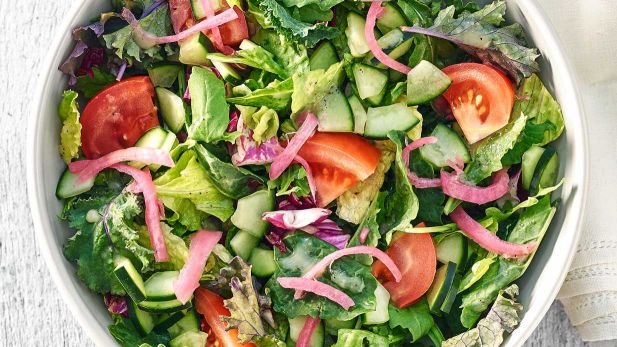 Here Are Our Favorite Vegan Options at Panera Bread
Sarah Von Alt
A few weeks ago, Panera made headlines after announcing the launch of a "plant-based" menu. You know what? Many of the new veggie-centric menu items are just vegetarian options billed as "plant-based."
On the Panera website, the company defines "plant-based":
The options here are all meat-free (no fish or shellfish, either), though milk and egg products, and enzymes or rennet from animal sources are allowed.
This is problematic because "plant-based" refers to plant foods. Fortunately, there are some truly vegan options and some ways to easily modify Panera's vegetarian offerings:
• Vegetarian Black Bean Soup

This soup of savory black beans simmered with veggies and spices is seriously good and can be served in a bread bowl!
• Fuji Apple Salad

Try this mouthwatering salad made with mixed field greens, romaine, tomatoes, pecans, apple chips, and a white balsamic Fuji apple vinaigrette.
* Be sure to skip the chicken and gorgonzola.
• Steel Cut Oatmeal With Strawberries and Pecans

The name says it all.
• Mediterranean Veggie Sandwich

This sandwich comes with cilantro jalapeño hummus and is packed with fresh veggies, including sweet Peppadew peppers.
*Hold the feta and swap the bread for sourdough, ciabatta, or a french baguette!
• Peach and Blueberry Smoothie With Almond Milk

This sweet treat is loaded with peach and mango purée, almond milk, white grapes, passion fruit juice, and fresh blueberries!
• Vegetarian Garden Vegetable Soup

Served Monday, Wednesday, and Friday, this tomato-broth-based soup is loaded with sliced zucchini, yellow beans, cauliflower, Swiss chard, and barley.
*Don't forget to pass on the pesto.
• Modern Greek Salad With Quinoa

Looking for something a little lighter? Try this refreshing salad made with kale, romaine, cucumber, quinoa, almonds, Kalamata olives, and more.
*Be sure to hold the feta.
Pushing for more animal-friendly menu options is a great way to make vegan eating easier for you and the millions of Americans who are moving away from meat. Click here for five easy tips on getting more vegan food at your favorite restaurant.