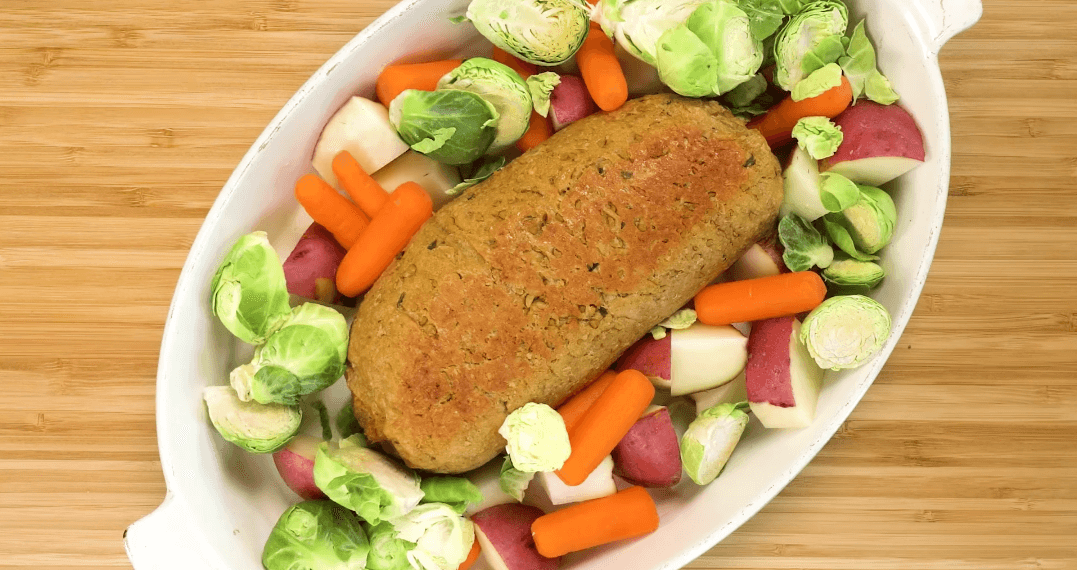 Here's a Homemade Vegan Roast Recipe Just in Time for the Holidays
Sarah Von Alt
No holiday meal would be complete without a delicious, show-stopping main dish. And for vegans, the options have never been more plentiful. From Tofurky to Field Roast, tasty plant-based roasts abound in many grocers' frozen food aisles.
But if you can't find one of these bad boys near you, are on a budget, or are just a real do-it-yourselfer, here's our recipe for a delicious homemade roast that is easy to make and sure to impress friends and family.
Homemade Vegan Roast
Serves 6 to 8
Ingredients:
1 ¼ cup vegetable broth
2 tablespoons soy sauce
2 tablespoons olive oil
4 cloves garlic, minced
1 cup cooked chickpeas
2 cups vital wheat gluten
¼ cup nutritional yeast
1 tablespoon fresh thyme
1 tablespoon fresh rosemary
1 teaspoon onion powder
1 teaspoon smoked paprika
1 tablespoon seasoned vegan breadcrumbs
⅓ cup vegetable broth (for roasting pan)
Assorted vegetables, cut (for roasting pan)
½ teaspoon turkey rub or poultry seasoning
Directions:
Heat the oven to 350 F.
In a blender, combine liquid ingredients and chickpeas and blend. Combine liquid and dry ingredients and knead for 1 to 2 minutes. Form into loaf.
Grease foil with cooking spray or oil and wrap loaf in foil like a Tootsie Roll, twisting the ends to create a seal. Place loaf in a roasting pan. Bake for 1 hour, rotating every 20 minutes.
Uncover and discard foil. Rub with poultry seasoning (and additional oil, if desired). Add remaining broth and vegetables and bake for another 30 to 45 minutes. Enjoy!
—
Want more? Click here for a roundup of our favorite vegan dishes perfect for holiday entertaining.