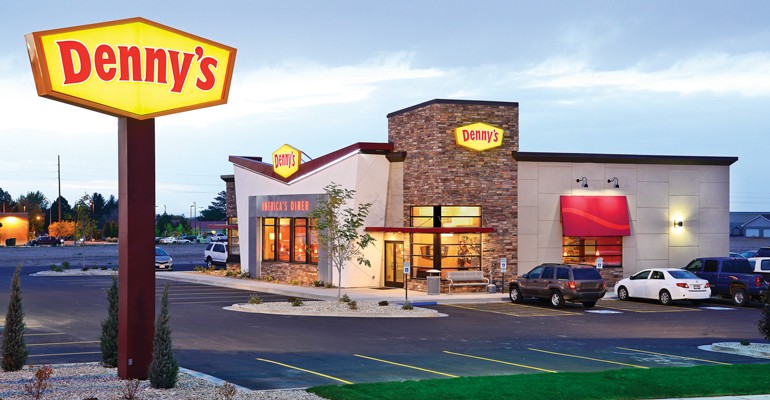 Here Are Our Favorite Vegan Options at Denny's
Sarah Von Alt
If you're new to vegan eating, finding things when you're on the road or short on time can sometimes feel overwhelming. Luckily, many of your favorite chains offer delicious plant-based options. While Denny's is far from the most vegan-friendly diner, there are still quite a few tasty finds at their restaurant locations nationwide. Here are a few of our favorites:
• Build-Your-Own Veggie Burger
Denny's veggie burger and brioche bun are vegan, so load this up with your favorite toppings, like fresh avocado, grilled onions, and barbecue sauce. Just be sure to order it without cheese and butter.
Pro Tip: Add an extra veggie patty to your burger for an ultra-satisfying meal.
• Fit Fare Veggie Skillet
Served with a side of salsa, this skillet is loaded with red-skinned potatoes, mushrooms, broccoli, spinach, grape tomatoes, and fire-roasted bell peppers and onions. Be sure to ask them to hold the egg whites!
Pro Tip: Ask for tortillas and make your own veggie breakfast tacos!
• Bourbon (Chicken) Skillet
In a sweet bourbon glaze, this skillet is brimming with mushrooms and fire-roasted bell peppers and onions atop broccoli and red-skinned potatoes. Be sure to hold the chicken, and ask for extra veggies!
• Oatmeal With Fresh Seasonal Fruit
It's not the most exciting option, but it will do in a pinch. Add fresh fruit or syrup, and consider adding a side of hash browns for a heartier meal.
• Seasoned Fries
A classic vegan option, these fries are covered in delicious seasoning. If you're looking for something healthier, try a plain baked potato topped with steamed broccoli and salsa.
Pushing for more animal-friendly menu options is a great way to make vegan eating easier for you and the millions who are moving away from animal products. Please take a moment to ask Denny's to add more vegan options to their menu! You can leave a message on their Facebook page here.
*Since menu items may vary by location, be sure to let your server know that you're vegan to ensure no animal products are used!