Everything You Need to Make Delicious Vegan Mexican Food
Sarah Von Alt
Love Mexican food? You're not alone.
And thanks to a brand-new cookbook, you can make all of your favorite Mexican recipes vegan style! Presenting ¡Salud! Vegan Mexican Cookbook: 150 Mouthwatering Recipes from Tamales to Churros.
From Chilaquiles to Cashew Crema Mexicana to Palm Hearts and Cauliflower Ceviche to Jackfruit Guisado Tortas, renowned chef Eddie Garza has put together an incredible collection of veganized Mexican favorites that are both healthy and packed with flavor.
With a variety of recipes free of gluten, soy, and nuts, this new cookbook offers something for everyone. It's also entirely plant-based, ensuring no animals are harmed in the making of these delicious recipes.
Here's a taste: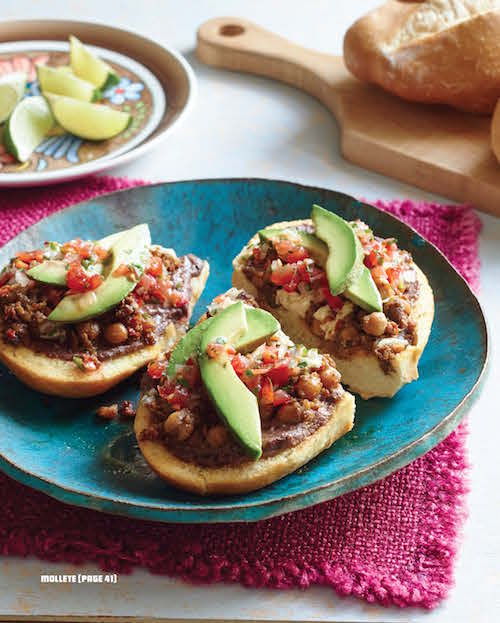 MolleteServes 4
Prep Time: 10 Minutes
Cook Time: 15 Minutes
4 bolillos
8 teaspoons vegan butter
1 cup refried black beans1 to 1½ cups vegan chorizo, cooked
½ to 1 cup vegan shredded white cheese
Garnish Options:
1 avocado, sliced
1 to 2 cups Pico de Gallo 1 lime, quartered
1. Preheat the oven to 350°F.
2. Cut the bolillos open. Spread 1 teaspoon of butter on the sliced side of each half. Place the bolillo halves on a baking sheet facing up and toast for 5 minutes, or until the edges are golden and crispy. Remove from the oven.
3. Spread 2 tablespoons of refried black beans evenly over each bread half. Top the beans with 2 to 3 tablespoons of garbanzorizo or chorizo. Sprinkle 1 to 2 tablespoons of the shredded cheese over each half and place back in oven for 5 minutes, or until the cheese has melted.
4. Serve with the garnishes of your choice.
COOKING TIP: For a sweet mollete, spread butter on the bread and sprinkle each half with 1 teaspoon of sugar. Toast for 5 to 7 minutes or until the edges are golden brown. Sprinkle with cinnamon and serve.
So what are you waiting for? Click here to order your copy today!!