Let's Make Mandoo! A Dumpling Recipe from The Korean Vegan Cookbook
Hannah Bugga
Known as the Korean Vegan, acclaimed food blogger and author Joanne Lee Molinaro has been sharing mouthwatering vegan recipes, cooking tips, and more since 2016. Not only is she a New York Times bestselling author; she has been featured by major media outlets, such as NBC, the Food Network, the Washington Post, and CNN. She also boasts a whopping 4 million followers across her social media platforms!
We were lucky enough to feature a delicious mandoo (Korean dumpling) recipe from her newest cookbook—The Korean Vegan—in our latest issue of Compassionate Living magazine. Joanne describes her experience making the dumplings as a child:
When I was growing up, my mother would spend hours chopping up all the vegetables for her famous dumplings. She would then hunker over the kitchen counter or sit on the floor to wrap row after quiet row of pillowy little pockets of deliciousness. While wrapping dumplings with my mother, aunts, and cousin, my eemo (my mother's sister) recalled, laughing: "Your grandmother would trick us into wrapping these all day long by telling us how extra talented we were at it! And how beautifully we made our dumplings!"
MANDOO (만두 • Dumplings)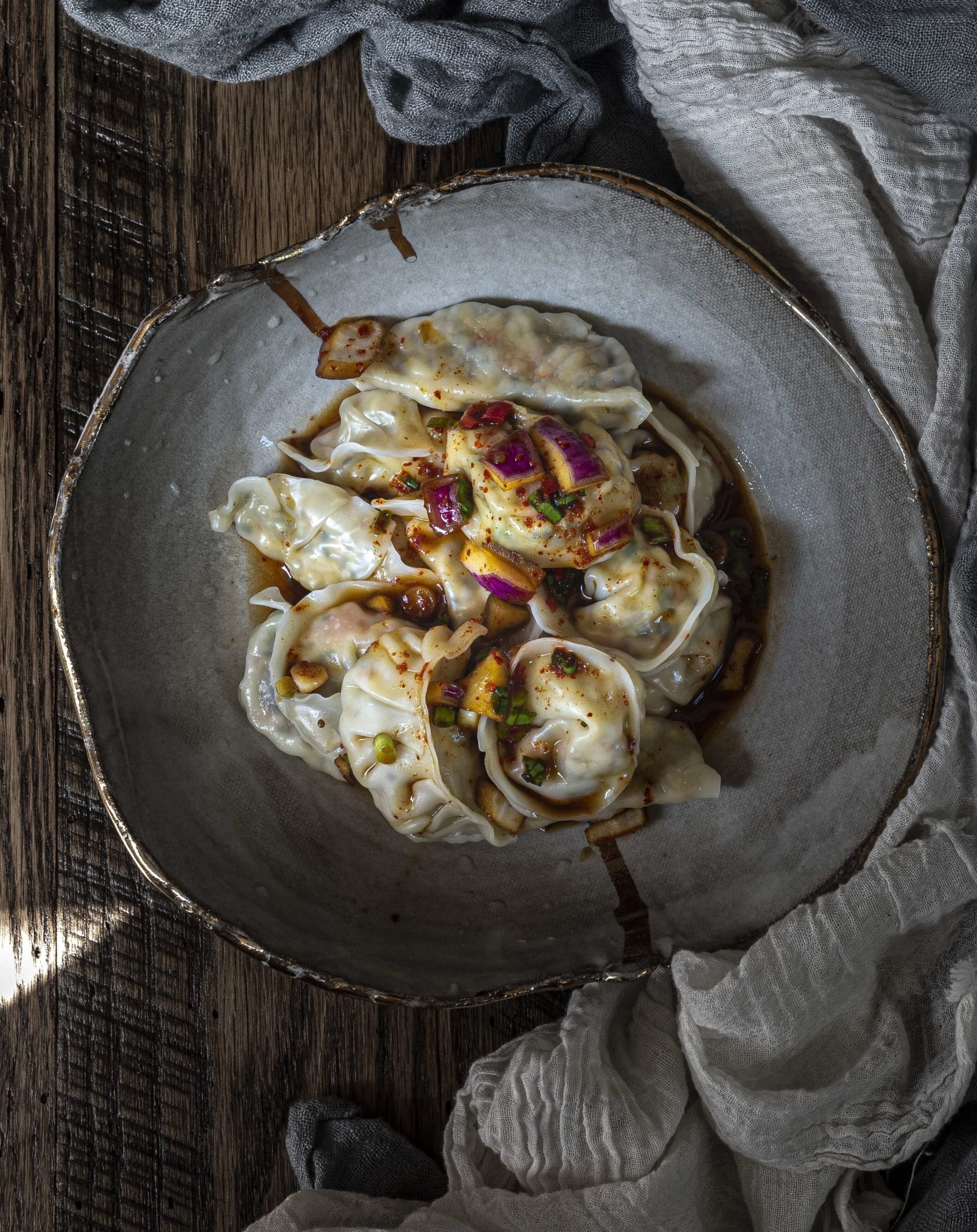 Ingredients:
1 tablespoon extra-virgin olive oil
1 tablespoon sesame oil
1 potato, roughly chopped
2 carrots, roughly chopped
4 scallions, roughly chopped
10 cremini mushrooms, roughly chopped
1 cup baechu kimchi
2 to 3 cloves garlic, roughly chopped
2 teaspoons salt
1 teaspoon freshly ground black pepper
1 tablespoon soy sauce
2 ounces sweet potato vermicelli, cooked
1 (16-ounce) block extra-firm tofu, pressed
1 (14-ounce) package dumpling wrappers
MAKES 40 TO 50 SMALL DUMPLINGS
In a large skillet, heat the olive oil and sesame oil over medium-high heat. Add the potato, carrots, scallions, mushrooms, kimchi, garlic, salt, and pepper and cook until the vegetables are soft, about 5 minutes. Add the soy sauce to deglaze the pan and cook for 1 more minute.

Scrape all the cooked vegetables into a food processor. Add the sweet potato noodles and pulse 16 to 20 times, until the vegetables are at almost a paste-like consistency. Transfer the mixture to a large bowl. Add the tofu, and use a fork to mash up the tofu and mix it into the processed vegetables. Season with more salt as needed. Use the filling to stuff the dumplings right away, or place it in the refrigerator until you are ready to wrap.

To make the dumplings, wet the rim of a dumpling wrapper with a little water, and place the wrapper in the palm of your hand. Place about 2 teaspoons of the filling in the center and fold the wrapper in half over the filling. Pinch the two edges of the wrapper firmly together. Set these aside on parchment paper or another nonstick surface, and make sure the dumplings do not touch each other (as they will stick together).

The dumplings can be boiled, steamed, pan-fried, deep-fried, or air-fried. Serve with spicy soy dressing for dipping.
Excerpted from Korean Vegan by Joanne Lee Molinaro, ©2021. Published by Avery, an imprint of Penguin Random House LLC. Reproduced by arrangement with the publisher. All rights reserved.
Check out this and other recipes in Compassionate Living magazine! Each issue is packed with Mercy For Animals news, lifestyle content, mouthwatering recipes, and exclusive interviews with the biggest influencers changing the world for animals.