Chipotle Launches New Vegan Chorizo
Sarah Von Alt
UPDATE: On January 3, 2022, Chipotle Mexican Grill announced that due to a successful test run during the summer, the chain's new plant-based chorizo is now available at all U.S. locations for a limited time and can be added to any burrito, taco, or bowl!
Chipotle also kicked off the new year with three new "lifestyle bowls," including a vegan bowl that comes with plant-based chorizo, white rice, black beans, corn salsa, fresh tomato salsa, and shredded romaine lettuce.
—
Holy guacamole! Chipotle, the fast-casual chain known for fresh food and quality ingredients, just added a new plant-based chorizo to its menu! Flavored with smoked peppers, oregano, and garlic, this new vegan offering is sure to spice up your usual burrito or bowl. Plus, it's packed with 20 grams of protein, so it's as nutritious as it is delicious.
Select Chipotle locations in the Indianapolis, Indiana, and Denver, Colorado, areas will offer the plant-based chorizo as part of a limited-time pilot launch.
If the trial goes well and generates enough excitement, we can expect the plant-based meat to become a permanent menu item across Chipotle's 2,500+ U.S. locations! 
In 2013 Chipotle introduced "sofritas"—an organic tofu option braised with chipotle chilies, roasted poblanos, and a blend of aromatic spices—to its menu in America. While this flavorful item has many fans, the permanent addition of a plant-based chorizo would be the chain's first meaty vegan option.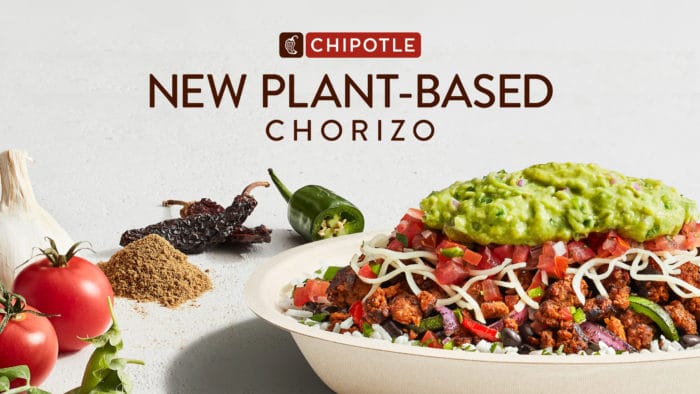 By making this a nationwide menu item, Chipotle would join competitors like Qdoba, which added plant-based Impossible meat to its menu in 2019. More recently, Long John Silver's, America's largest seafood chain, announced a test of plant-based fish fillets and crab cakes, and Panda Express launched Beyond Orange Chicken at select locations.
This should come as no surprise with the rapid growth and popularity of plant-based meat. In fact, according to The Good Food Institute, in 2020 the alternative protein industry drew $3.1 billion in investments, tripling the amount raised in 2019. 
We need your help securing Chipotle's vegan chorizo as a nationwide menu item. Join us by commenting on Chipotle's latest Instagram post, telling them where you'd like to see the chorizo next! 
Curious about plant-based eating? You can get delicious recipes, easy meal ideas, and tips by ordering a FREE veg guide.