This Chicago Pizzeria Is Shipping Vegan Deep-Dish Pizza Around the Country
Hannah Bugga
Kitchen 17, a fully plant-based pizza chain in Chicago, recently began delivering its frozen deep-dish pizzas to 32 lucky states across the country! The move came after the COVID-19 pandemic forced the company to close its dine-in restaurants, which offer plant-based meats, cheese, and desserts.
Hungry customers can choose either regular wheat or gluten-free deep-dish pizzas with a range of delicious toppings, including classic cheese and pepperoni—all plant-based! The impressive Fully Loaded, for instance, boasts mozzarella, marinara, sausage, spinach, onion, black olives, and spicy giardiniera. Customers can enjoy all five varieties by ordering the five-pack special.
Kitchen 17 owner Jennie Plasterer told VegOut Magazine:
We made the initial post at around 3 a.m. and when I woke up at 9 a.m., we had sold about 80 pizzas. We sold nearly 250 pizzas in the first week and were delighted to be able to hire back all of our full-time employees.
If you live in one of the select states, you can get the pizzas delivered right to your door. States include Arkansas, Georgia, Illinois, Indiana, Iowa, Kentucky, Michigan, Minnesota, Missouri, North Carolina, Ohio, South Carolina, Tennessee, West Virginia, and Wisconsin, along with parts of Alabama, Connecticut, Delaware, New Jersey, New York, and Texas.
If you don't live in one of these states, don't despair! Here are three delicious deep-dish pizza recipes that will satisfy all your gooey, cheesy cravings.
Mozzarella Mac Deep Dish Pizza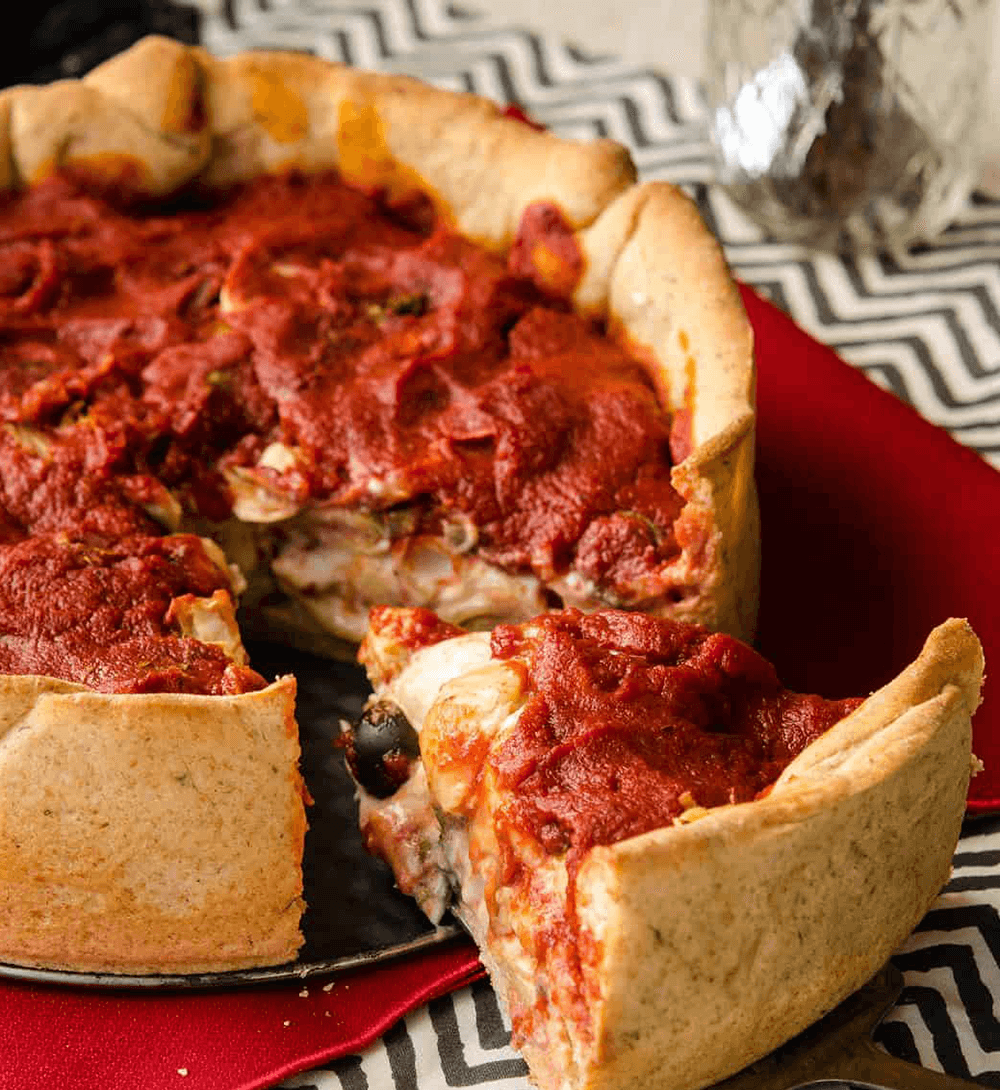 This decadent pizza piles creamy vegan mozzarella mac and cheese in a homemade deep-dish crust. Top it all with savory marinara, and you've got a pie you'll never forget!
Vegan Deep Dish Pizza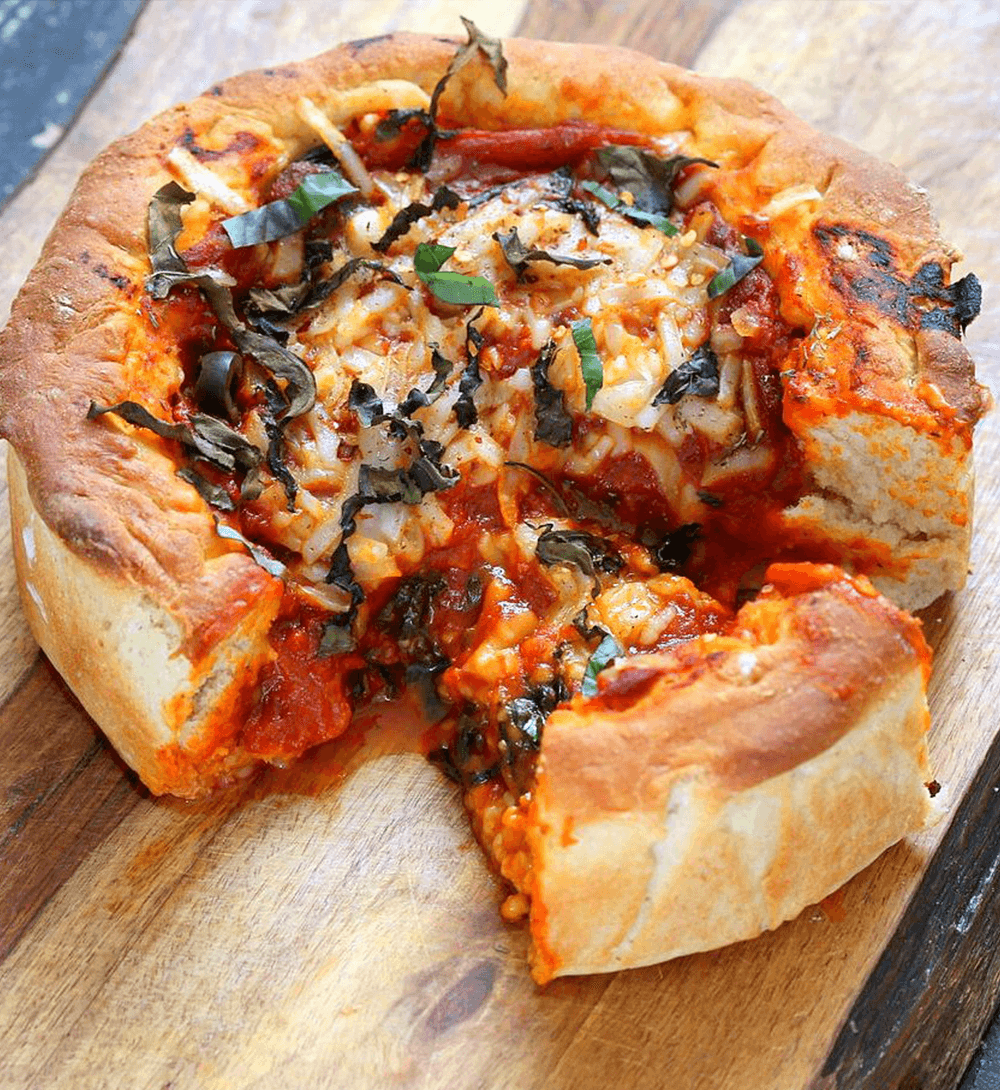 This tasty pizza's crust is made from scratch and takes just 30 minutes to prepare! Combining red pepper, spinach, plant-based mozzarella, and basil, this pizza will please the entire family.
Simple Deep Dish Pizza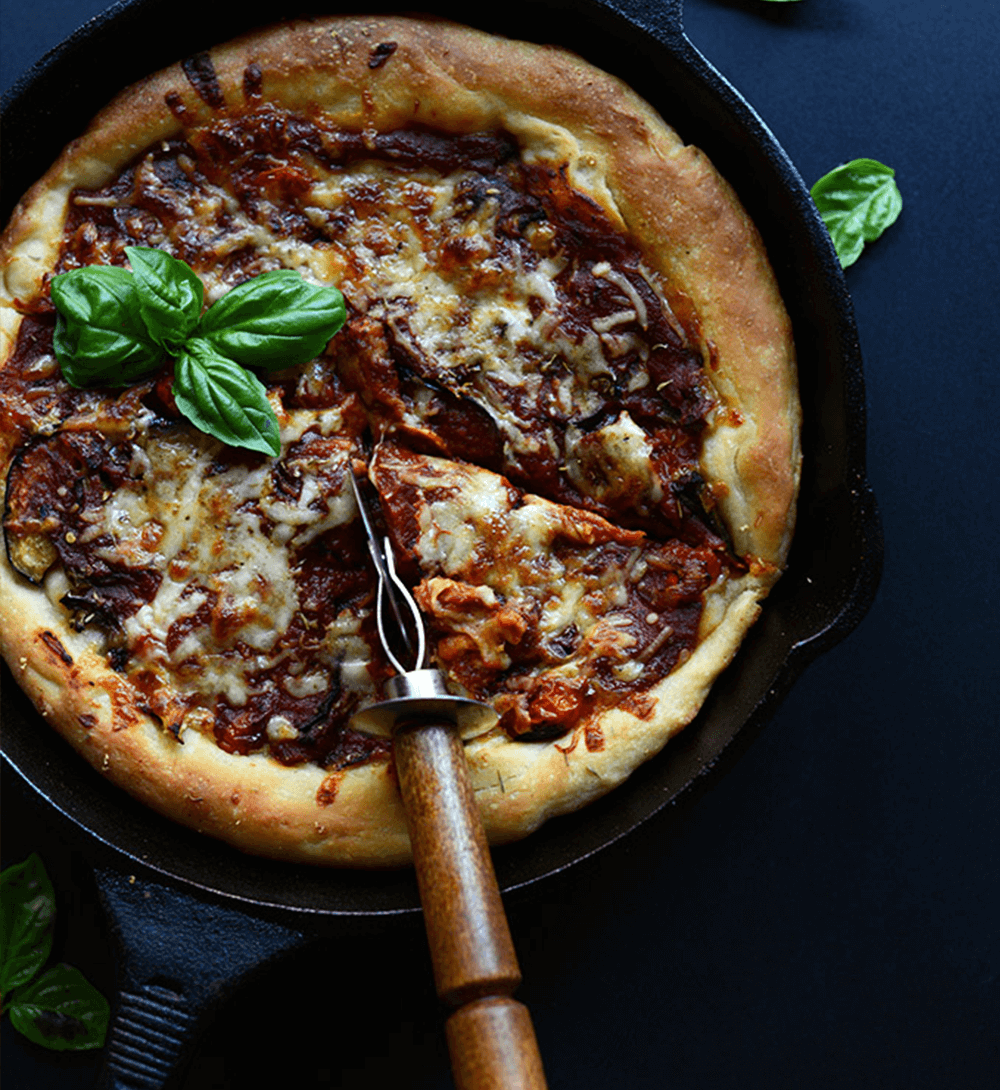 With a crispy outside and tender inside, this butter-free deep-dish pizza layers cheese, flavorful sauce, and roasted vegetables. You'll fall in love with this recipe.
Want more plant-based tips and tricks? Get delicious meal ideas by ordering a FREE Vegetarian Starter Guide today, and check us out on Pinterest for even more recipes.