This Vegan Cheese Recipe Is So Good You Can Finally Give Up Dairy
Sarah Von Alt
Ditch the dairy with this mouthwatering recipe for vegan Camembert—made with cashews!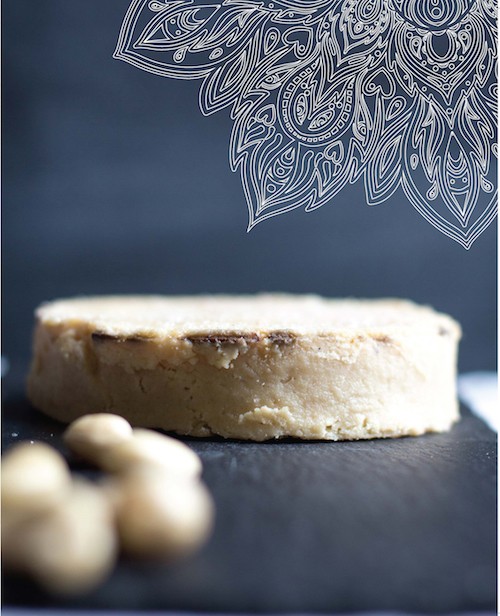 Cashew Camembert
Ingredients:
2 cups raw cashews
2 tablespoons unrefined coconut oil, plus more for greasing the pan
¾ cup aquafaba (liquid from canned garbanzo beans)
½ teaspoon Celtic sea salt
1 teaspoon white truffle oil
Easy Pre-Prep:
Place the cashews in filtered water in a small bowl. Cover and refrigerate overnight.
Directions:
1. Lightly oil a 4 x 2-inch pan with coconut oil.
2. Drain the cashews. Place the cashews, aquafaba, salt, coconut oil, and truffle oil in a Vitamix pitcher.
3. Process first on medium speed, using the plunger to evenly distribute the mixture.
4. Gradually increase the speed, stopping intermittently to redistribute the mixture until it is smooth.
5. Transfer the mixture to the prepared pan and smooth out with a rubber spatula. Cover with a round of parchment paper cut to fit the pan.
6. Dehydrate for 24 hours at 90 degrees. Transfer to the refrigerator for 24 hours.
7. Run a sharp knife around the edges of the mold. Turn the cheese out onto a cutting board and remove the sides. Run the wide, flat side of a large knife under the metal round, pressing upwards to separate the round from the cheese. Smooth the cheese surface with rubber spatula. If desired, place in a humidifier for 1 to 3 weeks. Rub fine sea salt over your cheese after a few days and then repeat every few days or so to prevent black mold.
8. Serve.
Big thanks to Julie Piatt, the genius behind This Cheese is Nuts! Delicious Vegan Cheese at Home! for being kind enough to share this amazing recipe.
From sharp cheddar and smoked gouda to cashew truffle Parmesan, this brand-new cookbook is chock-full of mouthwatering plant-based cheese recipes (and gorgeous pics). It also tackles one of the biggest issues faced by vegans: how to make delectable vegan cheeses that are just as satisfying as their dairy counterparts.
The cookbook goes on sale June 13, but there's no need to wait. Click here to preorder your copy today!
Recipe reprinted from This Cheese is Nuts: Delicious Vegan Cheese at Home by arrangement with Avery, an imprint of Penguin Publishing Group, a division of Penguin Random House LLC. Copyright © 2017, Julie Piatt.
* Photo by Leia Vita Marasovich