This Epic Road Trip Lets You Try Amazing Vegan Food Across the Country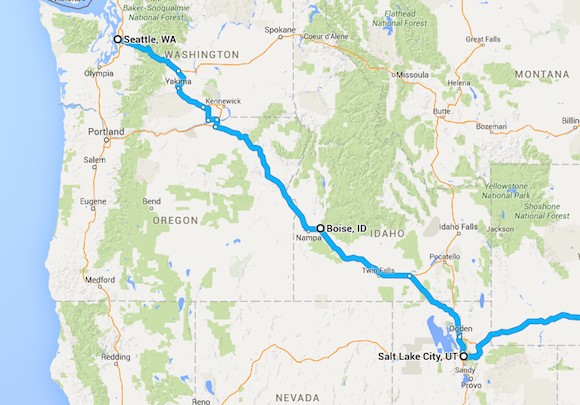 Seattle, WA
Seattle is loaded with delicious vegan eats! Try the wide array of savory vegan grub (including breakfast!) at Wayward Vegan Café, visit Vegan Haven Grocery and load up on goodies, and don't miss the pan-seared creole tempeh at Plum Bistro!
Boise, ID
Yes, there are even vegan options in Idaho. Guru Donuts offers a variety of vegan donuts, including a sea-salted dark chocolate bar, and Glow Live Foods Café serves up a Thai noodle bowl that is out of this world!
Salt Lake City, UT
SLC is another unassuming place loaded with great veggie options. Try the chicken biscuit pie at the all-vegan Vertical Diner, enjoy the barbacoa burrito at Buds, and don't forget to grab something sweet from Cakewalk Vegan Bakery.

Midwest Route

Denver, CO
Stock up on some treats for the road at Nooch Vegan Market, grab a tofu bánh mì and chocolate croissant at Beet Box Bakery and Café, and try out Native Foods Café,
one of the few all-vegan restaurant chains.

Omaha, NE
The all-vegan Modern Love run by famed vegan cookbook author Isa Chandra Moskowitz is not to be missed and well worth the trip. While you're in the city, try the spicy tofu bulgogi at Crystal Jade Restaurant and grab a latte or cappuccino at Caffeine Dreams.

Minneapolis, MN
Minneapolis is home to all-vegan butcher shop The Herbivorous Butcher, which offers 35 vegan meats! Stop by Hard Times Café for the biscuits and gravy, and try the mock chicken parmigiana at Pizza Luce. For dessert? Go to Glam Doll Donuts!



Milwaukee, WI
Check out Beerline Café for amazing crepes and other breakfast favorites, grab a cranberry-walnut chickpea sandwich at Urban Beets Café,
and eat an entire vegan ice cream cake from Babe's Ice Cream!

Chicago, IL
The Windy City boasts a TON of vegan grub. The Radical Reuben at The Chicago Diner and deep-dish pizza at Kitchen 17 are not to be missed. And be sure to stop by the Upton's Breakroom for an award-winning vegan gyro!

Cleveland, OH
Grab a tempeh salad sandwich at Tommy's, build your own calzone at The Root Café,
and try one of the gourmet grilled cheese sandwiches at Melt Bar & Grilled. Don't forget to stop by Sweet Moses Soda Fountain
for a banana split.

Northeast Route

Rochester, NY
Visit The Red Fern for the Steak Bomb or Buffalo bleu sandwich, order a focaccia pizza at all-vegan French spot Vive Bistro, and grab a classic chickpea burger at The Owl House.

Ithaca, NY
Stop by the famed vegetarian Moosewood Restaurant, grab a wood-fired pizza at Ciao (be sure to ask for the vegan menu), and order the marinated tofu wings and house-made veggie burger at Northstar House.

Syracuse, NY

Strong Hearts Café is another must-try vegan spot offering an array of delicious milkshakes, breakfast favorites, and sandwiches. While you're in town, check out the vegan options at Funk N Waffles and grab a Super Vegan burrito from Alto Cinco.


New York, NY
The vegan options in New York are never-ending! Stop by Candle 79 for seitan piccata or a chimichurri Portobello steak, try the Guac Burger with mac n' cheese at by Chloe., and don't miss the all-vegan Dun-Well Doughnuts!

Click here for even more delicious veg grub in New York!

East Coast Route

Philadelphia, PA
When in Philly, drop by Blackbird Pizzeria for a seitan cheesesteak,
order the seared tofu puttanesca at Charlie Was a Sinner, and be sure to put the acclaimed Vedge on your list of must-visit destinations.
Baltimore, MD
When in Baltimore, be sure to stop at The Land of Kush for its award-winning crab cake, try an amazing smoothie or fresh juice at Grind House Juice Bar, and grab a vegan spinach tart from Harmony Bakery.


Washington, DC

Equinox
restaurant offers a vegan buffet-style brunch, and the plant-based fast-food spot HipCityVeg serves so many amazing sandwiches, you'll probably have to go back for seconds. Top it all off with dessert from Cupcake Wars winner Sticky Fingers Bakery!

Asheville, NC
Order the tofu bibimbap or seitan chile con queso at the all-vegan Plant, grab a coconut cream breve at Firestorm Café
— a cooperative committed to anti-oppression — and stop by the Laughing Seed Café for pierogies,
beet tartare, or the stuffed avocado.

Southern Route

Atlanta, GA

Soul Vegetarian offers a variety of vegan eats, including an eggless salad plate and pocket gyro, Café Sunflower
will blow your mind with its fried avocado tacos, and Herban Fix Vegan Kitchen is sure to impress with its stuffed lemongrass tofu!

New Orleans, LA
NOLA has a rich history and tons of delicious veg eats. Stop by tropical vegan café Carmo for the Rico sandwich and Caribbean banana cake, visit Seed for the Seed Gumbo or creole zucchini wraps, and don't miss Good Karma Café
with its teriyaki tofu wrap.


Houston, TX
Yes, you can even find vegan food in Texas! Quan Yin
offers a variety of popular veganized Asian dishes, including shredded pork rolls, and Field of Greens
will steal the show with its impressive burger selection.

Austin, TX
Austin is probably the most vegan-friendly place in Texas.
While you're there, be sure to stop by Counter Culture for some vegan comfort food, grab a tasty veggie burger from Arlo's, and don't forget to visit The Vegan Yacht for the famed freeto pie!


Tucson, AZ
The all-vegan Lovin'
Spoonfuls offers an extensive menu, including breakfast, and Tucson Tamale will blow your mind with its Bisbee tamale loaded with soy chorizo, pinto beans, and potato!

Phoenix, AZ
More vegan food? Of course! Treehouse Bakery has so many amazing sweets on the menu you'll probably need to take a few for the road. Try one of the many Asian-inspired offerings at Vegan House, and be sure to check out Green
— the crab puffs are not to be missed!

East Coast Route

San Diego, CA
San Diego (and SoCal in general) is a vegan paradise. Kindred boasts an extensive vegan bar and some show-stopping dishes, and Evolution
offers a ton of your all-American fast-food favorites, including a variety of burgers. While you're in town, be sure to try the Buffalo Bomber at Veggie Grill, another all-vegan chain restaurant.

Greater Los Angeles,
CA
Where do we start? Try the Big Mac (on the secret menu) at Doomie's Home Cookin', get an Indian kima pizza at LA's only all-vegan pizza spot, Cruzer, and don't miss the spicy baked scallop roll at Shojin
(it's torched at the table)!
If you have a little extra time, make your way out to the valley for some applause-worthy Vietnamese food at Vinh Loi Tofu!
P.S. LA is full of vegan donuts. Check it out!



San Francisco Bay Area
Be sure to stop by Millennium for a fancy,
animal-friendly night on the town, grab a few tacos at Flacos, and create your own cinnamon bun loaded with toppings at Cinnaholic!
This would also be a great time to visit Vegan Republic, an all-vegan shop featuring everything from snacks to apparel.

Portland, OR
Stop by Sweetpea Baking Company for something sweet, grab some ravioli and tiramisu at the Italian-inspired Portobello Vegan Trattoria,
and load up on snacks at Food Fight! Grocery. Don't forget to drop by Herbivore Clothing Company for a cute sticker or shirt.

—So what are you waiting for? Grab a few friends and get packing!
P.S. Click here for a list of vegan snacks you can find pretty much anywhere.
P.P.S. We even made you an awesome playlist for the road!


Get Your Free Vegetarian Starter Guide

You did it!

Thanks for pledging to move toward vegetarian eating! Your free Vegetarian Starter Guide should be downloading now to help you get started. If it's not, click here.

The guide is our gift to you. Please consider donating so we can continue to give others the resources and support they need. Everything helps.

Take action locally

Fill out the form

Submit your story

Fill out the form