This New Jalapeño Cream Cheese Is Totally Vegan and Coming to a Store Near You
Sarah Von Alt
It seems like new plant-based products, especially dairy alternatives, are hitting store shelves all the time. I mean, it's honestly hard to keep track of them all!
Kite Hill is well-known for offering one of the best vegan cream cheeses on the market, which is available at Whole Foods stores nationwide. But recently the company announced its debut of a new jalapeño-flavored spread.
Kite Hill's site declares:
Our cream cheese style spreads are made with all-natural ingredients to create a spread with complex flavor and velvety smooth texture. Each batch is cultured to add depth, sweetness, and a subtle tang. Our jalapeño spread punctuates the cool smoothness with just a touch of heat.
Word. I got my hands on some last week, and let me say that you will not be disappointed! This stuff would be great on bagels, obviously, but I also want to try it stuffed into peppers, as part of a veggie-packed wrap, or even in some savory baked pinwheels.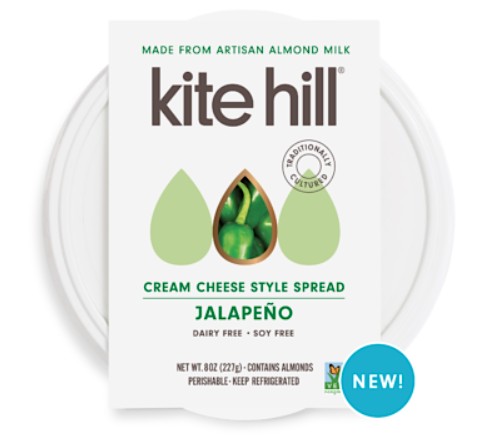 But don't forget the best part: This product is made without the egregious animal cruelty that goes into every bite of dairy-based cream cheese.
Cows at dairy farms are subjected to extreme confinement; mutilations without painkillers; and inevitably, a ruthless slaughter, so be sure to give this product a try the next time you stop at your neighborhood Whole Foods Market! Click here for a list of our favorite dairy-free foods!