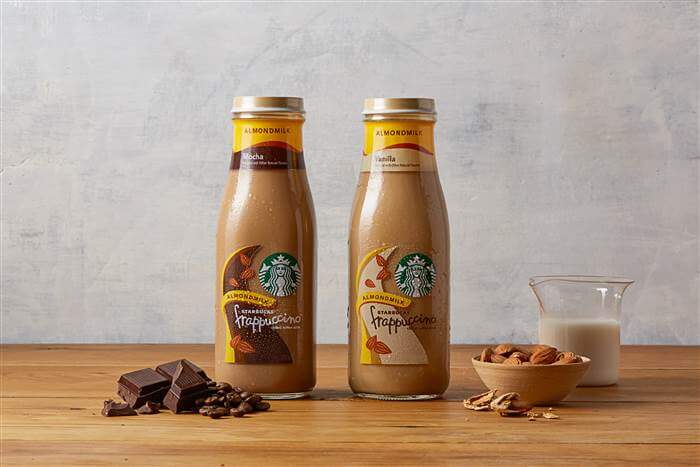 Starbucks Just Announced Plans for Almond Milk Frappuccinos. Here's When You Can Get Them.
Sarah Von Alt
Starbucks Frappuccinos are among the brand's oldest and most beloved ready-made products. And yesterday, the news broke that Starbucks will roll out several new varieties in 2018, including some that are made with almond milk!
VegNews reports:
Starbucks will launch two dairy-free versions of its longest-standing bottled Frappuccino beverage in May 2018. The two new drinks will be made with almond milk and come in vanilla and mocha flavors. A Starbucks representative tells VegNews that while the Frappuccinos cannot be certified vegan due to being processed on shared equipment, the new bottled beverages do not themselves contain animal products.
But this is far from the only vegan product Starbucks is launching.
Just last week, the company rolled out a vegan cupcake at select Florida locations, and in June, Starbucks shocked us all by announcing a new all-vegan lunch bowl. The Vegan Lentils & Vegetables Protein Bowl with Brown Rice is served with butternut squash, roasted tomatoes, and sunflower seeds and comes with lemon-tahini dressing on the side.
As more people discover the animal cruelty and vast environmental destruction inherent in milk production, they're eating less dairy or ditching it altogether in favor of plant-based foods. Restaurateurs and food producers are taking advantage of this expanding market by adding more plant-based options to their menus and product lines.
Fortunately, with the growing number of delicious vegan options already on restaurant and cafe menus far and wide, there's never been a better time to add more veg meals to your diet. Click here for a list of our favorite veg options at a chain restaurant near you.