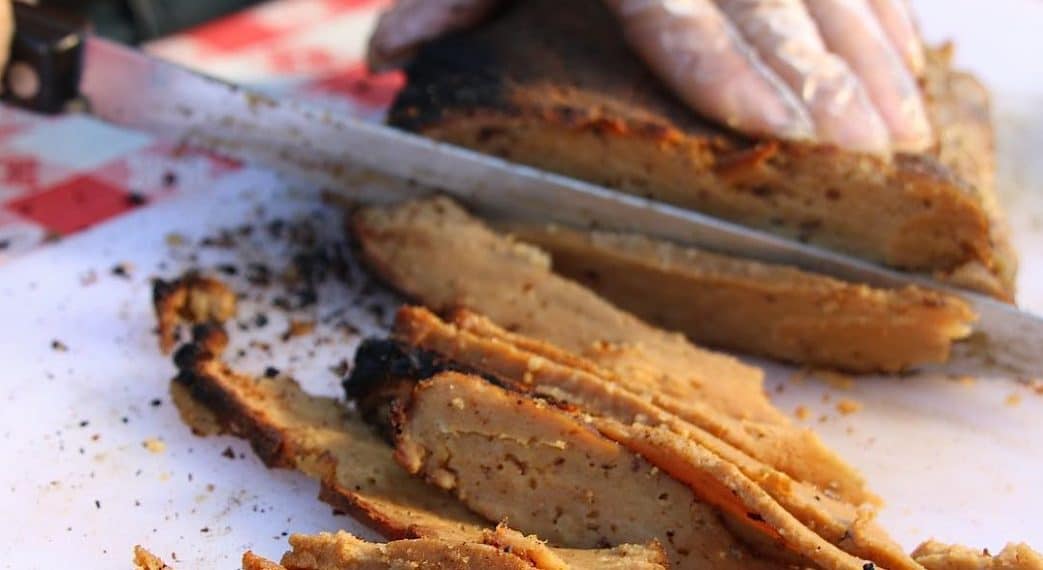 Brooklyn Is About to Get Its Own Vegan Butcher Shop. Here Are 6 More You Might Not Have Heard Of…
Sarah Von Alt
Yep, you read that right. Monk's Vegan Delicatessen and Kitchen, an all-vegan butcher shop, is coming to Brooklyn this spring. Founders Chris Kim and Rebecca Lopez-Howes began making their signature "wheat meats" out of their home in 2010.
They expanded in 2013, selling their wares at Smorgasburg (a flea food market), and now have plans to open their first brick-and-mortar location in the Bed-Stuy neighborhood of Brooklyn.

But this shop, which will feature a variety of plant-based meats, including seitan steaks, house-cured sausages, burgers, and shiitake bacon, is far from the only vegan meat vendor making headlines.
Here are a few more you might not have heard of:
The Herbivorous Butcher

Earlier this year, America's first-ever vegan butcher shop opened its doors in Minneapolis! Owned by brother and sister duo Aubry and Kale Walch, the shop offers 35 vegan meats as well as cheeses and butters.
YamChops
In 2014, Canada's first and only vegetarian butcher debuted with its variety of delicious plant-based proteins, including hickory BBQ pulled chick'n, beet burgers, and coconut bacon.
Atlas Meat-Free Delicatessen

Atlas Deli has made a name for itself with mouthwatering sandwiches and an array of "over-the-counter" goodies sold by the pound, including vegan pastrami, sausage, and ground burger. A brick-and-mortar location is set to open this spring.

The Butcher's Son

While more of a restaurant than a butcher shop, this all-vegan delicatessen in Berkeley, California, offers several items by the pound, including life-changing vegan bacon, roast beef, and pulled pork.
No Evil Foods
Based in Asheville, North Carolina, No Evil Foods sells several vegan meats, including Italian sausage, shredded chicken, and chorizo, to local restaurants and grocers. Folks in the U.S. can also order online here.

The Vegetarian Butcher
This Holland-based business offers "an innovative range of meatless meat and fish claimed to be 'indistinguishable from the real thing'" to restaurants in 13 countries.
— It's truly amazing to live in a time when we can enjoy all of our favorite flavors without harming animals. We don't need to wait until there's a vegan butcher in every town.
With the vast variety of mouthwatering vegan products already available at grocers far and wide, there's never been a better time to ditch cruel animal products.
Click here
to order a FREE
Vegetarian Starter Guide
.